SCOOP: Art, Details For Dark Nights Sequel, Death Metal, by Scott Snyder and Greg Capullo
Bleeding Cool has been reporting on the sequel to Scott Snyder and Greg Capullo's 2017 Dark Knights: Metal for some time, even stating that it would be called Death Metal. We told you that it would go official today. But, thanks to a very kind soul who told us what we should know, Bleeding Cool has even managed to pip that to the post. For those who are awake, that is.
The original Dark Knights: Metal brought back Sandman into the DC Universe as well as the Great Bat God Barbatos, introduced the Dark Dimensions to the DC Universe as well as The Batman Who Laughs and his other, darker, parallel versions of Batman, while also returning a lighter side to the DC Universe with Plastic Man, with Justice League Voltron, and spinning off characters such as Sideways.
The Greg Capullo and Scott Snyder Show
Dark Nights: Death Metal #1 (of 6) by Scott Snyder, Greg Capullo, Jonathan Glapion and FCO Plascencia will be published on May 13th, and monthly after that (with a break in August) as well as spinning off into a series of one-shots, as did the original. But whereas those oneshots looked at the origins and stories of individual Dark Batmen, these 'Metalverse' oneshots will look across other characters as well.
Death Metal will serve as a sequel to both Snyder and Capullo's Metal, Snyder and Jorge Jimenez' run on Justice League and Year of the Villain: Hell Arisen miniseries by James Tynion IV, Javier Fernandez and Steve Epting which starred The Batman Who Laughs. And the below probably reveals spoilers for its conclusion.
Spoilers Spoilers Spoilers
In the new series, the DC Comics Earth has been conquered by the Batman Who Laughs and his Infected lieutenants, versions of Shazam, Donna Troy, Supergirl, Blue Beetle, Hawkman, and Commissioner Jim Gordon. The bad guys won, the good guys lost. And the Earth is suffering.
Wonder Woman and the Flash have made compromises to survive, to keep humanity alive in a world that may seem familiar to those who read Batman: The Last Night by Synder and Capullo. But in this world, Batman is part of an underground resistance looking to take back control of their world. As for Superman, he ha been captured, imprisoned to literally power Earth's sun for eternity. As opposed to his usual opposite role.
But Wonder Woman takes the lead after being leaked some information (how apt for this article) to rally the Earth's remaining heroes to resist the Batman Who Laughs, break away from the Dark Multiverse and defeat Perpetua, she who created all reality in the DC Multiverse and who also seems to have a problem with the Darker elements of it…
And Now The Artwork
So we have the cover…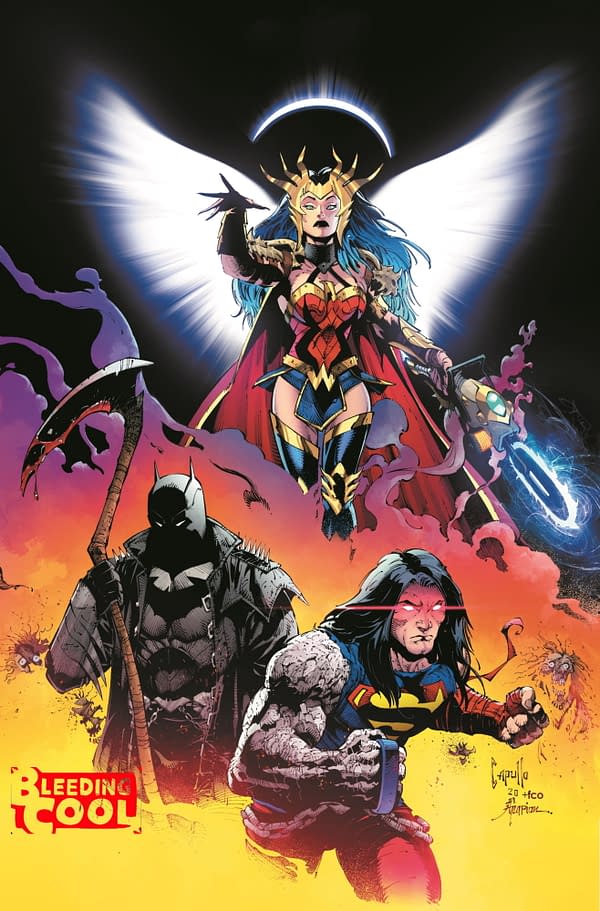 Some internal artwork with Wonder Woman, a Swamp Thing-esque figure, the invisible plane and that chainsaw.
Who knew being a princess demanded so much manual labour? Then we have an alien-Lovecraft horrorshow of a Batman, Harley Quinn hyenas, the Batman Who Laughs, the Robin Who Laugh, a bunch of other Dark Dimensional folk and the eyes of Perpetua. Remember, she saw the Dark Dimension as a threat in Hell Arisen…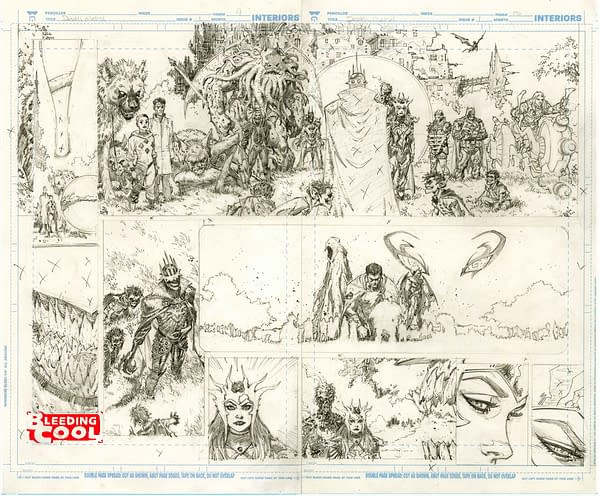 The 1:100 cover by Greg Capullo, with those three figures from the teasers, Wonder Woman in her new raiments and those Perpetua eyes again.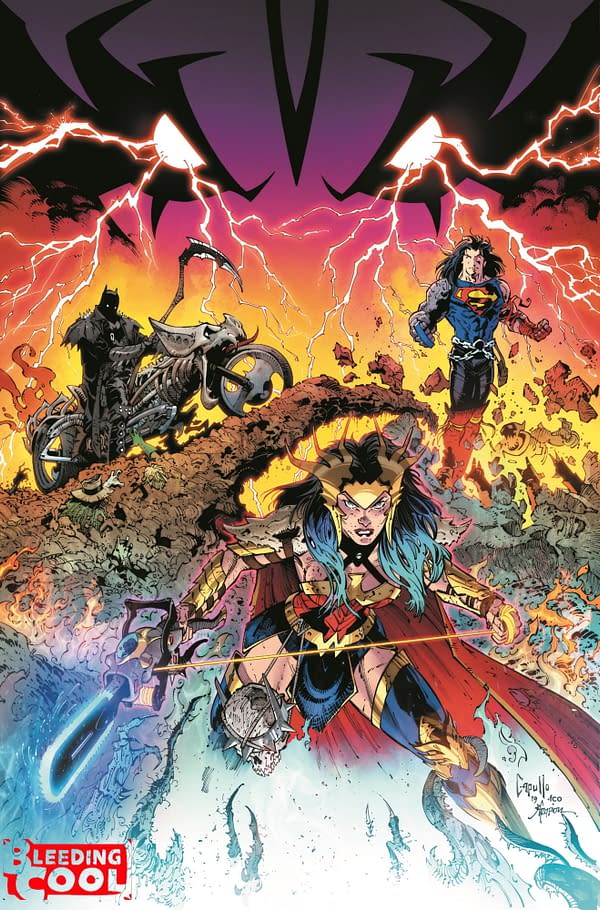 The Stanley Artgerm Lau Wonder Woman-with-a-chainsaw variant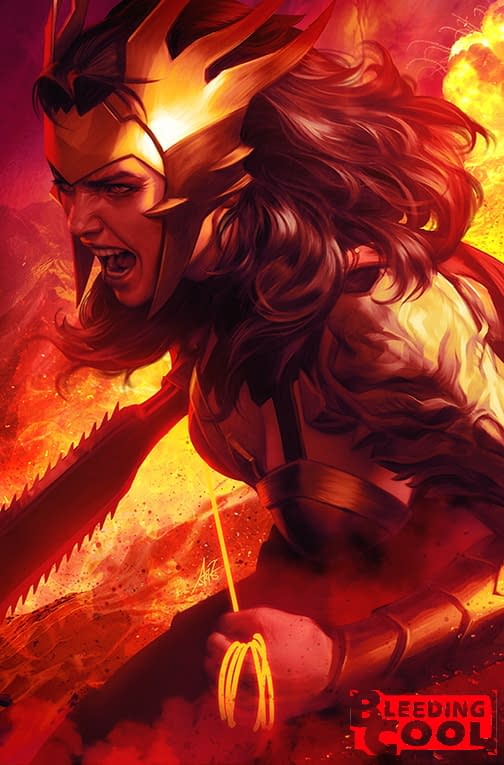 The David Finch Batman-with-a-boneshaker variant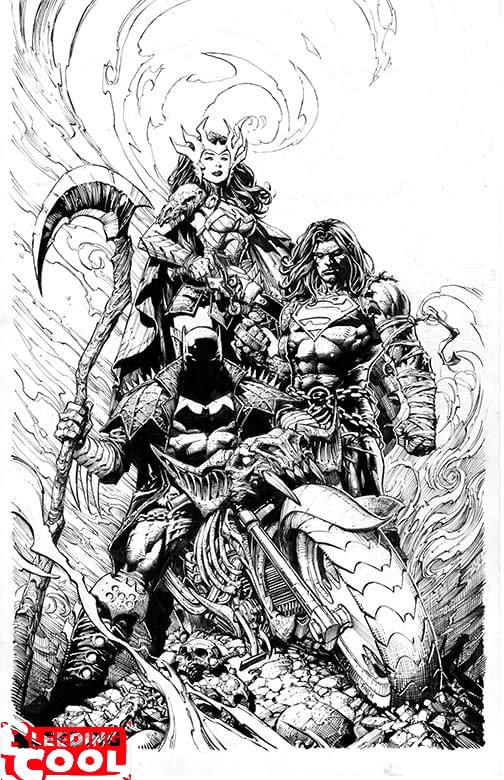 And the Francesco Mattina Superman-not-with-a-mullet variant.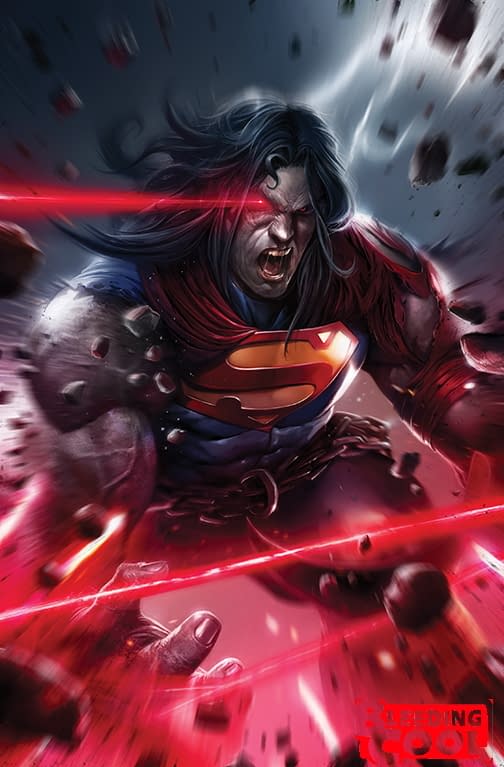 Look for all the big sites to run very similar to what we have just done later today. But here is also a recap of everything else we've learnt about Death Metal over the past few months.
Yes, That's Right It's The Recap
Bleeding Cool has been reporting that it is called Death Metal for a little while, We understood that it was planned before Greg Capullo drew Reborn at Image Comics – and if Capullo hadn't returned to the project, Snyder would have written it as a Justice League storyline rather than as a stand-alone event series. But he did. We also knew it had Wonder Woman as a lead. And Justice League #39 we got what appears to be confirmation of a good chunk of that. First, we got Wonder Woman with a chainsaw…
Superman with long hair, and a Bizarro skin-tone ready for a fight.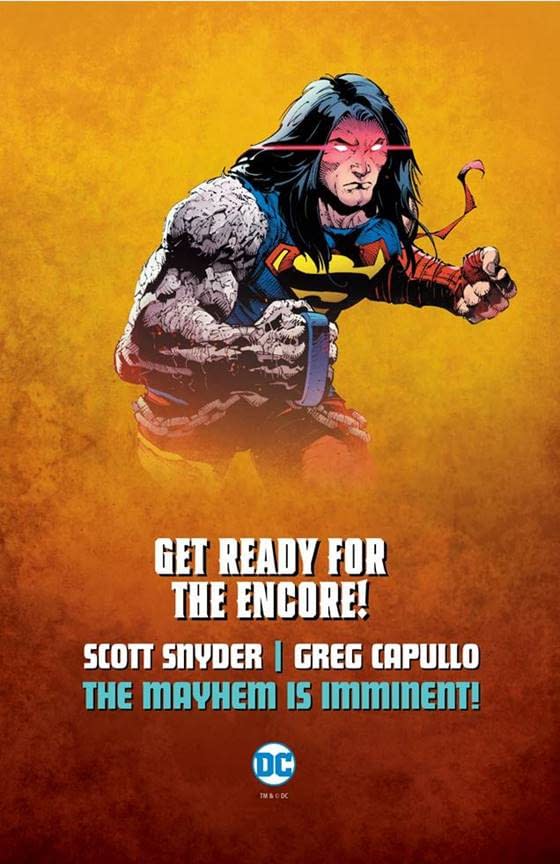 Then Bleeding Cool were somehow first up with the Batman teaser seems to have leaked early. Batman with a scythe on a motorbike made of bones. And a dead Scarecrow?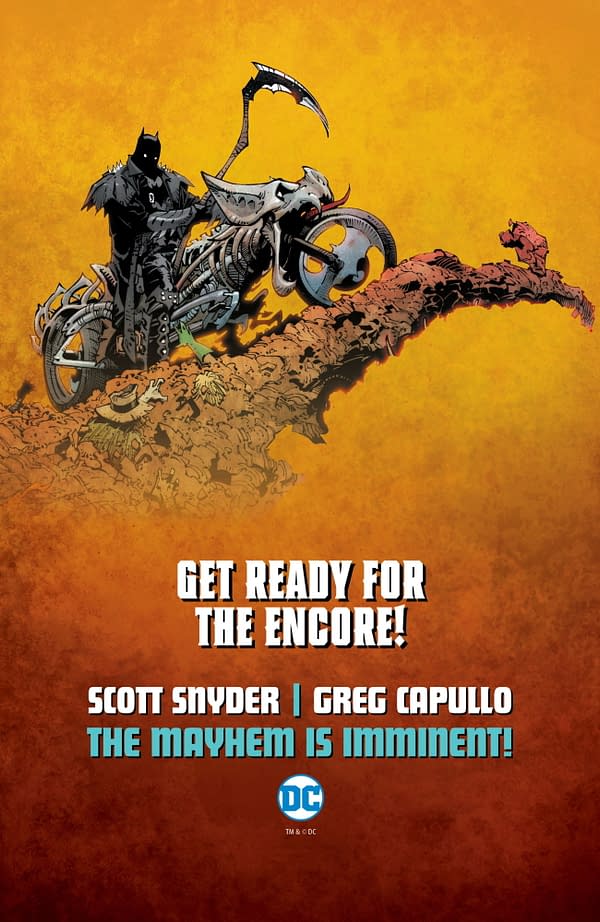 So what else do we know about Death Metal? We mentioned that Snyder wrote the end story for Wonder Woman #750 with Bryan Hitch, that established Wonder Woman as the first superhero of the DC Comics Universe, seen in the USA during World War II (at least for the rest of the world)…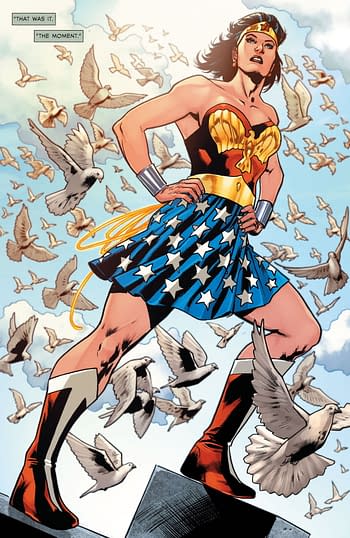 …with the mention of Death Valley…

…and seen as an inspiration for the rest of the emerging DC Superheroic universe.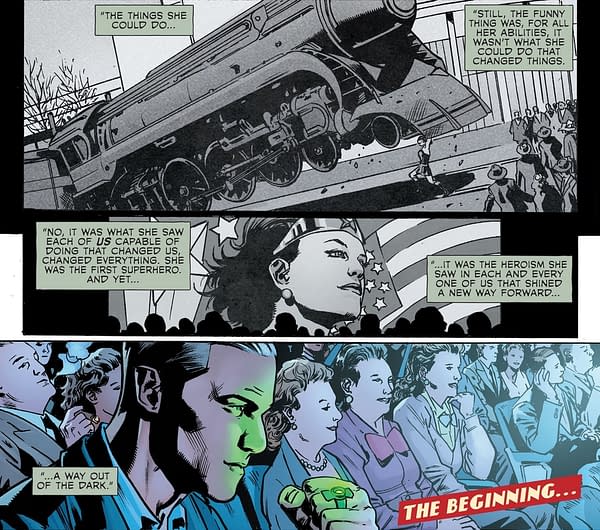 The mention of Death Valley was skated over. Could it, and Wonder Woman's involvement be what kicks Death Metal off? The last issue of Justice League #39 ended on a cliffhanger that was not be resolved in Justice League #40. While the archetypes of the Justice League rode off into the sunset. Somewhere, somewhen, everywhere, everywhen.
Which is right along the idea of the new DC Comics timeline we have been talking about since last summer. Everything happened, everything matters. Including Doomsday Clock. We have also been told that Metal 2: Death Metal will lead into the ageing of certain characters in the DC Universe along the lines of the new timeline. We've also been promised a Sorceror Batman, and an Alien Batman. And for DC Comics, Death Metal will be a capstone to Scott Snyder's work in the DC Universe, from Batman to Swamp Thing to Metal to Justice League…here we go.
Watch everyone scramble to catch up today. You're welcome.