How to Get Declan Shalvey and Gavin Fullerton's Bog Bodies, Early
Bog Bodies was a new graphic novel written by Declan Shalvey and drawn by Gavin Fullerton, published by Image Comics, and currently caught in the distribution kerfuffle that is known as the global coronavirus pandemic. It is currently intended to ship to comic book stores from Image for May 20th – in the US and Canada at least, the situation with the UK and Ireland is less clear. which, considering Declan is Irish, lived in Ireland and the graphic novel is set in Ireland, is slightly unfortunate.
But Shalvey does point out that one comic book store already has its copies, Bleeding Cool-favourite store Big Bang Comics in Dublin. In his newsletter, Shalvey states,
While the book was due to be released last week but wasn't, BIG BANG COMICS were able to get some copies before anyone else and they're all signed by me. They have very few left but you can still order from them if you're desperate to read it! (Though, if you have ordered it with your local story, best to wait as I'm sure they're depending on your sale)

They have copies for 13 Euros right here, plus shipping to wherever you are. If you aren't local, it would probably cost a lot less to wait…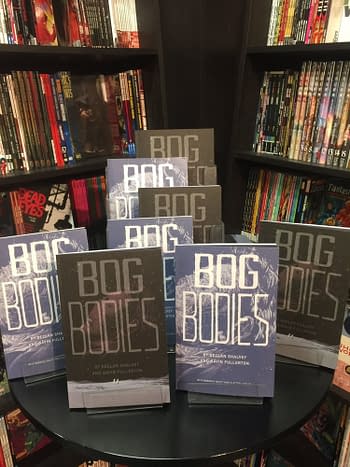 And while I was writing this, I got a message from former Bleeding Cool reporter Frazer Brown, producer of the Tales From The Quarantine charity fundraising comic from Red Cabin Comics. Telling is that Declan Shalvey was joining Charlie Adlard on board.
All profits will be distributed evenly amongst Last Year's Rent, CBLDF and the NHS, to help ease financial hardship, for those working creatively in the comics industry, due to COVID-19 lockdowns and the on-going efforts of frontline NHS staff.
BOG BODIES OGN (MR)
(W) Declan Shalvey (A) Gavin Fullerton, Nalty Rebecca (CA) Declan Shalvey
An Irish gangster on the run after a job gone wrong stumbles upon a young woman lost in the Dublin mountains. Injured and unarmed, the unlikely pair must try to evade their pursuers and survive the desolate bog that has served as a burial ground for unspeakable murder throughout history. DECLAN SHALVEY (INJECTION, SAVAGE TOWN) and GAVIN FULLERTON (Bags) deliver a cold and poignant story of crime, survival, and regret.In Shops: May 20, 2020 SRP: $12.99