This month Marvel Comics have begun to publish a series of collections, celebrating their 80th Anniversary, with one book per decade.
We've now got full details of each and every book. Here they are…. in reverse order.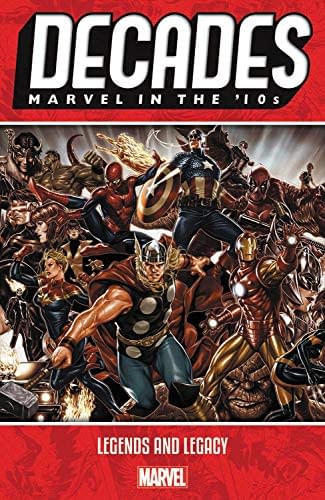 Decades: Marvel in the 10s – Legends and Legacy Paperback – August 27, 2019
Celebrate 80 years of Marvel Comics, decade by decade – with the blockbuster icons and bold new generation of the Trailblazing 2010s! As iconic heroes enjoyed worldwide cinematic success, a diverse array of young champions stole the spotlight! Find your favorite movie stars in outstanding adventures from the best modern creators – from Iron Man, Black Panther, Spider-Man and Captain Marvel…to Thanos! And get to know the new kids on the block, like Miles Morales! Gwen "Spider-Woman" Stacy! Thor, Goddess of Thunder! The Unbeatable Squirrel Girl! And Kamala Khan, the incomparable Ms. Marvel!

COLLECTING: ULTIMATE COMICS SPIDER-MAN (2011) 7, CAPTAIN MARVEL (2012) 1, IRON MAN (2012) 1, GUARDIANS OF THE GALAXY (2013) 4, EDGE OF SPIDER-VERSE 2, MS. MARVEL (2014) 12, AMAZING SPIDER-MAN (2015) 3, MIGHTY THOR (2015) 5, BLACK PANTHER (2016) 1, UNBEATABLE SQUIRREL GIRL (2015B) 7, THANOS (2016) 1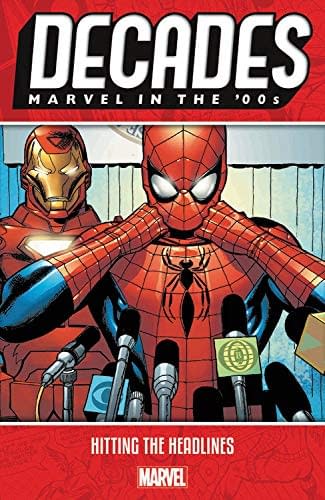 Decades: Marvel in the 00s – Hitting the Headlines Paperback – July 23, 2019
Celebrate 80 years of Marvel Comics, decade by decade – with high-profile stories that sparked a media frenzy in the Tumultuous 2000s! The House of Ideas garnered mainstream attention like never before as they shook things up, introducing a brand new Ultimate universe for a new generation of readers! Telling the story they said could never be told…the origin of Wolverine! And revealing hidden secrets of the program that produced Captain America! Red-hot creator Joss Whedon revamped the X-Men, while Civil War led to Spider-Man's secret identity going public – and Captain America's shocking death! Plus, living legends meet when Spider-Man teams up with President Barack Obama!

COLLECTING: ULTIMATE SPIDER-MAN (2000) 1; ORIGIN 2; ULTIMATES (2002) 1; TRUTH: RED, WHITE & BLACK 1; ASTONISHING X-MEN (2004) 1; CIVIL WAR (2006) 2; CAPTAIN AMERICA (2004) 25; MATERIAL FROM AMAZING SPIDER-MAN (1999) 583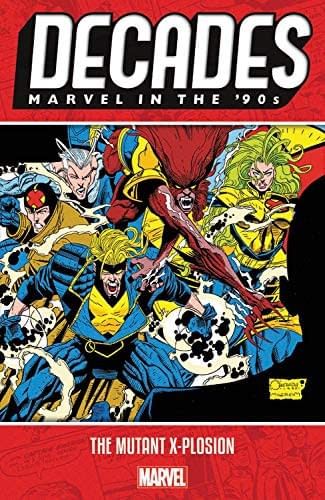 Decades: Marvel in the 90s – The Mutant X-plosion Paperback – June 25, 2019
Celebrate 80 years of Marvel Comics, decade by decade – and see how Marvel's mighty mutants dominated the Notorious Nineties! As the X-Men's popularity exploded, the X-books were the place to be – and there sure were a lot of them! From Excalibur to the radically revised X-Factor, to two (count 'em, two) books for the X-Men alone! Generation X learned the ropes, while X-Force kicked butt! Wolverine searched for secrets of his past, Cable struggled with his destiny, X-Man explored our strange new world, and Deadpool began his rise to superstardom! But which '90s nemesis would prove most deadly – the Legacy virus, or the mansion's latest inhabitant…Sabretooth?!

COLLECTING: EXCALIBUR (1988) 42, WOLVERINE (1988) 48, X-FACTOR (1986) 87, X-MEN (1991) 27, GENERATION X (1994) 4, X-MAN 5, UNCANNY X-MEN (1981) 328, X-FORCE (1991) 55, DEADPOOL (1997) 2, CABLE (1993) 64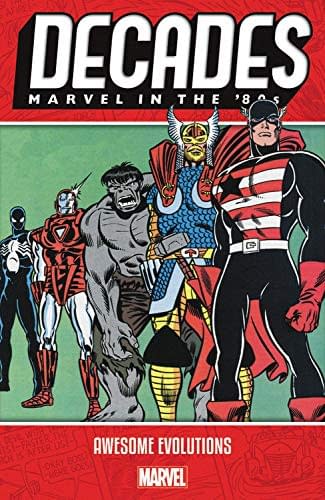 Decades: Marvel In The 80s – Awesome Evolutions, May 21st
Celebrate 80 years of Marvel Comics, decade by decade – and witness major shakeups for iconic heroes in the Awesome Eighties! A new generation of creators crafting character-defining runs changed everything, with new faces donning Iron Man's armor and slinging Captain America's shield! Bold makeovers were everywhere, including Spider-Man's black costume, Storm's mohawk, Thor's battle armor and the Hulk's return to gray! Super team shake-ups included the sensational She-Hulk joining the Fantastic Four – and the transformation of the original X-Man, Angel, into Apocalypse's metal-winged Horseman of Death! And Peter Parker faced the biggest life-altering event of all – marriage to Mary Jane Watson!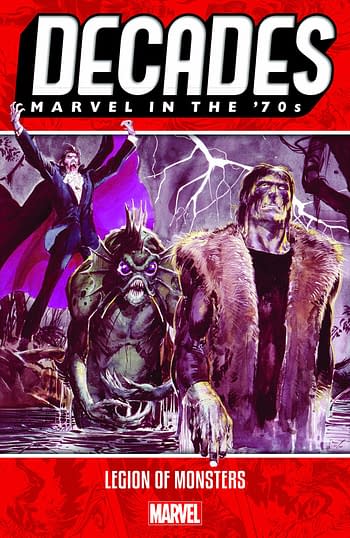 Decades: Marvel in the 70s – Legion of Monsters – April 23, 2019
Celebrate 80 years of Marvel Comics, decade by decade – together with the groovy ghoulies of the Supernatural Seventies! It was an era of black-and-white magazines filled with macabre monsters, and unsettling new titles starring horror-themed "heroes"! Now, thrill to Marvel's greatest horror icons: The melancholy muck-monster known as the Man-Thing -whosoever knows fear burns at his touch! Morbius, the Living Vampire! Jack Russell, cursed to be a Werewolf-by-Night! And the flame-skulled spirit of vengeance, the Ghost Rider! But what happens when they are forced together to become…the Legion of Monsters? Plus stories starring Dracula, Frankenstein's Monster, Manphibian, the vampire-hunter Blade…and never-before-reprinted tales of terror!

COLLECTING: LEGION OF MONSTERS (1975) 1; MARVEL PREVIEW 8; MARVEL PREMIERE 28; MARVEL SPOTLIGHT (1971) 2, 5; FRANKENSTEIN (1973) 1; TOMB OF DRACULA (1972) 10; MATERIAL FROM SAVAGE TALES (1971) 1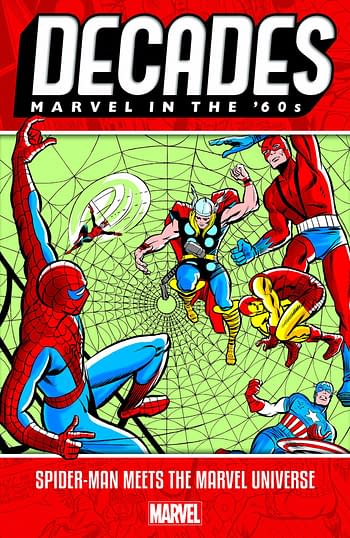 Decades: Marvel in the 60s – Spider-Man Meets the Marvel Universe – March 26, 2019
Celebrate 80 years of Marvel Comics, decade by decade – and see how Spider-Man became an icon of the (Web) Swinging Sixties! The ever-sociable wallcrawler helped build the connected Marvel Universe we know and love with these early team-ups (and tussles) with his fellow heroes – beginning with his bid to join the Fantastic Four! Witness the beginnings of Spidey's amazing friendships with the Human Torch and Daredevil -and his first run-ins with the Hulk, Avengers, X-Men and more! Plus, the legendary Steve Ditko unites his signature characters, Spider-Man and Doctor Strange!

COLLECTING: AMAZING SPIDER-MAN (1963) 16, ANNUAL 2-3; STRANGE TALES ANNUAL 2; AVENGERS (1963) 11; DAREDEVIL (1964) 16-17, 27; X-MEN (1963) 35; FANTASTIC FOUR (1961) 73; MATERIAL FROM AMAZING SPIDER-MAN (1963) 1, 8, 14; FANTASTIC FOUR ANNUAL 1; TALES TO ASTONISH (1959) 57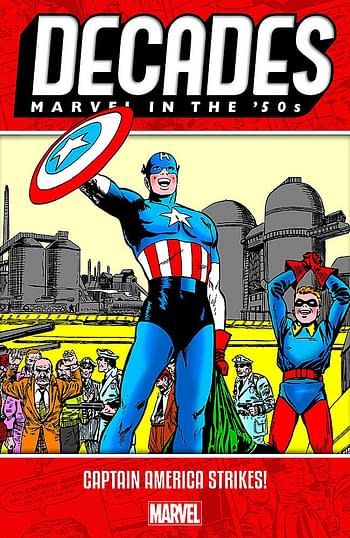 Decades: Marvel in the 50s – Captain America Strikes! – February 26, 2019
Celebrate 80 years of Marvel Comics, decade by decade – with the complete shield-slinging adventures of the Captain America of the Fab Fifties! As Atlas Comics revived their super hero titles, the star-spangled Sentinel of Liberty took on a new mission – smashing the rise of Communism across the globe! But an old enemy lies in wait: the Red Skull! In this complete collection of Cap's 1950s revival, Captain America and Bucky charge into action against fi fth columnists, Soviet spies, secret agents from around the globe, and fearsome foes from Electro to the Executioner! Plus, a modern-day story pulling back the Iron Curtain on the '50s Cap, as he teams up with none other than Nick Fury!

COLLECTING: Material from Young Men 24-28, Captain America (1954) 76-78, Men's Adventures 27-28; Captain America: Theater of War – America First!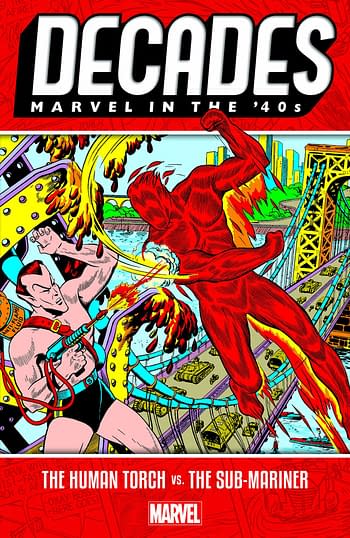 Decades: Marvel in the 40s – The Human Torch vs. the Sub-Mariner – January 29, 2019
Celebrate 80 years of Marvel Comics, decade by decade – beginning with the first two superstars of the Flying Forties! The original Human Torch and Namor the Sub-Mariner get along as well as fire and water, and several of Timely's greatest comics feature the twin titans clashing in fantastic feature-length fisticuffs! A rivalry for the ages is born when Namor, mistreated by the surface world, attacks New York – and the Torch stands in his way! As WWII rages, Namor decides to obtain peace by flooding the planet! Can the Torch and his young sidekick Toro bring Namor back to his senses? They'd better – because the Nazis are on the attack, and the two Golden Age arch-rivals must put their differences aside and unite against a common foe!

COLLECTING: MATERIAL FROM MARVEL MYSTERY COMICS 7-10; HUMAN TORCH COMICS 5B, 8, 10
Enjoyed this article? Share it!