Diamond Cancels Conan Comics – Cimmerian: Queen Of The Black Coast – Over Legal Threats
In recent years, Bleeding Cool has covered a number of publishers in Europe adapting the work of Robert E. Howard's Conan stories into comic books. Because those stories are public domain, they can be published so, freely and easily. However in the USA, the Conan trademark is controlled by the company Conan Properties and so when Marvel Comics published Conan comics, they do so under that licence.
Recently, new Portland publisher Ablaze announced they were to republish those European stories in English, in the USA. And they would do so by calling the series Cimmerian. And would begin with an adaptation of the classic Conan story, Queen Of The Black Coast – a story that Roy Thomas and Alan Davis are currently telling a sequel to over at Marvel.
Queen of The Black Coast is adapted by Jean-David Morvan and illustrated Pierre Alary, with color by Sedyas. The Cimmerian series editors are Patrice Louinet and Jean-David Morvan. Patrice, a leading expert on Conan, worked with the writer/artist teams, ensuring this series remained faithful to Howard's stories and displayed all the pageantry of the Hyborian Age. The work is intended to be uncensored stories that portray the true Conan…unrestrained, violent, and sexual…just as Robert E. Howard intended, rather than the muted versions seen in Marvel's adaptations.
However, the owners Conan Properties have not been so easily convinced and have sent a Cease and Desist notice to Diamond Comic Distributors as well as Ablaze.
At the time, Rich Young, VP of Ablaze, told Bleeding Cool, Robert E. Howard stories used for the series that Ablaze will be publishing are in the public domain in the USA and worldwide. In the USA no copyright filings were made with the Library of Congress for the author, Robert E. Howard (or his heirs), to retain rights in these stories. The stories are also in the public domain in the rest of the world, per the Berne Convention, as authors only retain rights for works during their life plus 70 years. Robert E. Howard died in 1936 and his Conan stories went into the public domain worldwide in 2006.
He supplied Bleeding Cool with supporting documents produced by Conan Properties in legal proceedings that state the original Robert E. Howard stories they claim to own. Queen of the Black Coast is not one of them. And to note the Leslie Klinger vs. Conan Doyle Estate Ltd case regarding characters that have both short stories in the public domain and copyrighted ones.
However, what Ablaze may not have factored in, is that Diamond Comic Distributors, as is their tradition, have folded like a hand of playing cards dropped in a puddle. Diamond has pulled all mention of the series and solicitations from their catalogues, of the comic books. We present what remains below..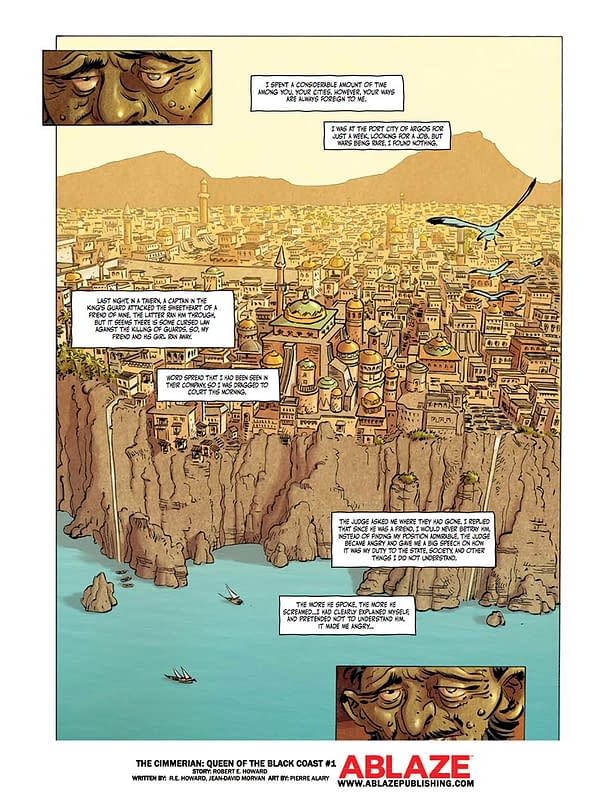 Ablaze may still continue to publish the series. But given their sudden reluctance to talk about it to Bleeding Cool, maybe not..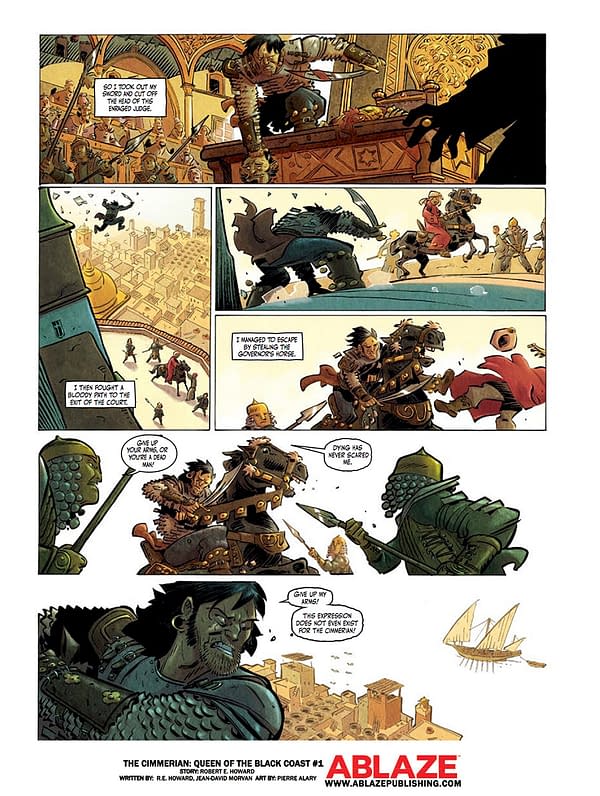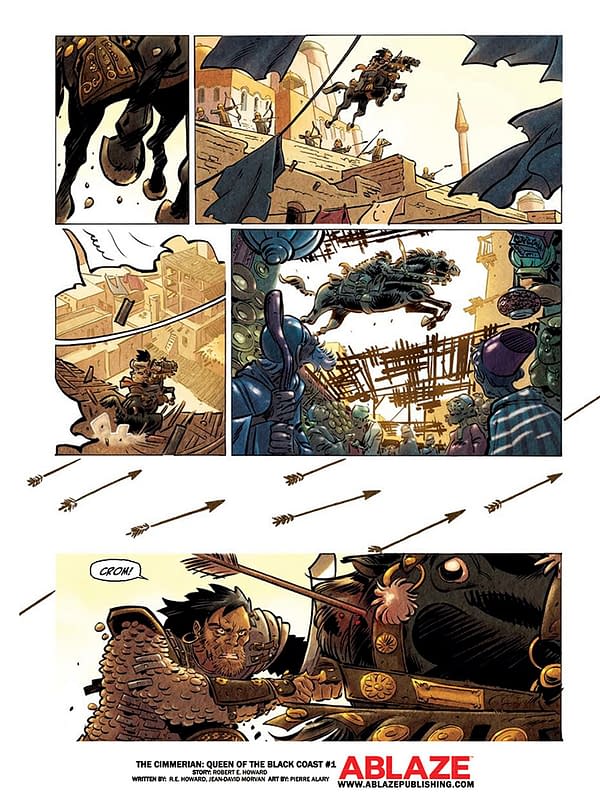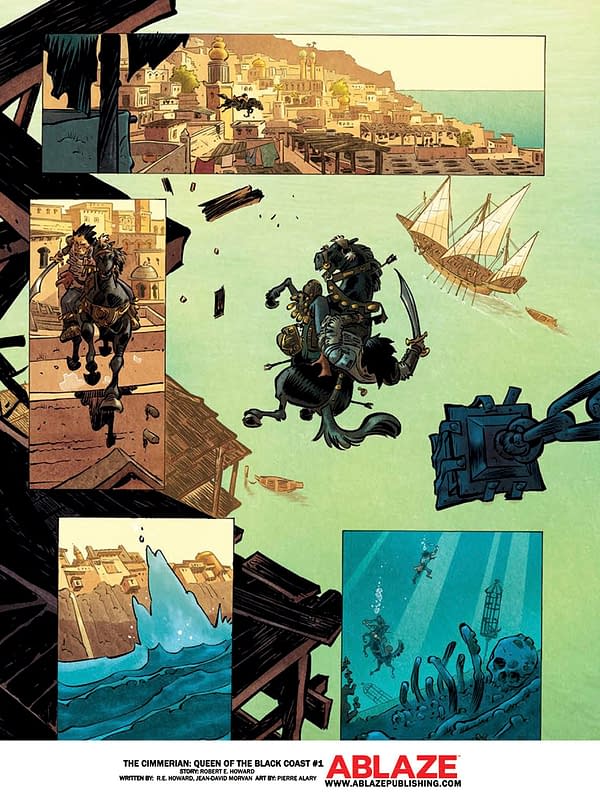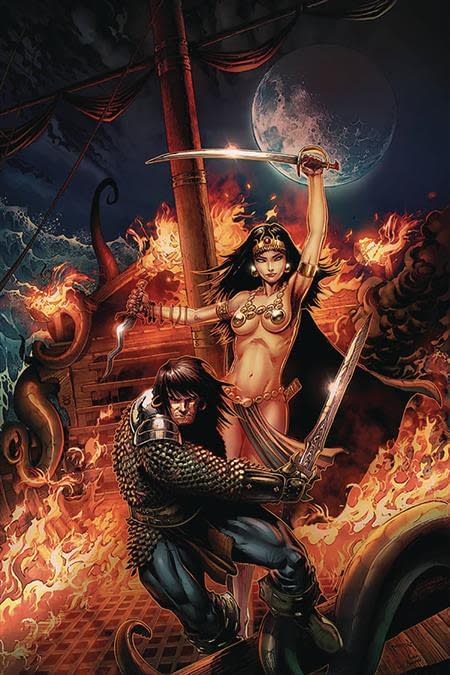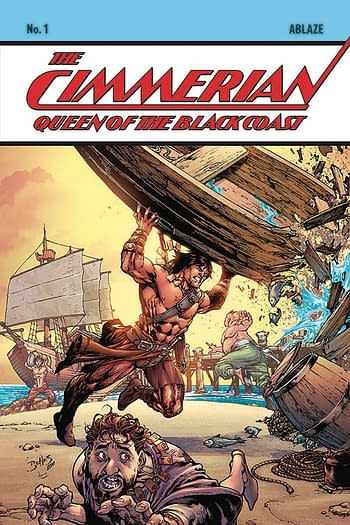 CIMMERIAN QUEEN OF BLACK COAST #1
(W) Jean-David Morvan (A/CA) Pierre Alary
By Crom! For the first time, Robert E. Howard's Conan is brought to life uncensored! Discover the true Conan, unrestrained, violent, and sexual. Read the story as he intended! Pursued for killing a judge, Conan finds refuge on a merchant ship. But soon after setting sail, the Cimmerian and his new companions face a threat: the legendary Bêlit, self-proclaimed Queen of the Black Coast! Bonus Material: The original Robert E. Howard short story is included! In Shops: Oct 09, 2019 SRP: $3.99
CIMMERIAN QUEEN OF BLACK COAST #2
(W) Jean-David Morvan (A) Pierre Alary (CA) Sunghan Yune
Robert E. Howard's famous Cimmerian continues his uncensored adventure! Discover the true Conan, unrestrained, violent, and sexual…read the story as he intended! Conan joins up with Belit to brutally pillage and sail the poisonous river Zarkheba, encountering ancient ruins, lost treasure, and winged, vicious monstrosities. Bonus Material: The Original Robert E. Howard short story is included! In Shops: Nov 06, 2019 SRP: $3.99