Diversity Lessons in He-Man And The Masters Of The Multiverse
Tim Seeley and Tom Derenick have been taking He-Man And The Masters Of The Universe on a DC Comics multiversal journey, not so much crossing over with DC Comics characters, as concepts, such as Crisis On infinite Earths, with multiple He-Man worlds colliding. The final issue does it's best to lay out the final stage of affairs. Though it seems that dead means dead – the Dolph Lungren version of He-Man from previous issues remains a corpse. But others are managing to get their power on.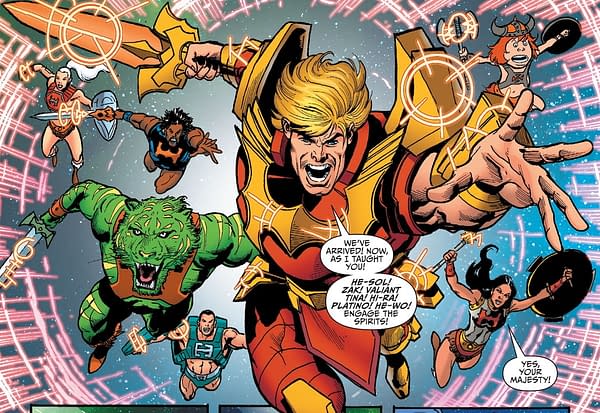 As well as that classic 80s cartoon Annoyingly Chipper He-Man version.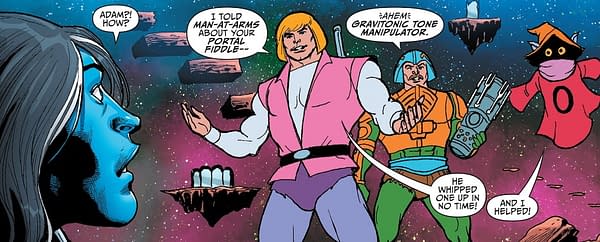 Who have many He-Man lessons to impart and learn from.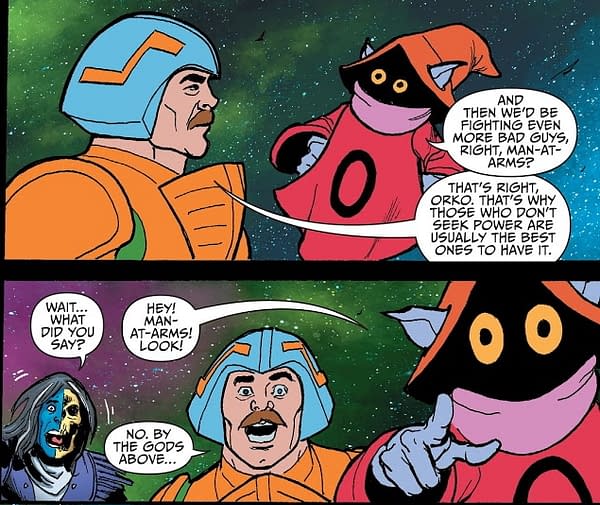 Which also leads to a He-Man vs Cthulhu moment or two, which is probably something they might return to. But we also get a more poetic version of that familiar TV cartoon, you remember, the one that went 'Fabulous secret powers were revealed to me the day I held aloft my magic sword and said… By the power of Greyskull!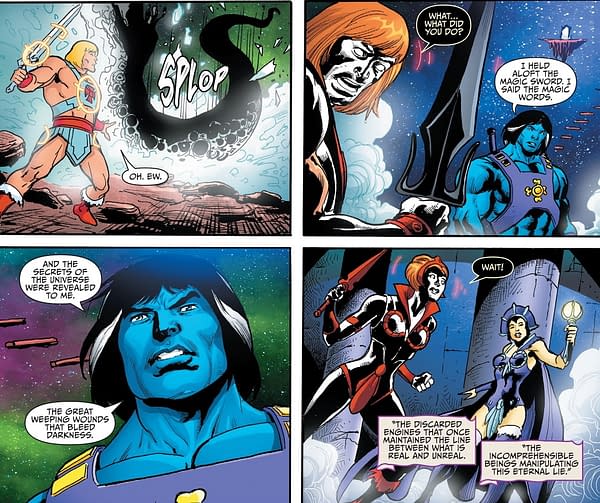 And those eighties cartoon lessons are well learned and prove the saviour of the day. Including that the best people are those who share what they have, rather than keeping it all for themselves. Less 'I have the power' and more an anarcho-syndicalist commune who take it in turns to act as sort of executive officer for the week but all the decisions of that officer have to be ratified at a special bi-weekly meeting by a simple majority in the case of purely internal affairs but by a two-thirds majority in the case of more… sorry, I was distracted. More, 'everyone can have a bit of power if they want.' Share and share-alike. We can all have the power…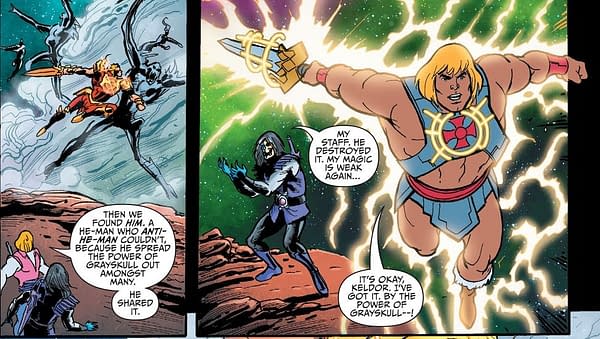 But after battles are done, reality revealed, and the final chapter is written, those He-Man who survive go on their own way. Some back to eighties cartoonland to keep those lessons flowing.

While others spread a more diverse and richer Masters Of The Universe across the Multiverse to lands that need them.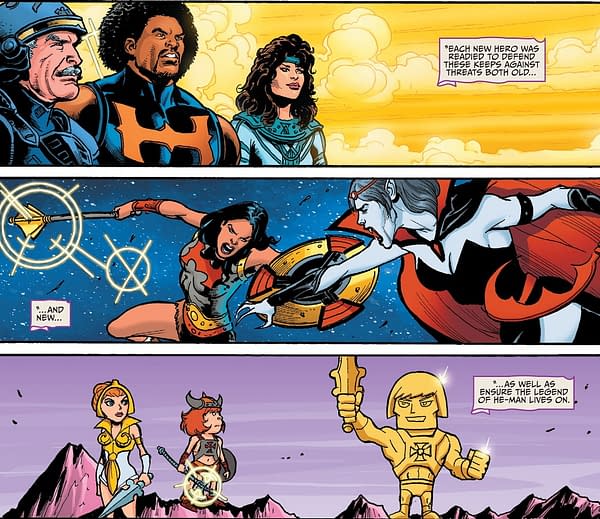 Even upcoming cartoons and games. And a final signoff from those at Mattel who approved all this nonsense. Executive producer of the new TV show Rob David, Vice President of Mattel TV and author of "He-Man: The Eternity War." The new worlds to come will be all his…

HE-MAN AND THE MASTERS OF THE MULTIVERSE #6 (OF 6)
(W) Tim Seeley (A) Tom Derenick (CA) In-Hyuk Lee
It's the finale of the reality-bending miniseries, and Prince Keldor is trapped in the bowels of Castle Hellskull. Now the only way to survive an onslaught of Anti-Eternians may be to embrace the full powers of Skeletor!In Shops: May 27, 2020
SRP: $3.99