Hannah Blumenreich is the Ignatz award winner for Outstanding Online Comic, Full Court Crush, about a girl helping the basketball player she likes with her homework. She has also written and drawn for Regular Show from Boom, Spider-Gwen and Amazing Spider-Man from Marvel,  She is also the author of IDW's Big Hero 6 comic book, licensed from Disney. Or is she? It seems she wrote the comic, just published, quite some time ago. And it has changed a little in the interim. IDW publishing a Big Hero 6 book was first announced back in October 2017, with Blumenreich and Nicoletta Baldari announced as the creative team in April 2018, planned for publication in July, of that year. It was delayed and solicited for April of 2019, but only published last week.
BIG HERO 6 THE SERIES #1
(W) Hannah Blumenreich (A) Nicoletta Baldari (CA) Gurihiru
Based on the hit Disney Channel series! Hiro, Honey Lemon, Wasabi and Go Go are all off on a class trip for the day-leaving Fred at home to defend San Fransokyo! He'd better come up with a strategy, just in case-and what better way to do that than by writing his very own Big Hero 6 comic book! Join Hiro, Wasabi, Fred, Go Go, Honey Lemon and Baymax for new adventures, new friends, and new adversaries as the Big Hero 6 team continues to fight to protect San Fransokyo!In Shops: Nov 13, 2019 SRP: $3.99
Here's what IDW editor Elizabeth Brei posted on Twitter.
Out next week! Big Hero 6: The Series #1! It's got jokes and fun, and @nicolettabaldar killed it on the art! pic.twitter.com/aeOlRjy6SD

— Elizabeth Brei (@peachchild) November 7, 2019
No mention of its writer, Hannah Blumenreich? When she accepted her Ignatz Award she stated,
in case you're interested, here's what i wrote for Award (very thank you to @toastasaurus for accepting Brick and reading Speech and also to @bluedelliquanti who is currently transporting Brick to me and hopefully not absconding with it across the border or something) pic.twitter.com/0w8kNgHBa0

— Hannah B (@hblumenreich) September 16, 2019
In which she stated,
I had about a year until my next convention, and I wanted to make something new. I planned a sci-fi comic that I was really into. It was pretty long, but I had a year, so I figured I'd be fine. Unfortunately, the licensed series I was signed on to write kept eating up my time with rejected pitches and script revisions. And I realized I wouldn't have enough time to make my sci-fi comic.  So: time for plan B. Plan B was to make another, shorter mini, that was more realistically doable with the time I had. But instead I continued to be hit with more pitch rejections, more script revisions, more e-mails with middle-man editors passing on reductive decisions made by a chain of brand-maintaining higher-ups who kept everything moving at a snail's pace. You know how it goes.  That series wasn't going anywhere. Like, literally, it never went anywhere. The first issue's release has been delayed for well over a year now. But I quit. I felt kinda bad about it. Accepting that series had allowed me to walk away from another big comics publisher. I'd hoped having my own series would show them up, but I never got that chance. So I felt bad.
Well, this week she also posted on Twitter about that licensed comic book…
so i guess they finally got big hero 6 out after 15 months and i sure would take my writer's credit with a grain of salt. pic.twitter.com/sLljd4Q9x3

— Hannah B (@hblumenreich) 13 November 2019
And she posts the first page of art…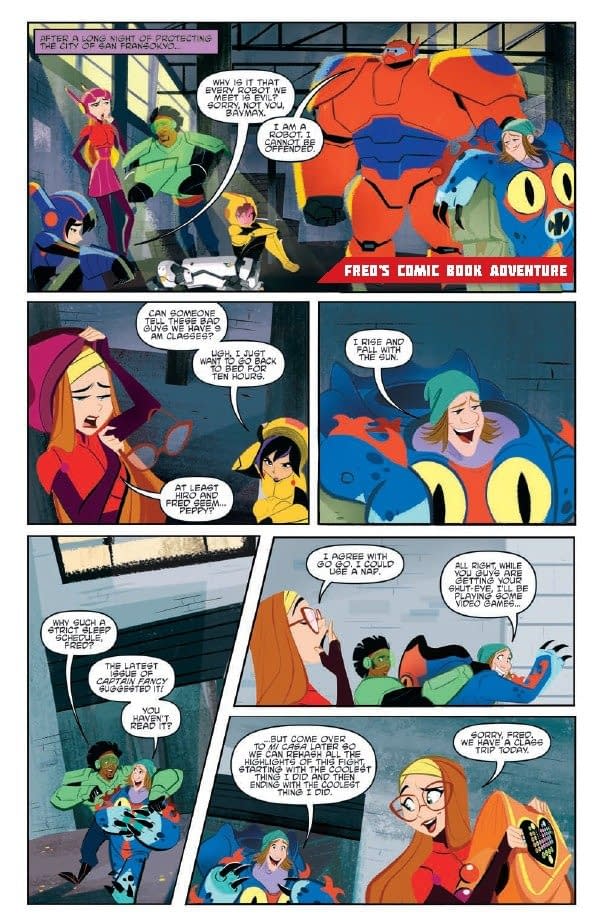 Along with the script she wrote way back when.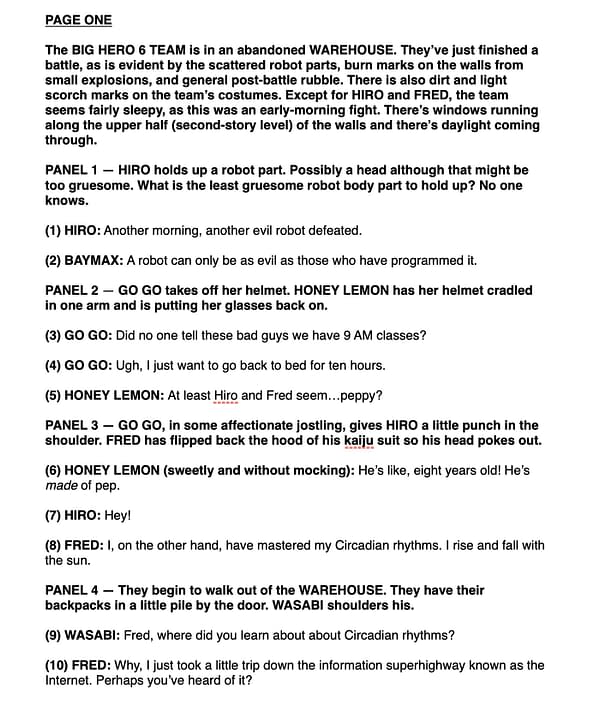 And she adds one very specific panel from later in the issue, alongside the original script, before letting rip.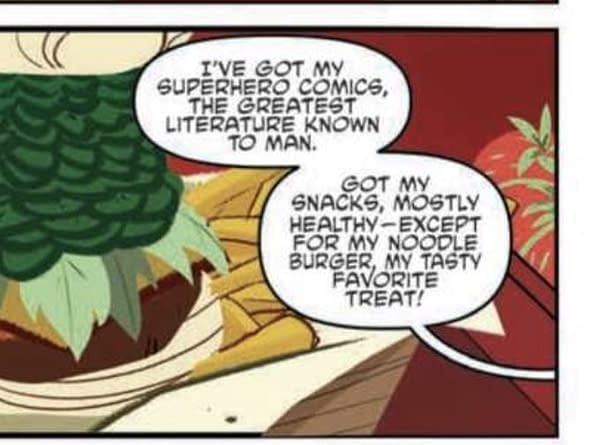 allow me to explain this joke: superhero comics are a synthetic, group-tested, company-approved, line assembled piece of junk food and not, in fact, the greatest literature known to man.

in a weird way…they fact that they've changed it…proves my point? pic.twitter.com/KL3CJ6WWFB

— Hannah B (@hblumenreich) 14 November 2019
Issue 2 is currently scheduled for January 2020 and issue 3 for… December 2019? Both now credited as being written by Joe Caramagna. Man… more changes. You can catch up with Hannah's Patreon here, Gumroad here and Ko-Fi here.
IDW told Bleeding Cool, "As a licensee, we try to honor the integrity of our partners' original creations, and we respect the hard work and passion that creators put into their projects. At times, we request changes, and our editors work with the creators through the revision process. Sometimes the end result does not match everyone's personal vision, but we will continue to work with our partners to create the best comics we can, while also trying to stay true to each of our creators' intentions."
Enjoyed this article? Share it!