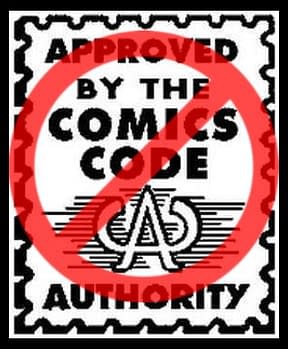 The Comics Code was administered by the Comics Magazine Association of America. For decades, when it came to comics, they saw everything. Everything.
But now? We see nothing. The files of the Comics Magazine Association of America have been lost.
Three years ago, Sean Howe, author of Marvel Comics: The Untold Story issued the following appeal,
Unfortunately, as the Comic Magazine Association of America quietly dissolves, it also carries its own history down the drain. Last year, in the course of researching a book, I tried without success to locate the files of the CMAA, which had been maintained since 1948 and were accessible as of the 1990s. Representatives at DC, Archie, and Marvel were unable to answer my questions about where the files might have ended up, although I did receive a response from a former CMAA representative. In regard to my question of who might now be safeguarding the documents, she wrote,
"There really is no one. Legally, none of the old documents of the organization had to be kept. Much of it was kept in Michael Silberkleit's office up in Archie, but as you now know, sadly, he passed on. Not sure what they would have done with the old files."
Three years on, there's still no sign. Howe writes,
The records of Josette Frank and the Child Study Association of America—which had challenged the comic-book scare of the late 1940—had been donated to the CMAA years ago. Now they have vanished, along with detailed notes on industry-wide meetings throughout the 1950s, 1960s, 1970s, and 1980s among Jack Liebowitz, Stan Lee, Carmine Infantino, John Goldwater, and others.

It seems very possible that these traces of history will soon (if they haven't already) wind up in the dumpsters of Time Warner or Disney. The industry's lack of interest in its own heritage is distressing. Do you suppose anything can be done?
DC Comics is moving from New York to Burbank, and plenty can get lost along the way. Marvel Comics have moved offices several times. But somewhere, there may well still be records.
Does anyone have them? Or have access to them? Or can facilitate someone who has? I can;t think of a better person than Sean Howe to take a look…
Enjoyed this article? Share it!