How Doomsday Clock #11, Justice League #31, Legion of Super-Heroes: Millennium #1 and Supergirl #33 Tie In – Even If They're Not Meant To (Spoilers)
When talking to Newsarama, Scott Snyder was drawn on how Doomsday Clock, set in the near future of the DC Universe, was meant to tie into all other DC Universe titles as was originally promised, just as he was bringing back the Justice Society of America and Brian Bendis was bringing in the Legion Of Super-Heroes.
Nrama: So does this tie in to Doomsday Clock at all? Because we've seen the seeds of the Justice Society returning in Doomsday Clock.

Snyder: Not really. I mean, Doomsday Clock really is its own wonderful, incredible story. The kind of light connection between them is just that, what Geoff and I talked about was because Doomsday Clock is kind of running at its own pace and in its own kind of continuity, what I didn't want to do was bring the JSA back before he had a chance to reintroduce them as a concept in issue #10. I think that's similar with other characters that he's going to be using in Doomsday Clock as well. So there's a nod to each other in that regard. I wanted him to be able to have the JSA as an idea, and have that first appearance in Doomsday Clock. But in terms of the continuities linking up, Doomsday Clock is a very special and inspirational book. We're all amazed, I think, at how good it is. But its effects are relatively self-contained to itself.
So how do today's Doomsday Clock #11, Justice League #31 and Legion of Super-Heroes Millennium #1 reflect each other – even if they aren't meant to anymore?
Justice League #31 has the Justice League travelling back in time to meet the Justice Society Of America, who they had never heard of. This is presumably because Dr Manhattan of Doomsday Clock had rewritten reality when creating the New 52 multiverse. And Flash meets Flash…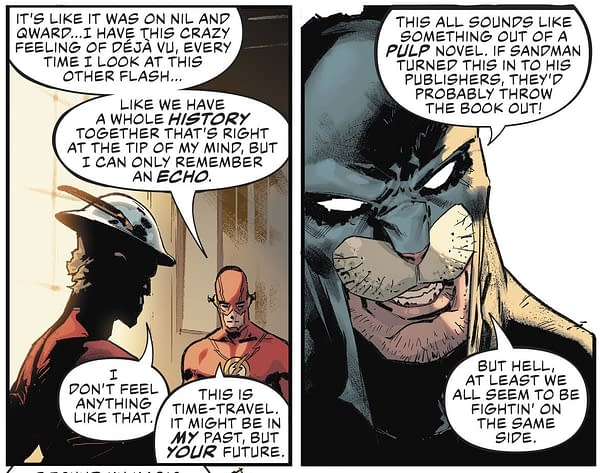 Of course in Doomsday Clock #11, we learn that Sandman, Wesley Dodds, did have an encounter with this sort of thing…

And while Doctor Fate shouts caution…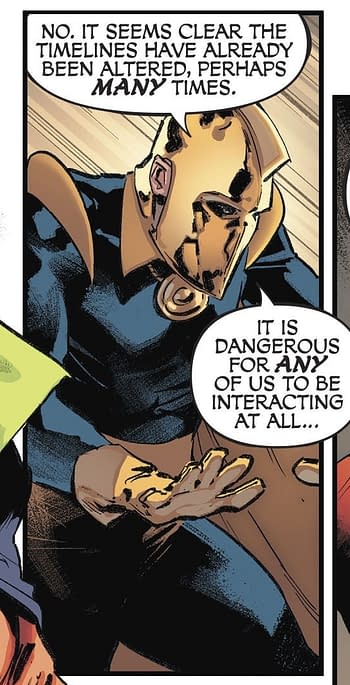 …there is photographic evidence in Doomsday Clock #11 of more besides.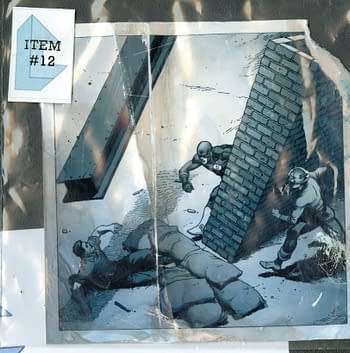 A take on the classic cover image that began a history of multiverse storytelling in superhero comic books.
While Saturn Girl of the Legion Of Super-Heroes first reappeared in current continuity in DC Rebirth #1, then turning up in Batman: The Button, Doomsday Clock and other titles associated with the rewriting of the DC Universe by Dr Manhattan… it looks like she's getting a little rewrite herself.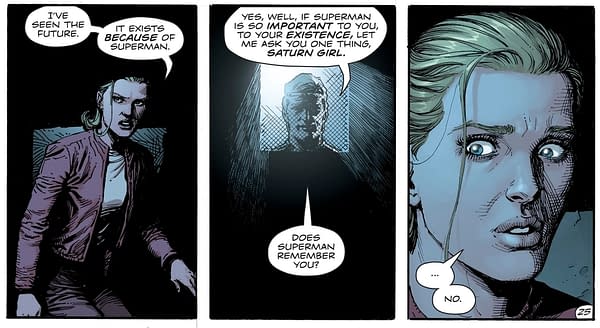 …as there are other memory gaps caused by timeline rewriting?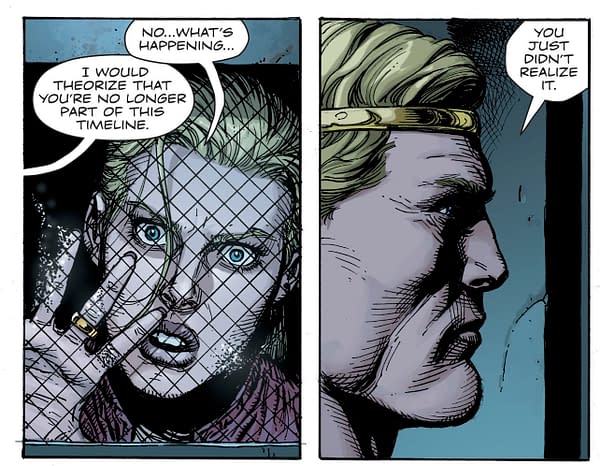 …and suddenly no longer exists? That's a peculiar end for her story – could she have been subject to some rewriting from Brian Bendis? As she can be seen in last month's today's Supergirl #33 and last week's Superman #14 in a new version of the character at odds with the one seen over the last few years, introduced by Geoff Johns.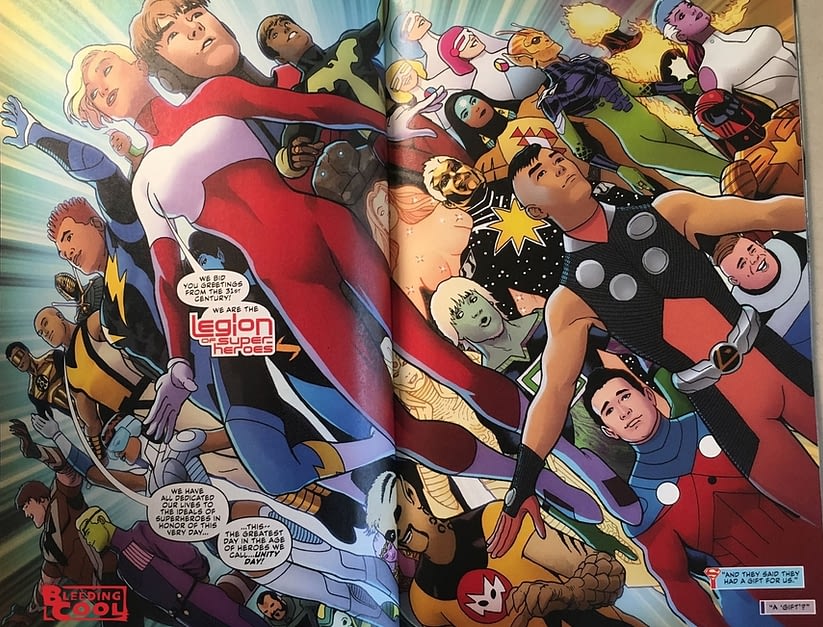 While Justice League suggests many alternate futures to come…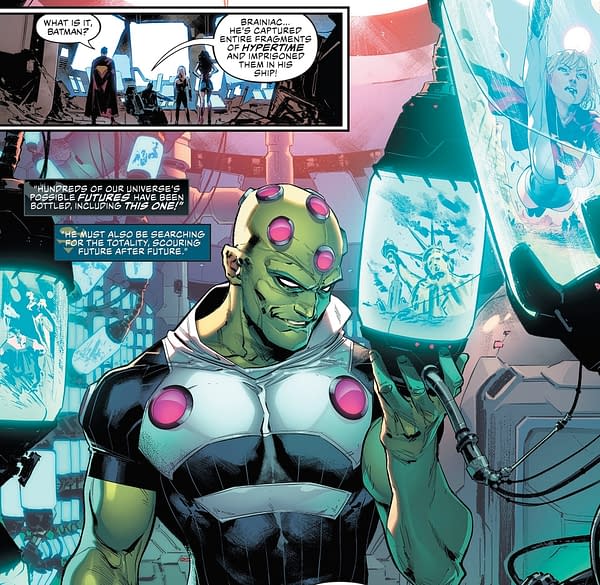 We get to see one in Legion Of Super-Heroes: Millennium, with Rose or Rose And Thorn living through it.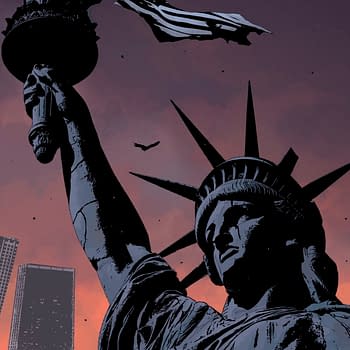 And while that sees Kamandi dealing with the legacy of Superman…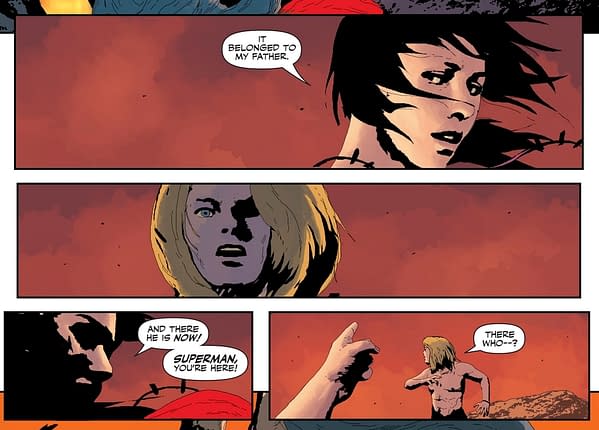 ..in Justice League #31 he gets to meet up with Superman. Presumably doesn't show him the remains of his costume…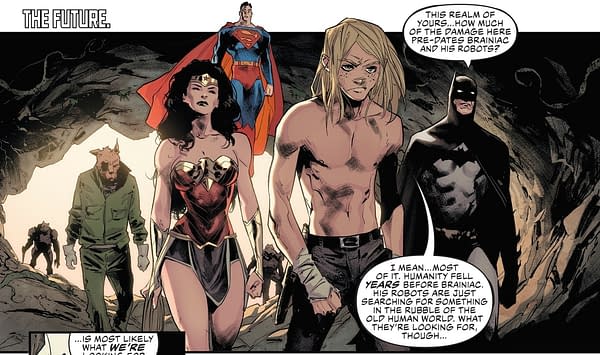 And if you think all that is complex? Just wait until the story that DC Comics is keeping Alfred Pennyworth dead in the Batman books in the present hits Doomsday Clock in the near future…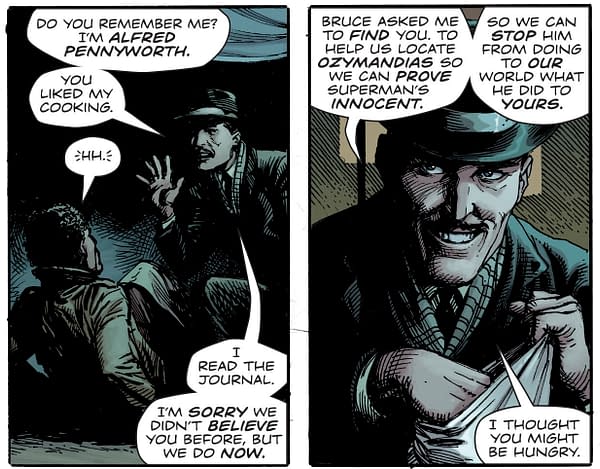 Oh no, I've gone cross-eyed.
DOOMSDAY CLOCK #11 (OF 12)
(W) Geoff Johns (A/CA) Gary Frank
The critically acclaimed series by the renowned team of writer Geoff Johns and artist Gary Frank marches toward its conclusion. In this penultimate issue, the truth behind "Rebirth" is revealed as Batman searches for the one person he believes can help him save the world…Rorschach! In Shops: Sep 04, 2019 SRP: $4.99

SUPERGIRL #33 YOTV DARK GIFTS
(W) Marc Andreyko (A) Eduardo Pansica, Julio Ferreira (CA) Kevin Maguire
After a year in space solving the mystery of Krypton's demise, Supergirl returns to Earth to discover that everything she knew as Kara Danvers is gone! Plus, the usurper Brainiac-1 has set his sights on the unsuspecting Girl of Steel-and his plans are far from benevolent! In Shops: Sep 04, 2019 SRP: $3.99

JUSTICE LEAGUE #31 YOTV
(W) Scott Snyder, James TynionIV (A) Jorge Jimenez (CA) Francis Manapul
"The Justice Doom War" part two! The culmination of Lex Luthor's plan hinges on his beating the Justice League to the prize, ratcheting up the peril as the Year of the Villain continues! The Totality has shattered and its pieces have been tossed across space and time. Thus, the Justice League must also split apart, forming three search teams to comb the past, present, and future to re-combine the Totality before the Legion of Doom can get its villainous hands on the cosmic weapon. What allies will our heroes find in these other timelines? In the future, it's the Last Boy on Earth, Kamandi! But in the past, there are the familiar faces of the Justice Society of America! In Shops: Sep 04, 2019 SRP: $3.99

LEGION OF SUPER HEROES MILLENNIUM #1 (OF 2)
(W) Brian Michael Bendis (A) Jim Lee, Dustin Nguyen, Andrea Sorrentino, Andre Araujo, Others (CA) Ryan Sook
Brought to you by some of comics' greatest talents, this epic story spans the course of 1,000 years and, for the very first time, connects all of DC's future timelines! Starring the unlikeliest of DC heroes as she learns to cope with newfound immortality and roams through the disparate societies of Batman Beyond, Kamandi and Tommy Tomorrow, wrestling with her own inner demons and desperately trying to find her purpose in an ever-changing world. Do not miss this truly unique take on tomorrow's DC Universe, all leading up to a special launch on the millennium! In Shops: Sep 04, 2019 SRP: $4.99