It's been a long wait. But, yes, as we noted, DC Comics' December 2019 solicitations indicate that Doomsday Clock #12 by Geoff Johns and Gary Frank will be out before the end of the year. And given that issue 11 came out a couple of weeks ago, and given the many delays, that's probably a reasonable schedule without any further delays. The first issue was published in November 2017 – and you know, if they'd set it up as bi-monthly from the beginning, it would have made a lot of folk less mad, and made for a lot less paperwork in the constant delays. Anyway, we are where we are.
The end of issue 11 set up the final confrontation between Dr Manhattan and Superman, in this unauthorised sequel to Watchmen published by DC Comics, that has been teased from the beginning. Dr Manhattan cannot see past his fight with Superman, and so has been spending his time trying to understand Superman's place in DC Comics continuity, changing with the seasons, and giving rise to Manhattan's name of this reality, the metaverse.
But in December it is time. And the blood splatter is no longer on the smiley face but on the Superman shield. And the hands are at midnight.
Week before Christmas. Ho ho ho.
DOOMSDAY CLOCK #12
written by GEOFF JOHNS
art and covers by GARY FRANK
This is it! The final showdown between Dr. Manhattan and Superman shakes up the DC Universe to its very core! But can even the Man of Steel walk out from the shadow of Manhattan?
ON SALE 12.18.19
$4.99 US |12 OF 12|32 PAGES
FC|DC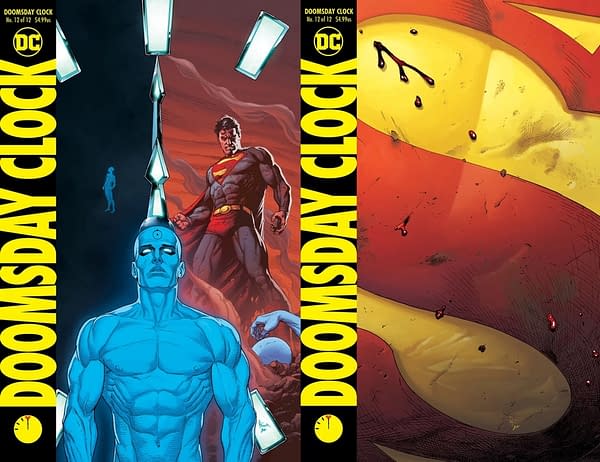 Enjoyed this article? Share it!