In 2013, DragonCon co-founder and previous co-owner Ed Kramer pled guilty to three counts of child molestation and was sentenced to twenty years, with the first five to be served in home confinement. No longer serving house arrest, he still wears an ankle monitor on "intensive" probation, he is prohibited from having unsupervised contact with a child under 16 years old and his computer access is restricted. Or, at least, it was.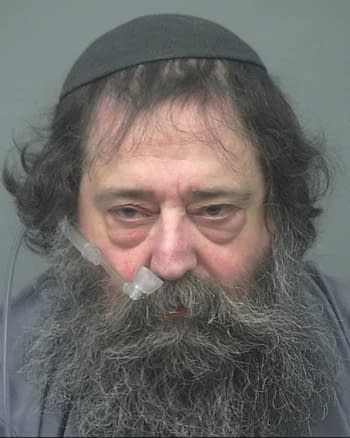 Originally arrested in 2000, his prosecution was repeatedly delayed, over medical issues presented by his legal team, from neck pain and hearing issues to emphysema and psoriatic arthritis. The photo of him in his neck brace was the one mostly used. In September 2011, he was rearrested after he was found in a Connecticut hotel room with a 14-year-old boy, which spurred previous legal actions. In 2013, the other owners of DragonCon bought him out, after pressure to disassociate themselves from him.
In February this year, he was back in jail, arrested for allegedly photographing a young boy at a doctor's appointment room office in Lawrenceville, Georgia. The Gwinnett Daily Post reported witnesses telling police that he was "following the victim with his phone held out in front of him, trailing the victim's movement" and that staff at the facility told police they knew Kramer was a registered sex offender who bears the Georgia classification of "sexually dangerous predator", though this is a label he is challenging in court.
And in a bizarre twist, the Daily Post now reports that there are now allegations that Gwinnett County Superior Court Judge Kathryn Schrader expressly gave a Kramer access to the county's computer network, with motions being filed by District Attorney Danny Porter for her to recuse herself from all criminal cases.
It began with an allegation brought by Schrader that Porter hacked her computer, which led the judge to hire a private investigator, T.J. Ward, to look into the suspected hacking. Ward then invited others to look into the matter – including Kramer.
And, as a result of Kramer's legal representation regarding the recent arrest, it was stated that software known as Wireshark was placed on Judge Schrader's office computer to ensure proper analysis, and that "Ward put his computer forensic analyst, Defendant Edward E. Kramer, in charge of monitoring and analyzing the Wire Shark's collected data." And that his recent arrest came while he was still monitoring Schrader's computer and preparing "documentation for Judge Schrader to utilize in contacting federal authorities."
And it was during that arrest and Kramer's computers and phones being seized that District Attorney Porter was made aware that Kramer had access to the county computer network, and that Judge Schrader had contacted Kramer. And that an affidavit from Porter states he confronted the judge about her computer being monitored, but "at no time during this meeting did Judge Schrader disclose that she had any direct knowledge of this monitoring, or that she had hired Ward, Karic and Kramer to do so." With Kramer now accusing Porter of hacking her computer.
This is the kind of story that you end with the word, developing…
Enjoyed this article? Share it!