Dynamite Confirms Vampirella #1 Has 130,000 Orders (UPDATE)
I don't know if any subscription boxes are involved. Or if any mysterious comic conventions are buying 100,000 copies to get a headline. Dynamite aren't returning e-mails on that subject. But they have announced that the upcoming Vampirella #1 by Priest and Ergün Gündüz, has pre-orders of 130,000.
They do say that this number includes all orders through Diamond, specialty retailers and creator exclusive covers. And it marks the highest for a full price comic in Dynamite's 15-year history, and making this also the best selling Vampirella comic book of all time.
Dynamite did make the first issue returnable for retailers, and will be doing the same for the second issue, which allows retailers to order high without risk – and also included tiered Stanley 'Artgerm' Lau covers, but this is still not enough to explain such a high number.
We look forward to finding out more.
UPDATE: Nick Barrucci has provided us with more:
One subscription box company bought an exclusive and their order was under 2,000 units. This is not a situation where we sold 100,000 copies to one account either. These actually sold to retailers and fans.

It's a nice mix, a lot of modest and medium orders. It's also a nice mix of different retailers and creators who had faith to fit Vampirella into their promotions. Most orders were in the 1,000 unit range between creators who purchased 1,000 to 3,000 units each. It's a strong mix.

There were almost 90,000 through Diamond, with the breakdown being 70,000 standard orders through Diamond that are available to all retailers. Diamond also sold another 20,000 in exclusives. Hence, the 90,000 units.

And the other 40,000 orders were as stated above, mostly mostly 1,000 unit to 2,000 unit orders, with the exception of 3 orders, two creators who purchased 5,000 plus units and one retailer in the 5,000 range.

The number may still climb as we're still finalizing till tomorrow afternoon.
"We cannot express enough how appreciative we are for the support from fans, retailers as well as support from retailers outside of the direct market and talent who have created covers for their own sales," said Nick Barrucci, Dynamite CEO and Publisher. "We knew we had a great creative team on this title with the incredible Christopher Priest being complemented by the lush art of Ergün Gündüz, and breathtaking covers to match. The 50th Anniversary will only happen once, so everything had to be perfect. Everyone from the creative team, editorial and sales & marketing worked hard together at all levels to make this a success. It's incredibly gratifying to get such a welcoming response back."
And they also tease that 'one of the greatest comic artists of all time will bow out with a Vampirella cover as his final work' for issues to come. Milo Manara? Albert Uderzo? George Perez? We'll find out soonish..
Vampirella #1 is published on July 17th.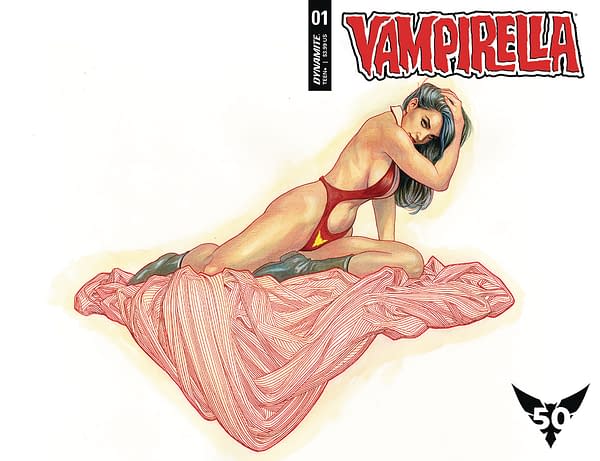 VAMPIRELLA #1
(W) Christopher Priest (A) Ergun Gunduz (CA) Frank Cho
In July 1969, the world was first introduced to Vampirella. 50 years later, she doesn't look a day older!!!! Now, to celebrate her gold anniversary, Dynamite is launching a brand-new, ongoing series featuring the talents of Christopher Priest (Black Panther, Deathstroke, Quantum & Woody, Justice League) and European star/American star-in-the-making, Ergün Gündüz (Tales of the Great War, Taxi Tales)! You'll experience the first, mysterious taste of things to come in Vampirella Free Comic Book Day #0, and the story continues here!!!
In Shops: Jul 17, 2019
SRP: $3.99