Charlie's Angels, Nancy Drew, and Vampirella Lead Dynamite's June 2018 Solicitations
Dynamite is making their debut as a Premiere Vendor in the Previews catalog, and we have a list of all their products shipping in June 2018.
CHARLIE'S ANGELS #1
Cover A: David Finch, Jimmy Reyes | Cover B: Joe Eisma | Cover C: Joe Eisma "Character Design" Cover | Writer: John Layman | Art: Joe Eisma
The Angels are back, baby! —The original Angels, Jill, Kelly and Sabrina! Travel back to the swingin' 70s, and revisit the butt-kicking, crime-fighting, mold-breaking lady detectives who took 70s TV by storm, ready to do the same to comics 40 years later! Break out your bell-bottoms, feather your hair, and jump back to a era of peanut-farmer presidents, gargantuan gas-guzzlers and foxy female detectives… for a globe-trotting adventure that's simply too big and epic for the 70s-era boob tube. Written by elderly Eisner winner and solicitation-writing former-superstar John Layman, and with art by his scrappy but lovable youngster pal, Joe Eisma. This is one comic you DON'T DARE TO MISS!!!!
NANCY DREW #1
Cover A: Tula Lotay | Cover B: Marguerite Sauvage | Cover C: Annie Wu | Cover D Subscription: Jenn St-Onge | Writer: Kelly Thompson | Art: Jenn St-Onge
Nancy Drew is seventeen and good at everything…ESPECIALLY solving crimes. But her totally-in-control-and-obviously-running-perfectly-smooth-(but-not-really) life hits a snag when a mysterious message drags her back to the hometown she left behind. There she'll have to find out which of her friends are still her friends, which are enemies, and who exactly is trying to kill her…and (hopefully) stop them before they succeed. KELLY THOMPSON (Hawkeye, Star Wars, Rogue & Gambit) and JENN ST-ONGE (Giant Days, The Misfits) team up to present an all-new modern spin on a classic mystery icon!
VAMPIRELLA: ROSES FOR THE DEAD #1 (of 4)
Cover A: Joseph Michael Linsner | Cover B: Billy Tucci | Writer: Kristina Deak-Linsner | Art: Joseph Michael Linsner
Fan Favorite artist Joe Michael Linsner is joined by writer Kristina Deak-Linsner to create a 4 issue Vampirella mini-series that gets Vampi back-to-basics as Dynamite prepares to celebrate her 50th Anniversary in 2019! Vampirella hunts down a sexual predator in order to feed her insatiable thirst for blood. While tracking him down to a Philadelphia nightclub, Evily the Witch bars her path. They clash and the plan is thwarted. Do they both decide to team up against him, or remain at odds? Whatever the means, Vampi vows to get revenge!
THE ART OF JOSÉ GONZALEZ Hardcover
Cover: Jose Gonzalez | Writer: David Roach | Art: Jose Gonzalez
Back in Print! For nearly two decades, José "Pepe" Gonzalez was hailed as the premier Vampirella artist, drawing the fiery vixen for Warren Publishing in the Seventies and Eighties. Renowned for bringing to life the most beautiful women the art world has ever seen, Gonzalez's career spans from drawing British romance comics to movie stars, book covers to commercial advertising, and, of course, personal commissions for loved ones and devotees. For the first time ever, author David Roach covers Jose's entire career, transcending his vast body of Vampirella work to explore the full breadth of the master's creations. Vampirella collectors and Jose Gonzalez fans rejoice, for the life-spanning retrospective you've been waiting for has finally arrived! Featuring an introduction by fan-favorite painter Joe Jusko.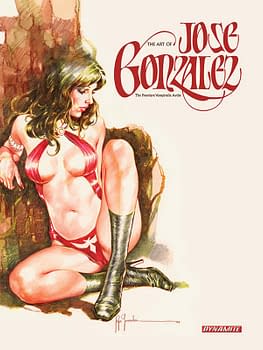 BARBARELLA #7
Cover A: Butcher Billy | Cover B: Hayden Sherman | Cover C: Daniel HDR | Cover D: Giovanni Timpano | Cover E Subscription: Kenan Yarar | Writer: Mike Carey | Art: Kenan Yarar
Barbarella is lost in a maze of Radically Unstable Space-Time, with Pulver Glain, his boys, and his smarter-than-smart gun Sally-Anne hot on her trail. But what's at the heart of the maze is a threat – and a miracle – that none of them are ready for.
BATTLESTAR GALACTICA VS BATTLESTAR GALACTICA #6 (of 6)
Cover A: Adam "Mojo" Lebowitz | Cover B: Johnny Desjardins | Cover C: Michael Adams "Apollo" Action Figure Cover | Cover D: Roberto Castro "Apollo" Split Cover | Writer: Peter David | Art: Edu Menna
Kali and Iblis' plan is discovered, but broken trust is a hard thing to overcome, harder still when lives are at stake! Can the crews of the Galacticas work together to save the last remnants of humanity, or will this spell the end of the species?
DEJAH THORIS #5
Cover A: Mike McKone | Cover B: Sean Chen | Cover C: Sergio Davila | Writer: Amy Chu | Art: Pasquale Qualano
Water, water, everywhere… The Princess of Mars discovers the hard way what it means to be a Jeddak as she faces an unthinkable situation on the barren planet of Barsoom, death by drowning…
FRUIT NINJA & JETPACK JOYRIDE Hardcover
Cover: Scott O. Brown | Writer: Nate Cosby | Art: Scott O. Brown, Ruairi Coleman
Based on the BILLION-times-downloaded game! The FRUIT NINJAS have mastered the art of Juice Jitsu (no, really!) which unlocks hidden powers through the slicing of fruit (seriously) so they can protect their neighbors from time-traveling super-villains! (still with us?) PLUS: An ANCIENT FRUIT NINJAS tale from a thousand years ago, featuring a PIG and a PEACH! PLUS PLUS: A JETPACK JOYRIDE tale featuring a dude with a jetpack battling flying hippos with buttercream-based weaponry! HOW did we fit ALL this ridiculously amazingly dumb stuff into ONE volume? PAY MONEY TO FIND OUT!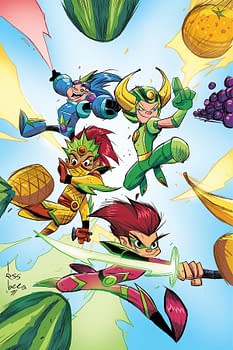 GEORGE R.R. MARTIN'S A CLASH OF KINGS #12
Cover A: Mike Miller | Cover B Subscription: Mel Rubi | Writer: George R.R. Martin, Landry Q. Walker | Art: Mel Rubi
George R.R. Martin's epic A Song of Ice and Fire series continues with this latest installment of A Clash of Kings!
THE GREATEST ADVENTURE Hardcover
Cover: Cary Nord | Writer: Bill Willingham | Art: Cezar Razek
Heroes and heroines – along with the villains – from the entire Edgar Rice Burroughs library stand together! Tarzan, Jane Clayton and Meriem Clayton, John Carter and Dejah Thoris, Korak The Killer, Jason Gridley, Billy Byrne, Bridge, The Oskaloosa Kid, Barney and Victoria Custer, Jim Stone, Townsend Harper, Virginia Maxon, Johnny La Fitte, The Rider, Shannon Burke, Ulysses Paxton, and more! Together for the first time! Tarzan and Jason Gridley have assembled a crew of the greatest adventurers their world has to offer. Aboard the Martian sky ship Venture, they've set off in pursuit of a powerful gemstone called the Eye of Judgment. They're in a race to find the gem against an alien battleship called the Resolve. If the villains aboard the Resolve get it first, they'll be able to construct a death ray that can reach across the stars themselves, and kill anyone on any world, with the touch of a button. Explore the worlds of Edgar Rice Burroughs as never before with Eisner Award-winning writer Bill Willingham (Fables) and artist Cezar Razek (Red Sonja) exploring every corner of the Burroughs world in this 248-page hardcover collecting the complete, 9-issue epic, and featuring all of the covers by Cary Nord (Conan), Greg Smallwood (All-New Guardians of the Galaxy), Roberto Castro (Red Ronja/Conan), and more!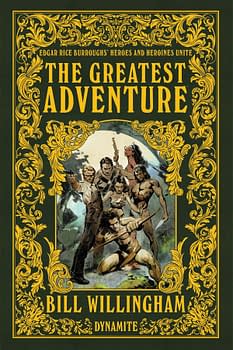 HACK/SLASH VS VAMPIRELLA: THE HEART IS A LONELY KILLER Trade Paperback
Cover: Jenny Frison | Writer: Shawn Aldridge | Art: Rapha Lobosco
The Vegas strip heats up as Cassie Hack and her companion Vlad are on the trail of a deadly slasher and meet the lovely, yet lethal Vampirella. The team-up event you've been waiting for is a high stakes game of chance when they have to take on The Queen of Hearts! This Volume collects the complete, 5-issue series by Shawn Aldridge (The Dark and Bloody) and Rapha Labosco (James Bond), and features all of the covers by Jenny Frison, Carli Ihde, Jen Vaughn, Kyle Strahm, Chrissie Zullo, Goran Sudzuka, Michael Dooney, Bully Tucci, and more!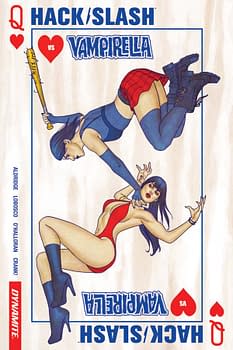 GREEN HORNET #4
Cover A: Mike McKone | Cover B: Mike Choi | Writer: Amy Chu | Art: German Erramouspe
Kato orders the Hornet team to Hong Kong where they'll need to break into the ultra-secure National Bank of China in order to find the answers they need. But will they be able to pull off this daring heist without attracting the attention of the public's new favorite hero, the Oko?
JAMES BOND: THE BODY #6 (of 6)
Cover A: Luca Casalanguida | Writer: Aleš Kot | Art: Luca Casalanguida
A pub. A meeting between old friends. But is it just what it seems? All threads of The Body converge, and Bond has to face the consequence of his actions.
JEEPERS CREEPERS #3
Cover A: Stuart Sayger | Cover B: Kewber Baal | Cover C: Tom Mandrake | Writer: Marc Andreyko | Art: Kewber Baal
The Untold History of the Creeper continues! What REALLY happened to the lost colony of Roanoke? As Devon dives deeper into the past, he puts himself in danger today!
KISS/ARMY OF DARKNESS #5 (of 5)
Cover A: Kyle Strahm Cover B: Goñi Montes Cover C: Ken Haeser "Starchild" Cover Writer: Chad Bowers, Chris Sims Art: Ruairí Coleman
They have rock'n'rolled all night and partied every day to fix the timeline, but can KISS and Ash overcome the Deadites, The Disciples of the Destroyer, the Necronomicon, Evil Sheila, and god knows what else they are trying to throw at them? Find out in the epic conclusion of the story that tries to restore Ash to his rightful place as the Chosen One and KISS to the top of the charts!
LEGENDERRY: RED SONJA #5 (of 5)
Cover A: Joe Benitez | Writer: Marc Andreyko | Art: Rodney Buchemi
Gath's explosive plan to bring about hell on earth is well on its way to completion and Red Sonja is the only one with any chance of stopping it! It all leads up to this! And after the (possibly radioactive) dust settles, where will Sonja be?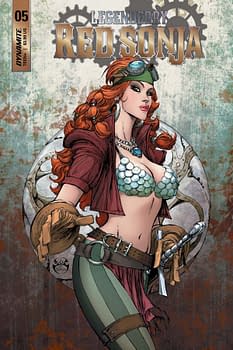 PATHFINDER: SPIRAL OF BONES #4 (of 5)
Cover A: Marco Santucci | Cover B: Vincenzo Federici | Cover C: Tom Mandrake | Writer: Crystal Frasier (Main), Rob McCreary (backup) | Art: Tom Garcia (main), Diego Galindo (backup)
Trapped in a three-sided struggle between his fellow Pathfinders, an ancient wizard, and the agents of death itself, Valeros struggles to understand what his life has become and retain control of his own living body! The Spire of Bones story continues in this tale written by Pathfinder developer Crystal Frasier with art by Tom Garcia (Mercy Thompson, Pathfinder: Hollow Mountain). Contains an ongoing Starfinder bonus story, a Pathfinder RPG rules appendix, and a bonus pull-out poster map!
PUMPKINHEAD #5 (of 5)
Cover A: Kyle Strahm | Cover B: Blacky Shepherd | Writer: Cullen Bunn | Art: Blacky Shepherd, Kyle Strahm (backup)
Bradley Mountain is crawling with demons. All the sins of man have been unleashed upon the Earth. Pumpkinhead, the demon of vengeance, is their prey, but he's not giving up on his unholy mission without a fight. Sheriff Andi Ferris is the only person standing in the way of a full-scale demonic massacre, and when she finds those responsible, she'll exact a little vengeance of her own.
RED SONJA #18
Cover A: Tula Lotay | Cover B: Billy Tucci | Cover C: Carlos Gomez | Cover D: Cosplay Cover | Cover E Subscription: John Royle | Writer: Amy Chu, Erik Burnham | Art: Carlos Gomez
After discovering the provenance of her sword — and the fact that the original owner has promised a large reward for its return — Sonja travels to the realm of Lord Skath, only to discover a legendary warrior who can no longer live up to his reputation. (And because Sonja is who she is, she also discovers treachery and danger and a conflict she can't help but be drawn into!)
RED SONJA/TARZAN #2
Cover A: Aaron Lopresti | Cover B: Walter Geovani | Cover C: Sergio Davila | Cover D Subscription: Roberto Castro | Writer: Gail Simone | Art: Walter Geovani
The Lord of the Jungle and the She-Devil with a Sword find themselves up against an enemy who uses methods they cannot comprehend. In different times and places, our heroes must seek out the assistance they need to stop the evil Eson Duul before he destroys both of their worlds.
SHERLOCK HOLMES: THE VANISHING MAN #2 (of 4)
Cover A: John Cassaday | Writer: Leah Moore, John Reppion | Art: Julius Ohta
Holmes and Watson continue their search for Michael Williams, only to discover they are not the only people doing so. Are the mysterious figures trailing the detectives responsible for Michael's disappearance? Meanwhile, Moriarty's reappearance puts someone close to the sleuths in mortal danger!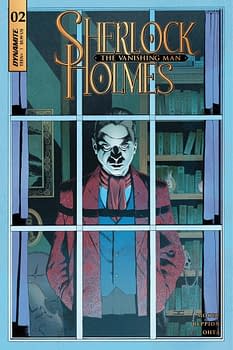 SHEENA #10
Cover A: Maria Sanapo | Cover B: John Royle | Cover C: Diego Galindo | Cover D: Cosplay Cover | Writer: Marguerite Bennett, Christina Trujillo | Art: Maria Sanapo
It's a battle against mercenary and monster to reverse the rot and restore Mother Forest! Now, Sheena must escape the explosive ruins of Caldwell's lab, navigate a literal minefield of danger, and return what is left of the temple of the First People, all while protecting her friends from man and beast determined to stop them—but the ghosts of Sheena's long forgotten past have woken, bringing with them old enemies…
SWASHBUCKLERS: THE SAGA CONTINUES #3
Cover A: Butch Guice | Cover B: Andrea Mutti | Writer: Marc Guggenheim | Art: Andrea Mutti
The Colonizer Empire was created to fight a threat from beyond the stars, but now that the Colonizers have fallen, ther ancient enemy has resurfaced. And where does Raader and her crew find themselves? The last place they would expect to be: on the bridge of Colonizer ship!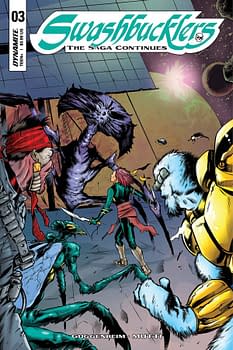 XENA #5
Cover A: Sergio Davila | Cover B: Vicente Cifuentes | Writer: Meredith Finch | Art: Vicente Cifuentes
Confronted by a victim from her murderous past, Xena must decide what price she is willing to pay for her sins. But is Gabrielle willing to let her? All roads lead to one final epic battle between present and past, for the soul of a Warrior Princess.
VAMPIRELLA: THE DYNAMITE YEARS OMNIBUS VOL. 3 Trade Paperback
Cover: Terry Dodson | Writer: Nancy A. Collins | Art: Patrick Berkenkotter, Crizam Zamora, Aneke
COLLECTING VAMPIRELLA (2014) #1-13, ANNUAL 2015, & PRELUDE TO SHADOWS BY NANCY A. COLLINS IN ONE MASSIVE, 424-PAGE OMNIBUS! Vampirella is sent by the Vatican to investigate the kidnapping of a little girl by Ethan Shroud and the Chaos cultists, only to become the centerpiece of a ritual invoking Lady Umbra, the sister-bride of Chaos, that leaves her marked as a living sacrifice to the dark goddess who rules the shadows. Then…Vampirella assumes the role and obligations of Lord Drago, joining The Kabal, a clandestine organization of supernatural creatures. When a strange, rabies-like plague spreads through the slums of Sao Paolo like wildfire, infecting victims with homicidal fury, the Kabal calls upon Vampirella to capture the disease's murderous creator — one of The Accursed, a human condemned to eternal life for his sins: the fabled Dr. Faustus. VAMPIRELLA is back and returns to her horror roots with Bram Stoker Award-winning author Nancy A. Collins (Swamp Thing, Sunglasses After Dark, Jason vs. Leatherface) and Patrick Berkenkotter (Avengers/Invaders, Red Sonja).
JOSEPH MICHAEL LINSNER'S DAWN STATUE
Art: Steve Kiwus (sculptor), Joseph Michael Linsner (art)
Dawn, the goddess of rebirth, has been one of the most enduring characters in independent comics since her creation by artist, Joseph Michael Linsner, in the late 1980s. With sculpting by RVCKVS International, and continued guidance from her creator, Dynamite has spared no detail in bringing this iconic comic book idol to life.
RED SONJA ENAMEL PIN
Art: Frank Thorne
Feel the fury of her 45th anniversary! Red Sonja can't be caged, but she will look great on your lapel or backpack. Frank Thorne's classic art of Red Sonja literally shines in enamel.
VAMPIRELLA ENAMEL PIN
From the pages of Vampirella Magazine! This iconic image of everyone's favorite Drakulon native was a familiar sight in her early publications and now it gets the collectable pin treatment just in time for her 50th anniversary.
GRAND PASSION COLLECTORS' SET TRADING CARDS
Art: John Cassaday
Grand Passion, the brain-child of James Robinson (Squadron Supreme, Nick Fury), is the critically-acclaimed series from dynamite where Harlequin romance meets hard-boiled crime. Now fans can experience this one-of-a-kind story in a whole new way with the Grand Passion Collectors' Set Trading Cards. This 5-card set features all five of artist John Cassaday's (Planetary, Astonishing X-Men) covers, and comes with a Certificate of Authenticity.
GRAND PASSION T-SHIRT
Art: John Cassaday
Sizes: Men's L, XL, XXL, XXXL – Women's S, M, L, XL
Grand Passion is the brain-child of James Robinson (Squadron Supreme, Nick Fury) where Harlequin romance meets hard-boiled crime. A cop and criminal couldn't be any more different from each other, but comic fans can all agree John Cassaday's art is perfect for wearing.
DEJAH THORIS T-SHIRT
Art: Cédric Poulat
Sizes: Men's L, XL, XXL, XXXL – Women's S, M, L, XL
Dejah Thoris has been a major character in Edgar Rice Burroughs' Mars book series since its inception. She has been the muse of hero, John Carter, as well as strong and intelligent warrior for the people of Mars. Now, Dejah asks her fans to join the fight for freedom with this war propaganda influenced tee.
CONTROL T-SHIRT
Art: Andrea Mutti
Sizes: Men's L, XL, XXL, XXXL – Women's S, M, L, XL
Control is one of Dynamite's curated titles of original, creator-driven stories from Andy Diggle (Hellblazer, Daredevil, The Losers). Framed for a murder she didn't commit, Det. Sgt. Kate Burnham is the target of a massive conspiracy and the star of this action-packed piece of apparel.
VAMPIRELLA T-SHIRT
Art: Jose Gonzalez
Sizes: Men's L, XL, XXL, XXXL – Women's S, M, L, XL
Vampirella, the classic, vampire super-heroine has been a consistent lead character at Dynamite for years. She's teamed-up with the likes of Dracula, Dawn, and even Ash from Army of Darkness, but we're celebrating her origins with this "vintage-style" t-shirt design.
VAMPIRELLA 50th ANNIVERSARY 2019 POSTER CALENDAR
Size: 24.5" H x 12" W
Cover: Joseph Michael Linsner
Art: Frank Frazetta, José Gonzales, Mike Mayhew, Amanda Conner, Terry Dodson, Jelena Kevic-Djurdjevic, Joe Jusko, Enrich, Joseph Michael Linsner, Jae Lee, Paul Renaud, and Jenny Frison
Celebrate Vampirella's 50th anniversary with this 24.5" high x 12" wide, 12-month, spiral-bound, poster wall calendar. Each of its twelve, single-sided sheets of durable, card stock pages, features a ready-to-frame, perforated, 20" h x 18" w poster by one of Vampirella's greatest artists from across her five decades of publications. Count down your 2019 with Vampirella artists Frank Frazetta, José Gonzales, Mike Mayhew, Amanda Conner, Terry Dodson, Jelena Kevic-Djurdjevic, Joe Jusko, Enrich, Joseph Michael Linsner, Jae Lee, Paul Renaud, and Jenny Frison, then save and frame that art for years to come!