Clydene Nee, longstanding organise of Artists Alley at San Diego Comic-Con, shared the sad news,
Our good friend, Artists Alley volunteer, and all-around great guy Ed Cavanaugh has passed away after a long battle with colon cancer and pancreatic cancer.

I met Ed Cavanaugh 10 years ago through my friend Phil Philip Lindsten. He was a fellow photographer and feels good friend. Over the years I had gotten to know Ed and he was a remarkable man.

He started off with humble beginnings and worked as a dishwasher until he joined the Navy. While thereb The Navy found out ed was a genius, and he was a nuclear engineer on submarines for many years. After he retired from the Navy he went to work as a nuclear engineer for San Onofre until the plant closed a couple years ago.

Ed had a fun loving and disarmingly charming personality. He could make even the grumpiest people smile. He was very quick to make friends and he was one of the most fun loving people I've ever met.

We will miss him very much.

RIP Ed Cavanaugh
With many creators sharing their own tributes, thoughts and memories of the man.
Jonboy Meyers Ahh Ed was so awesome very sad to hear this
Jeffrey Moy Aw, man. That's so sad. I'd always give him a great pose when he'd come by!
Tess Fowler: Bawling my eyes out right now. Chris and I were just talking about him last night. Missing him and his camera gang. Damnit. DAMNIT.
Javier Velasco: Please let us know if there will be a memorial. He will be missed. One of the first smiling faces I met at the Con.
Joe Phillips: In so sad to hear that, 2019 is taking too many of our friends
Dave Elliott: 😞😔❤️❤️❤️
Bill Maus: This breaks my heart-such a good soldier and good person- smiling and joking with my daughter and I despite his challenges… you will be missed my friend:( -I wish I had better words…but one less smile in this world is a hard hit- Godspeed.
Kat Maus: He will be missed. I'm so grateful I got to spend quality time and fun with him this past year at Comic Con. His soul is truly one of a kind ❤️
Chuck Wojtkiewicz: Fair winds, Ed- we'll miss you!
Philip Lindsten Ed was a gift from the Gods, a gift to us ALL. It's very tough for me to talk about it, but I do rejoice in the knowing, in the love he had for all of us. SDCC 2011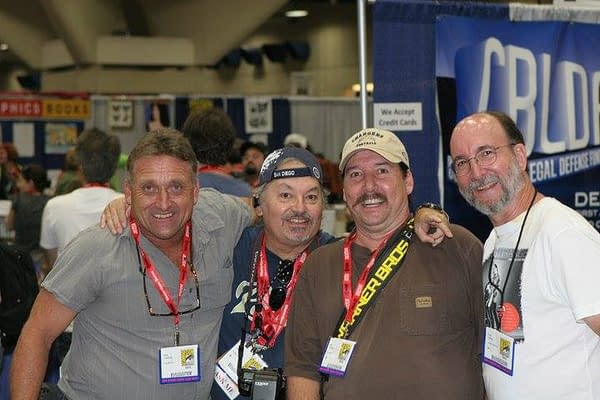 Enjoyed this article? Share it!