Erik Burnham has a Writers Commentary on Chastity #4, out now from Dynamite Entertainment. He writes,
Here we go, Chastity #4, the penultimate issue of the Chastity miniseries. As with issue #3, the book is plotted and drawn by Daniel Maine, who then hands it over to me for dialogue. While I'm making up words, Bryan Valenza colors it all up; when I'm done, Carlos M. Mangual slaps those words onto the page. Matt Idelson has herded us all to common purpose, such is his power.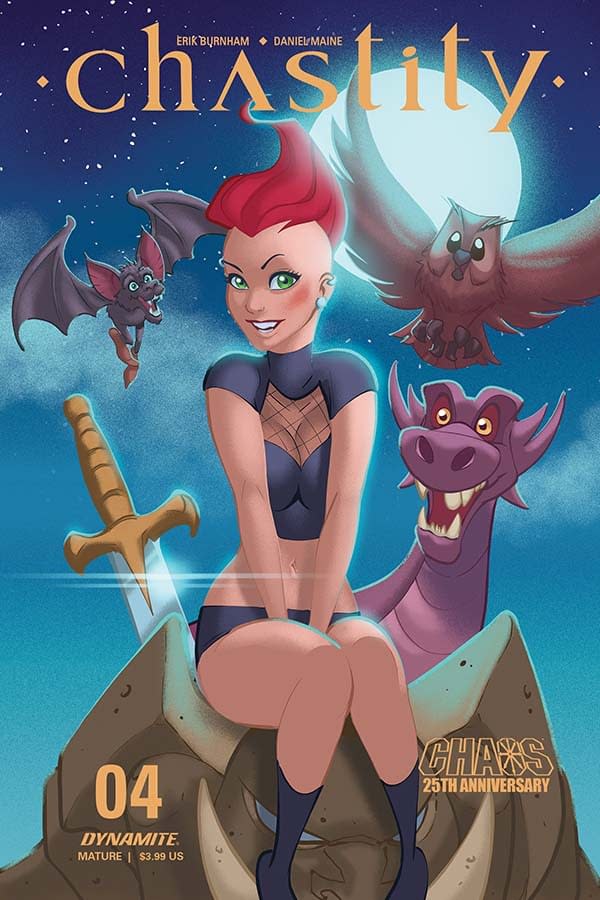 Three covers here, with Cover A by Catherine Nodet; Cover B by Ale Garza, Mostaffa Moussa and Jesse Heagy; and Cover C by Alan Quah and Komikaki Studio.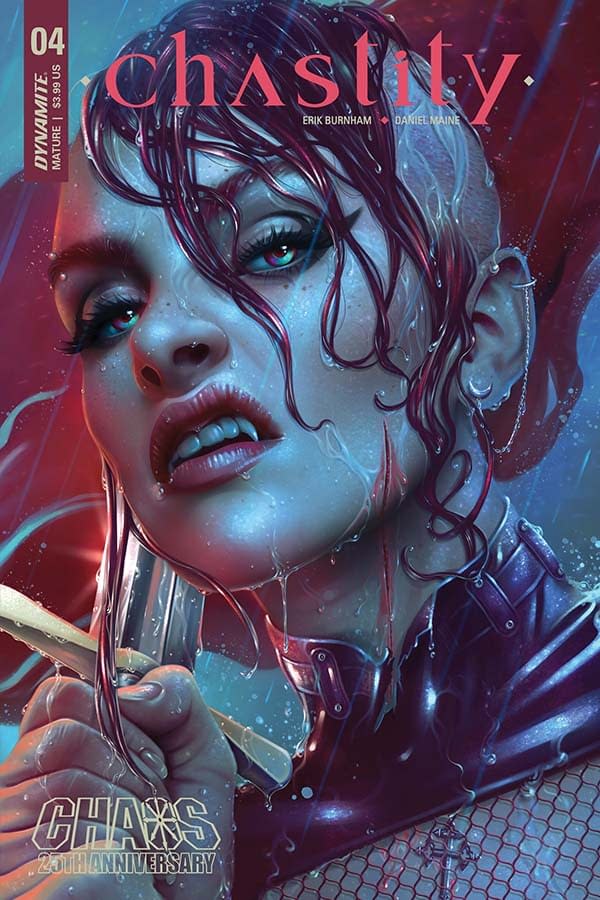 Onward to the story!
PAGE 01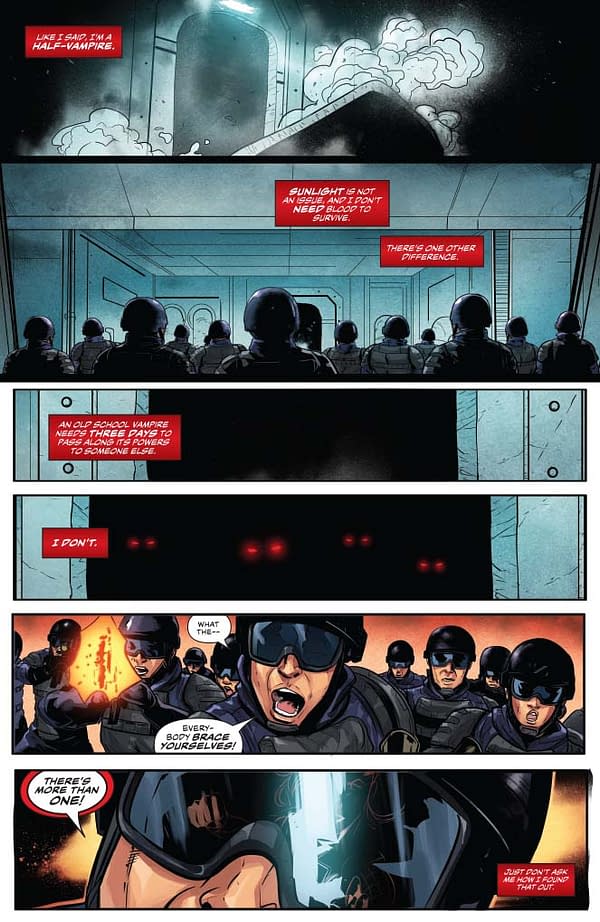 When we left off, Chastity had a hail mary plan in mind. With those four glowing pairs of red eyes and the fella yelling "there's more than one" in the last panel, I bet you can figure out what that is, right?
PAGES 02-03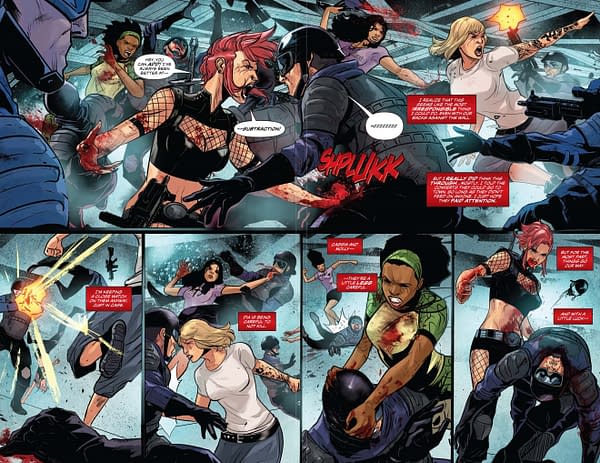 One of those increasingly rare double-page spreads! Daniel really had fun with the debut of the crew of half-vampires.
Not as much fun as he'll have later in the issue, but hey, we'll get there.
And the important point that we do belabor in this issue: the turned ladies must not feed.
PAGE 04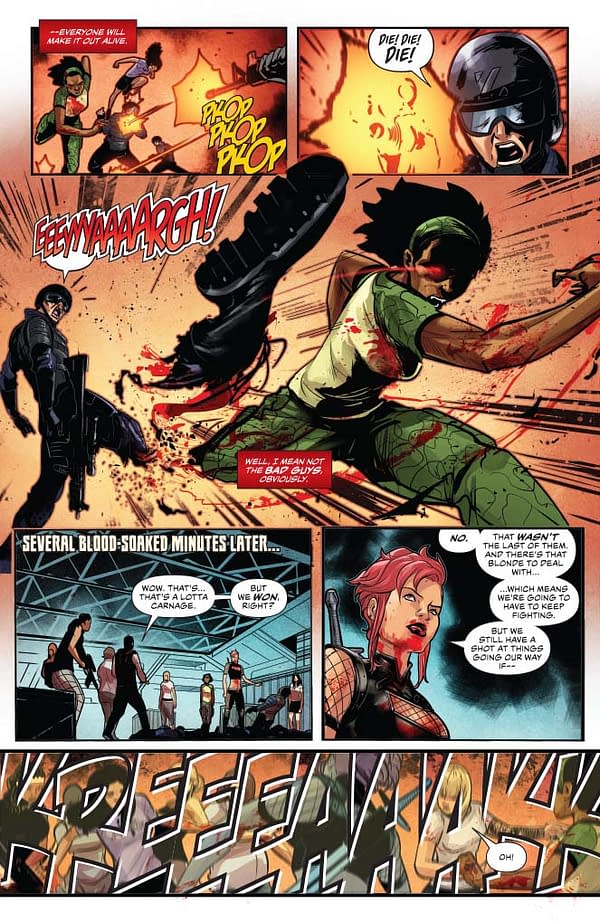 Why that boot hanging there mid-panel makes me laugh despite it being attached to an horrific maiming, I don't know. But it does. That's it. That's the insight.
I also want to point out how much I enjoy the SFX overtaking the last panel. With the blurring, it sells the ship has lurched roughly into port. Little things like this add a lot to the storytelling of a comic page — this wasn't scripted by Daniel or by me (other than me asking for the SFX to be large), so witness please the contributions of letterer and/or editor to the mix.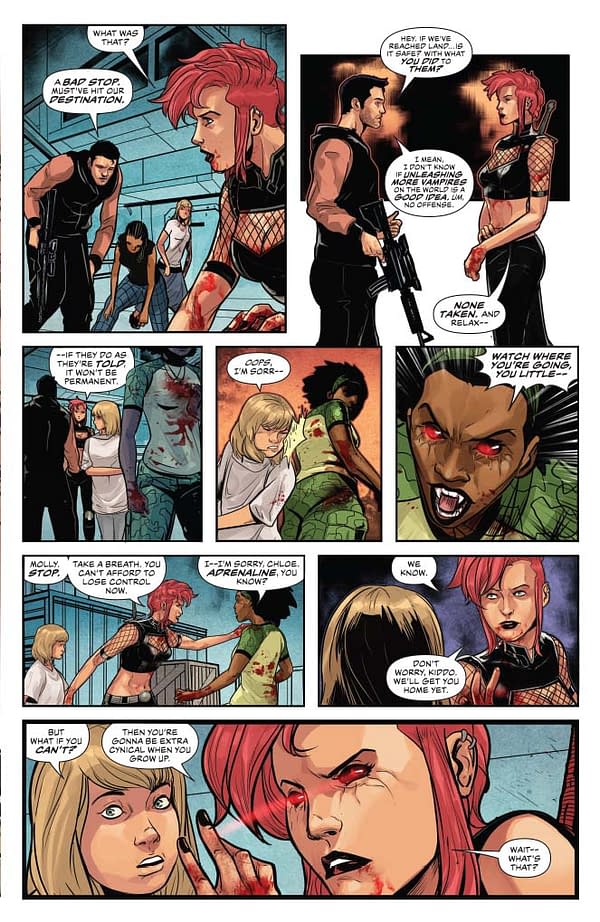 PAGE 06
From the beginning, Daniel wanted to do a visual representation of one of a vampire's unique senses; in this case, the sensing of blood pumping through a living body. Besides finding another hostage, the utility of this allows us to leave the ship with a smaller crew later because Chastity knows there are "no more bad guys aboard."
We think ahead, us.
PAGES 07-09
A little more proof of the aggression that can come with vampirism, and Chastity using one of Daredevil's old tricks.
What? It's handy.
And again, those super senses let Chastity get off the ship and onto the island.
PAGES 10-12
Here's where we make it plain that the ladies can revert to humanity if they don't feed… or, if they do, progress to full vampire (and what Chastity will do if that happens.)
No half-vampires besides ol' Chas, folks.
Panel 3 of page 12 – where Chastity makes explicit what she'll do – is as small moment, but I really like how it turned out.
Daniel had a lot more details planned, but sometimes, less can be more.
I think it works.
PAGES 13-14
And now, we've discovered what happened to Agent Jimmy's partner. Well, maybe.
PAGES 16-17
WEREWOLVES!
Look, that's a clear spoiler.
BUT WEREWOLVES! Look, as far as the classic monsters go, werewolves have always been my favorite. And they've always managed a bum rap as far as popularity… and that's going to continue here, because the star of the book is a (half) vampire. I'm just glad this is where Daniel decided to steer things!
And of course they're under the firm control of Ms. Valentine.
I also kind of like the subversion of the "take me instead" trope that we worked in here.
PAGES 18-19
Vampires v. Werewolves.
This makes me feel all 2003-ish, like as if I'm watching Underworld. Did anyone else listen to the commentary on that? The notion of werewolves being designed to be "sexy, like a cat" relayed in a thick French accent has been making me laugh for 15 years now.
Wow. I just commented on a commentary. The circle is complete. Well, almost.
PAGE 20
It looks like victory is nigh until ONE OTHER WEREWOLF leaps into the fray. Can you guess who it is? I mean, you should be able to. It was telegraphed back in issue 3! But I won't say it here. No sense spoiling the whole book.
There was a surprise for me here, too — and that's the last panel of this page. I didn't expect Daniel to go there.
But he did.
I haven't seen pages or plots for the finale yet, so I'm just in the dark as you all are as to how this wraps up. Can't wait to find out!
Join us in a few weeks to see what happens, won't you?
Enjoyed this article? Share it!