It's out in Marvel's January 2020 solicits. Retailers will have to order it early as it's coming in the first week of the New Year. Star Wars #1 by Charles Soule and Jesus Saiz. And Bleeding Cool has your first look at three unlettered pages from within. Feel free to extrapolate and speculate from what you see…
Set between Empire Strikes Back and Return Of The Jedi, we have Chewbacca chewing out Lando Calrissian, presumably over the fate of Han Solo, while Leia watches on… and Luke Skywalker looks rather depressed.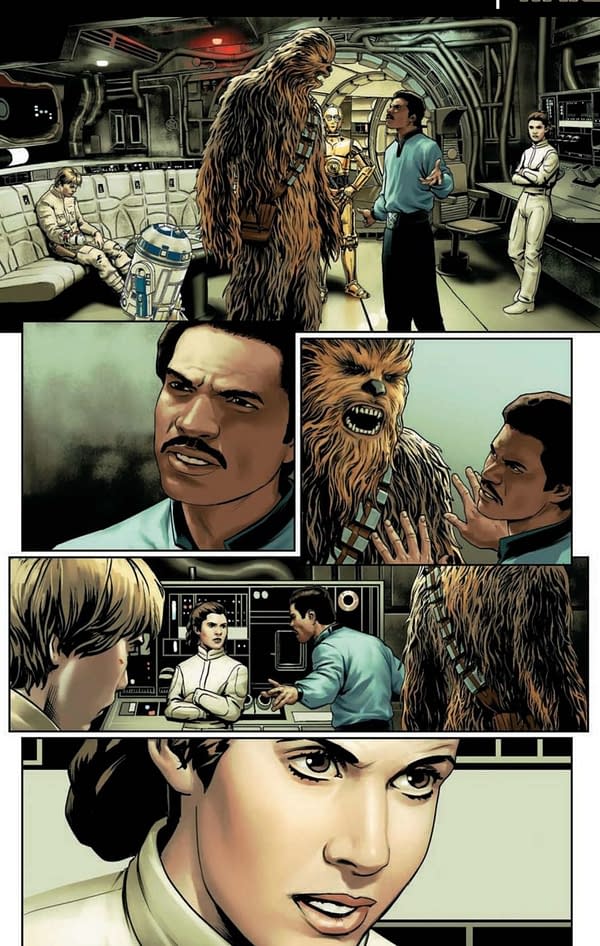 While the only one Luke Skywalker can talk to his R2D2 – a boy and his droid…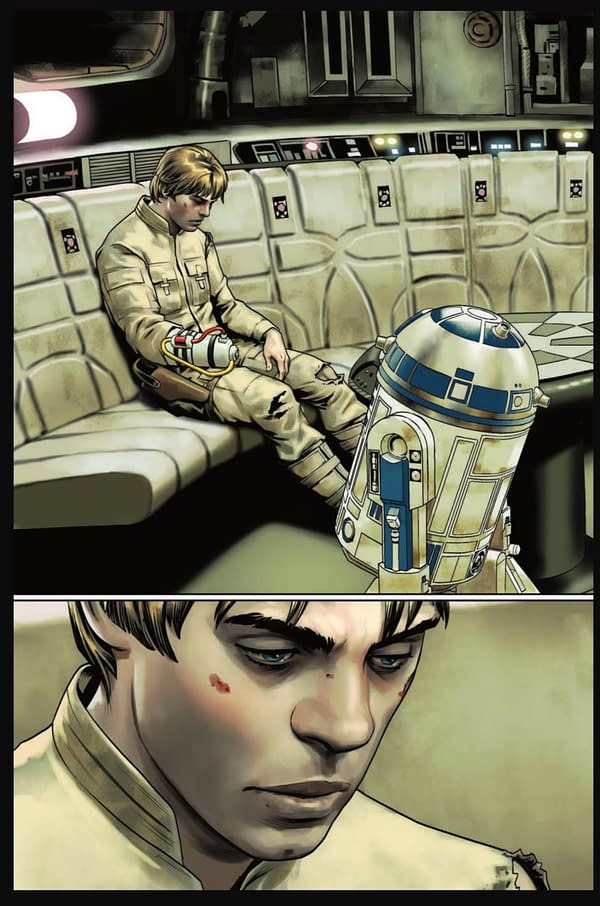 Well, he has just found out who his real dad is, and had got a hand chopped off … it suggests that maybe this opening scene of the comic book could be taking place before the final moments of Empire…
STAR WARS #1
(W) Charles Soule (A) Jesus Saiz (CA) R. B. Silva
"No…I am your father."
In the wake of the events following The Empire Strikes Back, it is a dark time for the heroes of the Rebellion. The Rebel fleet…scattered following a disastrous defeat at the Battle of Hoth. Han Solo…lost to the bounty hunter, Boba Fett, after being frozen in carbonite. And after being lured into a trap on Cloud City and bested in a vicious lightsaber duel against the evil Darth Vader, Luke Skywalker…learned the horrible truth about his past. Vader did not kill Luke's father Anakin–Vader is Luke's father! Now, after narrowly escaping the dark lord's clutches, and wounded and reeling from the revelation, Luke, Princess Leia, Lando Calrissian, the Wookiee Chewbacca and the droids C-3PO and R2-D2 must fight their way back to the Rebel Alliance-for the fate of the entire galaxy is at stake! After so many losses is victory still possible? But, what Leia, Luke and their ragtag band of freedom fighters do not realize is that they have only traded one Imperial trap for another! Enter the cunning and vengeful Imperial Commander Zahra, at the helm of the Tarkin's Will!
Writer Charles Soule (DARTH VADER) and artist Jesus Saiz (DOCTOR STRANGE) are taking us all to the galaxy far, far away next year! With covers by RB Silva (POWERS OF X)!
THE GREATEST SPACE ADVENTURE OF ALL TIME BEGINS THIS JANUARY!In Shops: Jan 01, 2020
Final Orders Due: Nov 25, 2019
SRP: $4.99
Enjoyed this article? Share it!