The Beautiful Death by Mathieu Bablet is one of the first releases from Titan Comics, part of their new imprint Statix Press, licensing, translating and publishing comic books created for the European continental market, into English, for American and British readers (Canadians may have had a head start).
Mathieu Bablet is a French creator born in 1987. A fan of horror films and B movies, Bablet graduated from the Enseignement aux Arts Appliqués et à l'Image in Chambéry and pitched his first comic book to Ankama Editions where it was snapped up. The Beautiful Death, originally "La Belle Mort", was an immediate hit, recognising this young artist of Grenoble as an incredible talent. And now English-only speakers get the chance to understand it beyond the pretty pictures…
THE BEAUTIFUL DEATH #1 
Writer/Artist: Mathieu Bablet
Publisher: Titan Comics
FC – 64pp – $5.99 – On sale: September 27, 2017
The apocalypse has been and gone. The age of humanity is at an end, and horrifying insect aliens from the depths of infinite space are the new masters of the Earth! What does resistance mean, when there's nothing left to fight for? That's what Wayne, Jeremiah, and Soham, the only survivors of the devastating invasion, struggle with – seeking a future that justifies their presence on a ruined world. As they pick through the remains of human civilization, keeping out of reach of the bugs, none of them suspect that they are part of a much larger plan, one that involves another, unknown, survivor!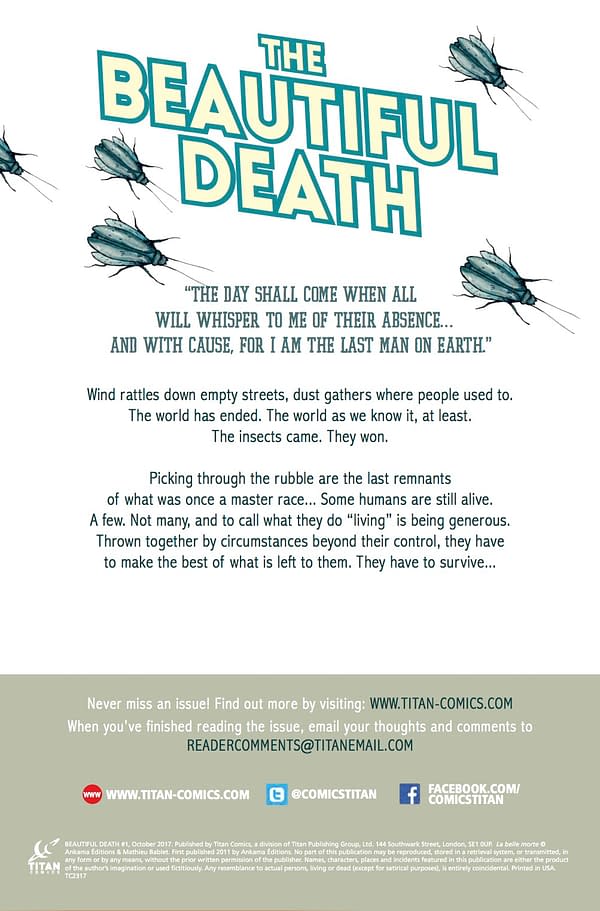 Cover A: Brandon Graham
Enjoyed this article? Share it!