While DC may be suffering from stagnant sales and incurring the wrath of the biggest retailers, it looks like Boom Studios hasn't lost any momentum from 2019, with Wynd #1 becoming their biggest creator-owned launch ever and Faithless II #1 becoming a hot speculator item a week before its wide release. A third and final Faithless was already announced earlier this year too.
But that's not the only big news about Brian Azzarello and Maria Llovet's Faithless II #1, though I imagine Boom won't be thrilled I'm spoiling the news that the issue has sold out at Diamond just one week after going on-sale, even with a healthy overprint to account for their 14 months of straight "Must Read" series sellouts. I would expect a second printing to be announced sooner than later, even if some comic shops do choose to boycott the series over its… bloody content. The only real question in my mind is will Boom offer up both a regular and erotic edition of the second printing like they did on Faithless #1 in 2019?
You may remember that Faithless is the erotic thriller series that kicked off Boom's shocking rise to not only become the fourth comics publisher in the direct market (for a month or two), but also public enemy number one for Image Comics (the established king of the creator-owned comics world). That's made Boom a particular source of anger for Image co-founder Erik Larsen who started the year on the attack and then renewed hostilities close to Valentine's Day, even with Image co-founder Jim Valentino trying to make peace with Boom CEO (and former Image creator himself) Ross Richie.
Now with over a year of every new launch series selling out in rapid order, expect to see retailers – along with readers and speculators- talking a lot about sales today on Wynd #1, as writer James Tynion IV saw his Big Tynion Energy hit all-time highs last week with Batman #92 and lots of hungry fans look for their next JT4 fix.
The Peach Momoko Wynd #1 variant cover was already selling for $179 before FOC – so will that 1 at the front of the price become a 2…or a 3? And how high will the super-rare one-per-store cover go once speculators get their hands on it?
And retailers might want to check their orders on Faithless II #2, which FOCs this Monday and will have even more interest thanks to the sell-out. After all, we warned you that a full set of the erotic covers will be hard to find.
I'd expect Image to fire back with their big numbers for hit series like Mercy and Decorum that launched far higher than Faithless or Wynd…but whatever you do, don't remind Image or Boom that IDW earned more Eisners than them both this year.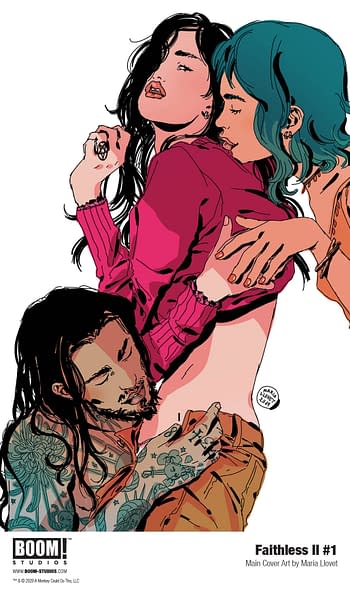 FAITHLESS II #1 CVR A LLOVET (MR)
FEB201291
(W) Brian Azzarello (A/CA) Maria Llovet
The best-selling erotic thriller returns from the acclaimed team of Brian Azzarello (Batman: Damned) and artist Maria Llovet (?Heartbeat) as Faith, and her lovers, Louis (a.k.a. The Devil) and Poppy (his daughter), bring  magic and chaos to the streets of Italy. Turin, known as the epicenter of black magic, is also a place of high fashion, art, and literature. Now, Faith is in the center of it all and with that, her own power grows. But any power comes with a price. Faith has only just begun to pay for hers. Curious about this blockbuster occult sex thriller? This is your new jumping-on point! Featuring the first of six connecting erotic variant covers by superstar Tula Lotay that are too explicit to show you in PREVIEWS!In Shops: Jun 10, 2020
SRP: $3.99
Enjoyed this article? Share it!