Fantastic Four Establishes Sacred Timeline For Marvel Comics As Well
Today's Fantastic Four #35 is a riotous run around the history of the Fantastic Four, with a variety of Kangs at different points in their life attacking the Baxter Building to steal the same artifact, again and again, killing any Fantastic Four members they can. Which means a trip to sixties FF, nineties FF, Hickman FF, and the current day. Which also draws the attention of the Time Variance Authority. We'd already mentioned how the Kangs were calling each other Variants now, seemingly in reference to Loki. Well there's more. We get the Neverspace made up of broken timelines…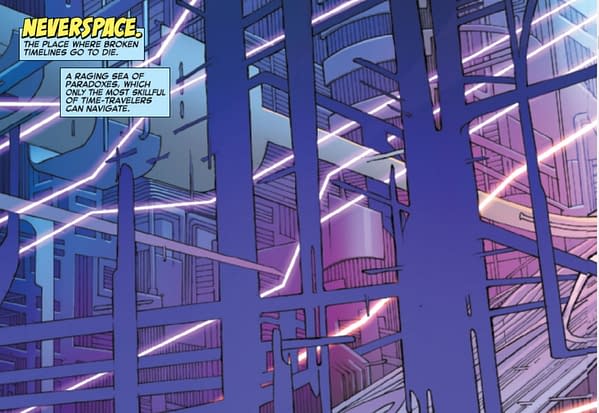 A place for Kangs, across timelines and timezones, to gather, plot, plan, regroup and restrategise.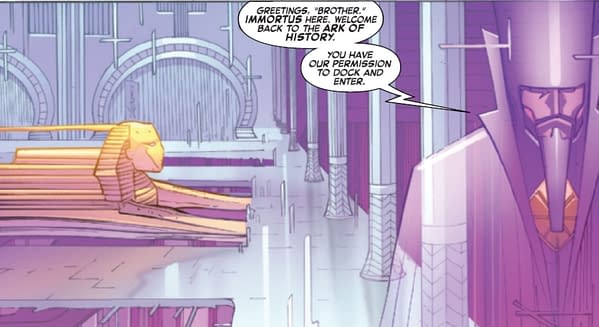 That's when they get along of course. It's just that Kangs rarely do.

And with the Time Variance Authority naming the "Sacred Timeline" that they watch over, just like in Loki…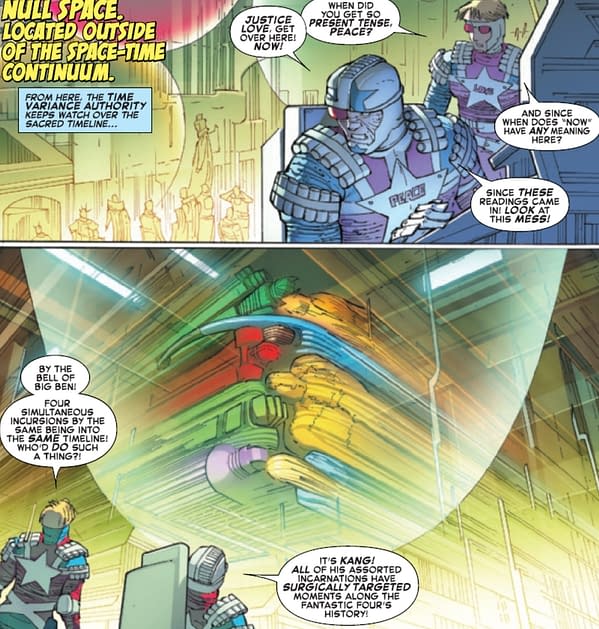 In the TV series, The Sacred Timeline is the term designated to the reality isolated after the Multiversal War by He Who Remains, that lead to the birth of He Who Remains and preventing the birth of evil variants of him, known as Kang. If individual choices caused a branch within the Sacred Timeline that deviated from the sacred timeline, the Time Variance Authority would arrive to prune it. While in Kang The Conqueror #2, also out today, there are other timelines diverging from it… as one version meets another without memory of each other.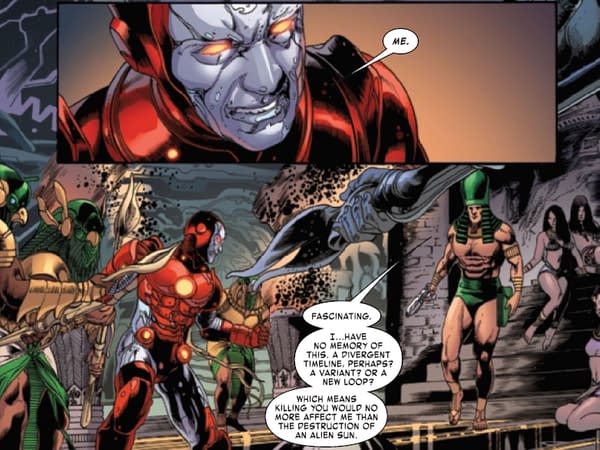 Whose is the sacred timeline? Time for some TVA pruning? Man, what will they think of Avengers Forever…
FANTASTIC FOUR #35
MARVEL COMICS
JUN210510
(W) Dan Slott, Mark Waid (A) John Romita, More (CA) Mark Brooks
A TITANIC 60TH ANNIVERSARY ISSUE! The entire Kang bloodline is out to destroy every era of the Fantastic Four! How can Reed, Sue, Ben and Johnny hope to survive simultaneous attacks across their lifetimes by Rama Tut, the Scarlet Centurion, Kang the Conqueror and Kang's final descendant, the sinister Scion?! Join the FF and some special surprise guest stars as John Romita Jr. returns to Marvel and joins forces with writer Dan Slott for this celebratory adventure! Marvel's First Family will literally never be the same again! Plus: Mark Waid and Paul Renaud deliver dramatic new insights into the origin of the fabulous foursome in an all-new anniversary tale! Rated T In Shops: Sep 15, 2021 SRP: $9.99

KANG THE CONQUEROR #2 (OF 5)
MARVEL COMICS
JUL210623
(W) Collin Kelly, Jackson Lanzing (A) Carlos Magno (CA) Mike Del Mundo
A young, rebellious and idealistic Kang finds himself in Ancient Egypt, where an older version of himself is ruling with an iron fist as the pharaoh Rama-Tut. When the Moon Knight draws young Kang into a battle against his future self, tragedy strikes. But will it knock Nathaniel off the course of his destiny or lock him into one path forever? Rated T+In Shops: Sep 15, 2021 SRP: $3.99