Could Wally West be reincarnated at a young African American boy? Does that mean a Latina Donna Troy is far behind? http://t.co/vkTAib19y9

— Phil Jimenez (@Philjimeneznyc) January 23, 2014
So last week, we ran the speculation that the new Wally West, to be introduced in Flash Annual #3, will be a young black man, also in line with expected portrayals in a planned Flash TV series.
And then later that day I got one of those "you bastard" emails from some… well connected people. Looks like there have been some sketches going around at DC which seem to back up my thesis. Not that anyone will let me see them. But as it stands, yup, looks like we called it. We will see a new, young, black Wally West in Flash Annual #3.
Of course some of the responses have been rather… predictable.
dbw8906 – Yay everyone can be gay and multicultural!!! We can just insert "minority X" into any story line and people will buy it like HOTCAKES! DC 2014 – 4.99 for 25 pages of the gayest most racial hero EVER, damn you republicans! No reason for story, just slap a represented group on the cover and watch the re-orders roll in.
But plenty more have been exploring the possibilities, well over 500 comments right now.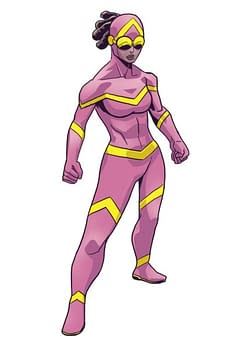 Patrick Gerard wrote,
I think I was rather loudly saying back in 2010-2011 that I saw the way forward for Barry and Wally coexisting was to make them more different… and that I thought Wally would work fine as a person of color. (And that I see Flash in a JLA movie as being, effectively, a young Will Smith character.)

Now, had they maintained Wally's continuity, the big hurdle would be that Wally plays into too many stereotypes. (In fact I think I said the reverse that Barry be the black one because it plays into more benign stereotypes while averting others entirely. Things like bowties look less douchey even.)

I think you can go a step further and suggest that the Flash might work better as a woman, thematically, if you're playing with psychotherapy archetypes. In a Jungian sense, The Flash is something of a Cinderella figure. Cleverness. Injustice. Tranformation. Power. Shoes. Running. Time Limits.

A lot of these discussions were what inspired me to create my own speedster, Lady Dreamtime, in my comic Ungrounded.
But I think there's a far bigger issue at large here.
I'm down with it, as long as he's still a ginger

Don't worry, Asterglow has that tapped.
Of course there are all sorts of issues of prejudice involved. Which is why we need a song.
A song called Prejudice.
Take it away Tim Minchin.
[youtube]http://www.youtube.com/watch?v=KVN_0qvuhhw[/youtube]
UPDATE: Youtube fixed…
Enjoyed this article? Share it!