February Will See the Birth of Aquaman and Mera's Baby
It was only eight years ago that DC Comics Publisher Dan DiDio declared that all the lead DC Comics characters could not be married (apart from Animal Man) and suddenly we had a reboot with Clark Kent and Lois Lane never an item, Barry Allen no longer married to Iris, Wally West never having being married to Linda or even existing, Batwoman could no longer get married, and Aquaman and Mera were no longer husband and wife together. Geoff Johns did his best to thwart DiDio's plans by writing the Aquaman book as if they were still married, just never using the words, husband, wife or married. Eventually, in DC Rebirth, Geoff Johns got to change that back. Lois and Clark were married again, and the Flashes started to return along with their memories.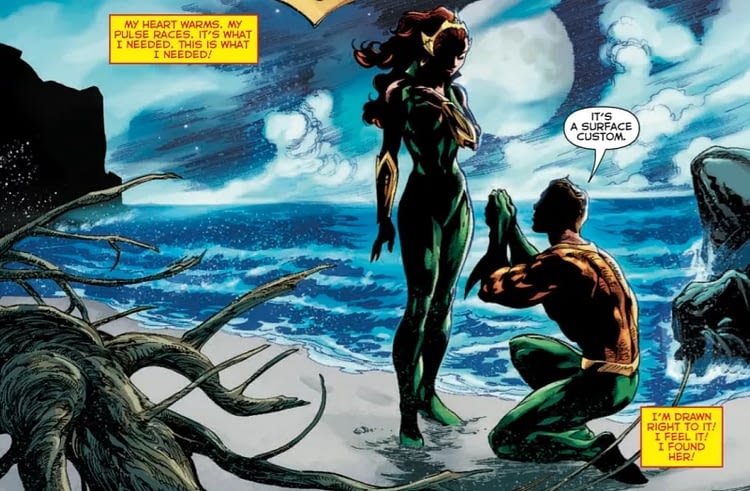 When Kelly Sue DeConnick started writing the series, she split the pair up by geography, dimensions and memory, but left Mera with a very significant memento of their relationship.
This week, the pair were reunited on the beach. And Mera is certainly looking… fuller figured.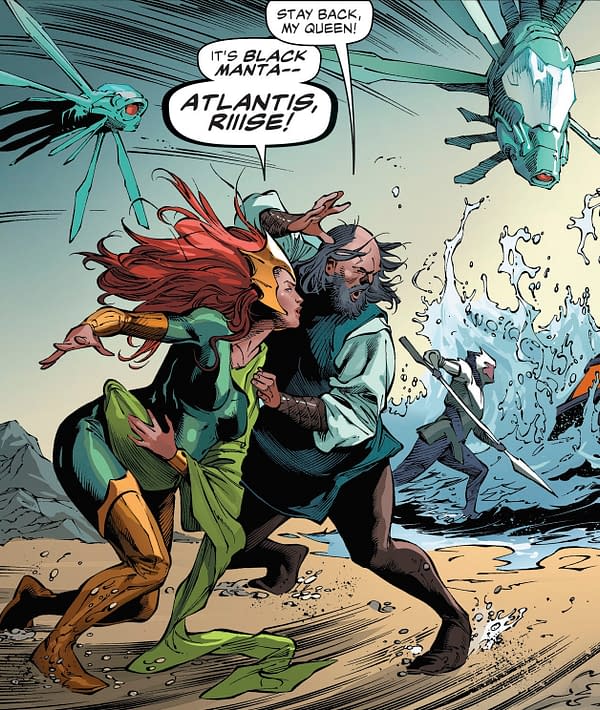 In DC Comics' February 2020 solicitations, it all happens. The birth of their child… could this be a way forward to Aquaman and 5G? They'll have to hurry things up, Superman-style if so. Or maybe give Arther and Mera a reason to take a step back…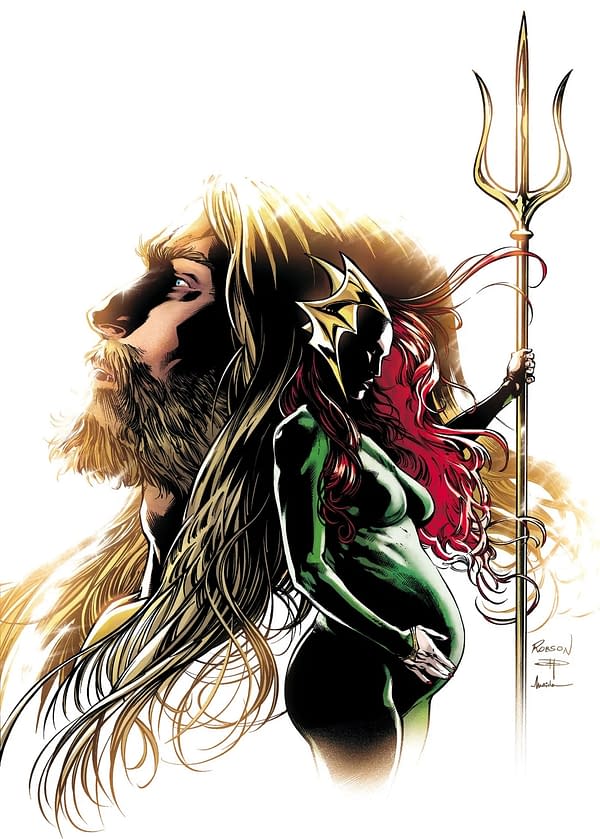 AQUAMAN #57
written by KELLY SUE DeCONNICK
art and cover by ROBSON ROCHA and DANIEL HENRIQUES
variant cover by KRIS ANKA
In this issue, Mera and Aquaman welcome their very own Aquababy! In the wake of Black Manta's attack on Amnesty Bay, Aquaman encounters a new crisis when Mera unexpectedly goes into labor…and things don't look good for the queen of Atlantis. Don't miss this historic, emotional issue that kicks off a bold new era for Aquaman!
ON SALE 02.19.20
$3.99 US | 32 PAGES