"Ask Me About My Feminine Agenda": The Wonder Wife of Milk Wars Goes on a Women's Rally
Shade, the Changing Woman/Wonder Woman crossover special had the Frank Quitely cover that really stood out. I was aware that for some initial reaction was one of offence until they took a double take. Wonder Woman reinvented as a suburban housewife, doing the cleaning with a golden hoover, holding a glass of milk, red star on her over mitts and a pinny with WW golden stitching up top — oh, and a domino mask on.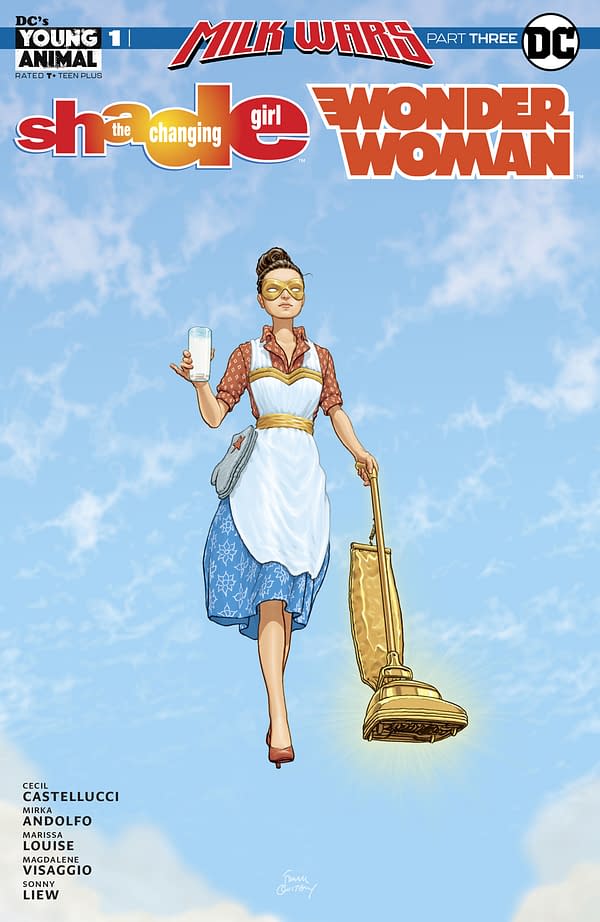 As with the rest of the Milk Wars specials, we have seen the Justice League figures run through the 1950s American stereotypes and emerged, to come face to face with the Young Animal characters. And if a pipe smoking Bob Lobo welcoming the Doom Patrol into his lovely home was a good place to start, and a Super Milk Man and a Father Bruce Wayne gave you succour, then Wonder Wife, keeping her home spick and span with the help of a divided Changing Girl and a DustBuster to nurse, is quite positively the next step.
Especially when she and the divided Changing Women go on a Women's Rally with absolutely no sense of protest. And show off some amazing signs aimed at preserving the patriarchy.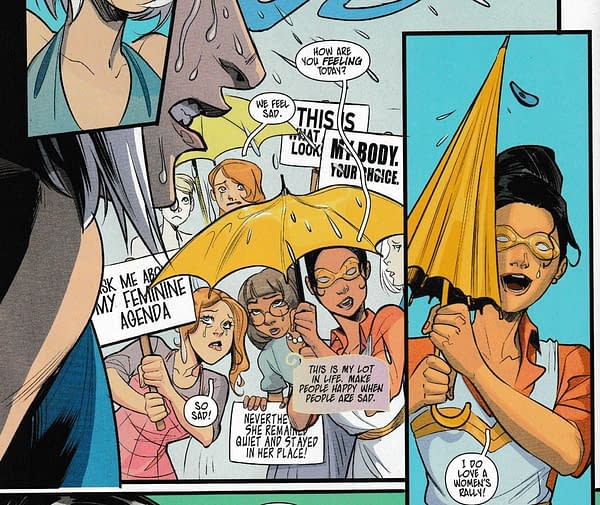 Might need a couple of shots to get them all.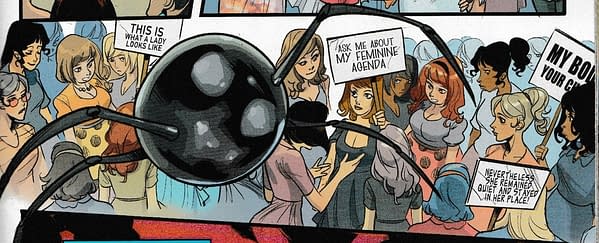 It's a fun, strange, surreal journey, taking on icons and re-iconing them in a very different direction. And a confluence of really ridiculous and frankly disturbing ideas that unexpectedly slip down very easily — like a cool glass of milk.
Though do watch the Eternity Girl back up. Has a little more of the Vertigo grit about it…
SHADE THE CHANGING GIRL WONDER WOMAN SPECIAL #1
(W) Cecil Castellucci, Magdalene Visaggio (A) Mirka Andolfo, Sonny Liew (CA) Frank Quitely
"MILK WARS" part three! Shade has been split into multiple parts, each representing a different mood, all in service to the perfect and beautiful Wonder Wife. But Happy Shade is starting to sense that not all is right in Wonderland, and she finds something strange staring back at her on the other side of the looking glass! Plus, part three of the Eternity Girl backup story!
In Shops: Feb 14, 2018
SRP: $4.99