Fight Club 2 Dominates Advance Reorders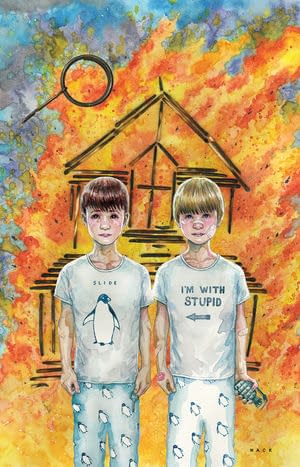 Greetings from the coal face of the direct comics market. Where retailers try to increase their orders of certain comics ahead of sale. Where supply and demand and most accurately reflected, where you can see which books are hot, where new orders are coming in and how retailers are reacting to new, unanticipated desire!
Fight Club 2 seems to have done very well for its first two issues as retailers scramble to up their orders for the third issue, beating the usual retailer expectation that sales fall with each subsequent issue. But Star Wars and Secret Wars continue to excite retailers as well. Looks like that publicity boost for Wolf also did the trick….
TOP 25 ADVANCE REORDER COMICS/GRAPHIC NOVELS/TPs (RETAIL)
| | | |
| --- | --- | --- |
| Publication | Price | Publisher |
| STAR WARS TP VOL 01 SKYWALKER STRIKES | $19.99 | MAR |
| FIGHT CLUB 2 #3 MAIN CVR | $3.99 | DAR |
| STAR-LORD AND KITTY PRYDE #1 SWA | $3.99 | MAR |
| OLD MAN LOGAN #3 SWA | $3.99 | MAR |
| STAR-LORD AND KITTY PRYDE #1 ACTION FIGURE VAR SWA | $3.99 | MAR |
| FIGHT CLUB 2 #3 STEWART VAR CVR | $3.99 | DAR |
| AVENGERS BY BUSIEK AND PEREZ OMNIBUS HC VOL 02 | $125.00 | MAR |
| UNBEATABLE SQUIRREL GIRL TP VOL 01 SQUIRREL POWER | $15.99 | MAR |
| RICK & MORTY #1 3RD PTG | $3.99 | ONI |
| SUPERMAN #42 | $3.99 | DC |
| GUARDIANS OF GALAXY SOLO CLASSIC OMNIBUS HC | $125.00 | MAR |
| WOLF #1 (MR) | $4.99 | IMA |
| CYBORG #1 | $2.99 | DC |
| X-MEN AGE OF APOCALYPSE TP VOL 01 ALPHA | $34.99 | MAR |
| FUTURE IMPERFECT #3 SWA | $3.99 | MAR |
| MMW SPIDER-WOMAN HC VOL 01 | $75.00 | MAR |
| SONS OF THE DEVIL #3 CVR B CHANG (MR) | $2.99 | IMA |
| JLA GODS AND MONSTERS BATMAN #1 | $3.99 | DC |
| SONS OF THE DEVIL #3 CVR C BUCCELLATO (MR) | $2.99 | IMA |
| MILES MORALES ULTIMATE SPIDER-MAN ULTIMATE COLL TP BOOK 01 | $34.99 | MAR |
| BOOK OF DEATH FALL OF BLOODSHOT #1 CVR A SANDOVAL (ONE SHOT) | $3.99 | VAL |
| MMW SPIDER-WOMAN HC VOL 01 DM VAR ED 225 | $75.00 | MAR |
| FLASH #42 | $3.99 | DC |
| DAREDEVIL EPIC COLLECTION TP WIDOWS KISS | $34.99 | MAR |
| CAPTAIN MARVEL TP VOL 03 ALIS VOLAT PROPRIIS | $12.99 | MAR |
TOP 25 REORDER COMICS/GRAPHIC NOVELS/TPs (RETAIL)
| | | |
| --- | --- | --- |
| Publication | Price | Publisher |
| CIVIL WAR TP | $24.99 | MAR |
| WOLVERINE OLD MAN LOGAN TP | $29.99 | MAR |
| OLD MAN LOGAN #2 SWA | $3.99 | MAR |
| SECRET INVASION HC | $34.99 | MAR |
| SAGA TP VOL 04 (MR) | $14.99 | IMA |
| ANNIHILATION CONQUEST OMNIBUS HC | $125.00 | MAR |
| SAGA TP VOL 01 (MR) | $9.99 | IMA |
| BATMAN TP VOL 01 THE COURT OF OWLS (N52) | $16.99 | DC |
| INFINITY GAUNTLET TP | $24.99 | MAR |
| DEADPOOLS SECRET SECRET WARS #2 (OF 4) SWA | $3.99 | MAR |
| BATMAN TP VOL 02 THE CITY OF OWLS (N52) | $16.99 | DC |
| RAT QUEENS TP VOL 02 FAR REACHING TENTACLES OF N RYGOTH (MR) | $14.99 | IMA |
| MS MARVEL TP VOL 01 NO NORMAL | $15.99 | MAR |
| COMPLETE EIGHTBALL HC BOX SET ISSUES 1 – 18 (RES) (MR) | $119.99 | FAN |
| BATMAN EARTH ONE HC VOL 02 | $24.99 | DC |
| JUSTICE LEAGUE OF AMERICA #1 | $5.99 | DC |
| SAGA TP VOL 02 (MR) | $14.99 | IMA |
| THORS #1 SWA | $3.99 | MAR |
| DEADPOOL CLASSIC TP VOL 09 | $29.99 | MAR |
| BATMAN THE KILLING JOKE SPECIAL ED HC | $17.99 | DC |
| DEADPOOL BY DANIEL WAY COMPLETE COLL TP VOL 01 | $34.99 | MAR |
| WALKING DEAD TP VOL 23 WHISPERS INTO SCREAMS | $14.99 | IMA |
| SPIDER-MAN ORIGINAL CLONE SAGA TP | $39.99 | MAR |
| DARTH VADER DIRECTORS CUT #1 (PP #1180) | $5.99 | MAR |
| BPRD 1946 – 1948 HC (C: 0-1-2) | $34.99 | DAR |