The Final Days of the Walmart Exclusive DC Comics 100-Page Giants – and How the Relaunch Will Begin
Bleeding Cool has written at length about the upcoming changes in the DC Comics 100-Page Giants, how they will no longer be exclusive to Walmart – or to Target – but will see them published with Walmart and Target exclusive covers a couple of weeks before comic book stores will be able to sell them. Increasing the amount of original content in each from 24 to 36 pages an issue. And looking to increase the numbers of titles to around twenty titles a month.
But before that relaunch the current run of titles are coming to an end before a relaunch. Here's a look at how that will happen. this month.
Batman Giant – This series will complete the Bendis Batman Universe story. All the other reprint stories will end but some will direct you to a trade paperback for more of the start. For instance, Nightwing ends with Joker's appearance leading into the Death of the Family. There is a tease for both new Batman vs. Clayface and a Batwoman story in the All-New Batman Giant #1 that will relaunch the line in September in Walmart/Targets and October in comic book stores.
Superman Giant – A fill-in story by Steve Orlando and Tom Derenick, as all the other stories continue. The Green Lantern story "Flight" by Geoff Johns and Darwyn Cooke is included. This Giant will continue until the "Up, Up and Away" story is concluded, in Superman Giant #15, the only one of the Giants's not to get a final issue in August. It will either have two chapters of will also have to have a Superman Giant #16 before any relaunch.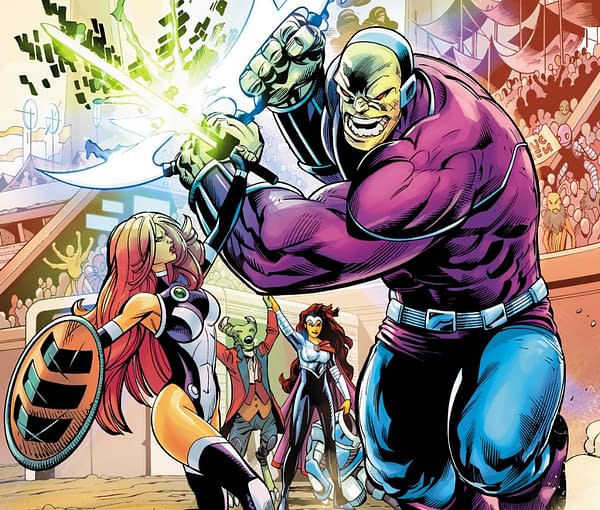 Titans Giant – The Titans story concludes, as Mongol used a Klingon Bat'leth on the cover. The Teen Titans reprint is ended mid-story and the reader is directed to the Teen Titans by Geoff Johns Book One for continuation. Sideways ends where the series ended and the Robin/Superboy story ends abruptly. There is a next month tease for all of the new 9 announced Giants coming up, but no Titans since Teen Titans Go! is coming instead. Doesn't DC realize they have a show on DC Universe called Titans?.
Wonder Woman Giant – All stories end well. There is a tease for the new Wonder Woman Giant next month which will also feature an appearance by Harley Quinn.
Swamp Thing Giant – Swamp Thing story concludes. Animal Man reprint ends in the middle of a story but directs readers to the Animal Man Vol 2: Animal vs. Man trade paperback for continuation. The reprint Swamp Thing story ends in the middle of the story and also directs the reader to a trade paperback: Swamp Thing Vol. 2: Family Tree. The Shadowpact reprint ends suddenly and directs people to their trade paperback as well. There are teases for a new Swamp Thing vs Sunderland story and a new Animal Man story in the new Swamp Thing Giant #1.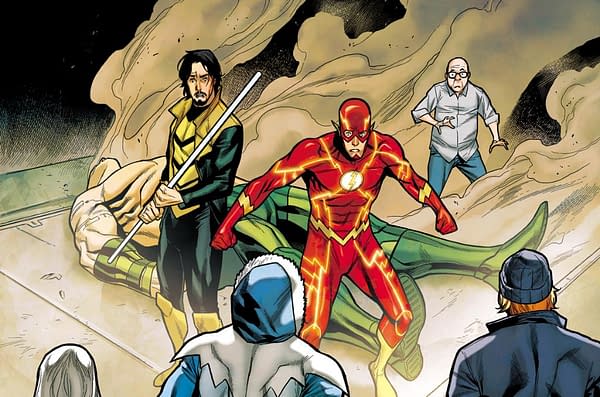 Flash Giant – All stories conclude. Two Adam Strange chapters are included to finish up the reprint of the mini-series. The new Flash Giant #1 is teased that will include a Flash vs. King Shark story.
Thanks to Paul Cooke for his eyes on the ground…