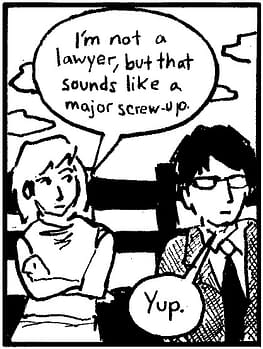 Bob Kohn, a lawyer in the current e-book antitrust lawsuit, in opposition to the Justice Department's proposed settlement was told by the U.S. District Judge Denise Cote of Manhattan to submit his argument in five pages.
He did so in a comic book, created to comply with court rules over font size and margins. The comic was drawn by a college friend of Kohn's daughter.
Is it a total coincidence that Bob Kohn looks a little like Scott McCloud in the comic?
Sadly it didn't work out and Cote approved the Justice Department's settlement.
[issuu width=420 height=272 backgroundColor=%23222222 documentId=120906195119-7c07606a8d834994afbf752018639694 name=105016617-apple-amicus-brief_1_ username=richjohnston tag=amicus unit=px v=2]
Enjoyed this article? Share it!