We've stitched together what we could find of Marvel Comics' plans for July 2019, titles ahead of this week's solicitations…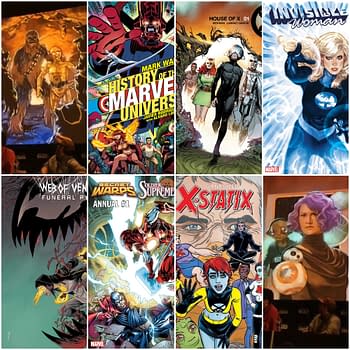 Take a look at what's coming.
Something called Acts Of Evil. Details unknown.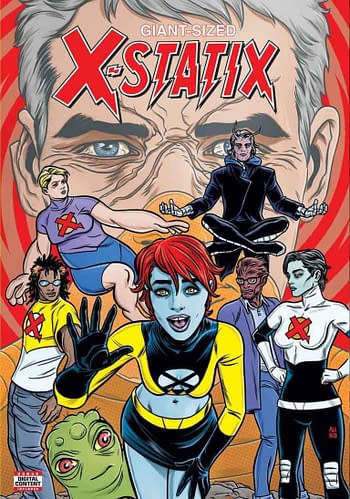 GIANT-SIZED X-STATIX #1
PETER MILLIGAN (W) • MICHAEL ALLRED (A/C)
VARIANT COVER BY AARON KUDER
They're back and more alive than ever for this special one-shot! But what new threat is so grave that only the most famous mutant celebrities can fight it? And who is the new U-Go-Girl? Only the original X-Statix creative team Peter Milligan, Michael Allred and Laura Allred know for sure!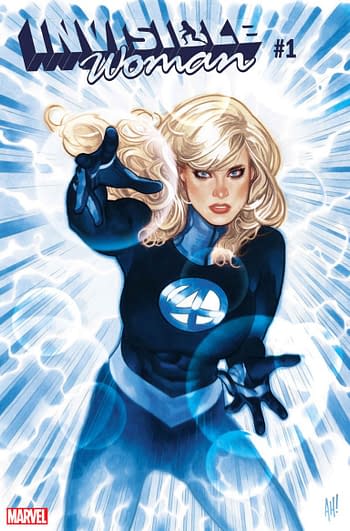 INVISIBLE WOMAN #1 (of 5)
Written by MARK WAID
Art by MATTIA DE IULIS
Cover by ADAM HUGHES
She's always been a super hero, fighting to keep the world safe with the Fantastic Four…and now, it's time for Sue Storm to take the spotlight in her own series!
This July, the superstar creative team of Mark Waid (Avengers No Road Home, Doctor Strange), Mattia De Iulis (Jessica Jones), and Adam Hughes (Star Wars, Captain America) take Sue on a journey that will unlock the secrets of her past in the most surprising way!
Years ago, after becoming part of the Fantastic Four, everyone's favorite Invisible Woman was taking on adventures of her own on an espionage mission for S.H.I.E.L.D. Now, it's up to Sue to save her former partner from danger before it's too late!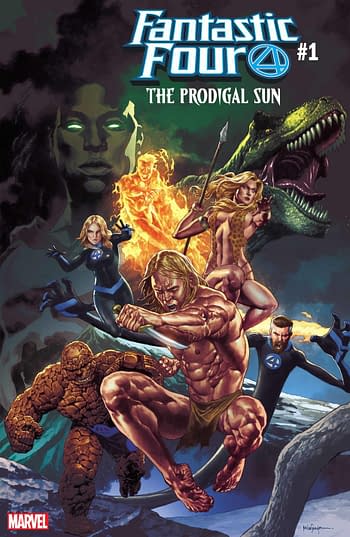 FANTASTIC FOUR: THE PRODIGAL SUN #1! by Peter David and Francesco Manna, cover by Mico Suayan.
The Fantastic Four are about to come face-to-face with someone new! This July, as part of an interconnected series of three stories featuring Marvel's First Family, prepare to meet Prodigal in FANTASTIC FOUR: THE PRODIGAL SUN #1! Writer Peter David teams up with artist Francesco Manna for a new journey to the Savage Land.
In the story of FANTASTIC FOUR: THE PRODIGAL SUN, Prodigal crash lands in the Savage Land where a clan of barbarians begin treating him like a god. But it's up to the FF to stop those barbarians from taking over the world!
In addition to FANTASTIC FOUR: PRODIGAL SUN, the other interwoven stories will continue in the two additional upcoming series GUARDIANS OF THE GALAXY: PRODIGAL SUN and SILVER SURFER: PRODIGAL SUN.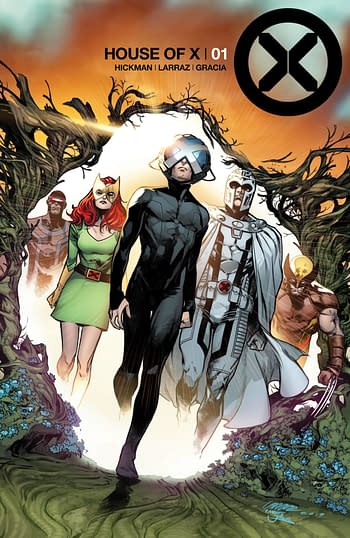 HOUSE OF X #1
Written by Jonathan Hickman, art and cover by Pepe Larraz
Superstar writer Jonathan Hickman (SECRET WARS, AVENGERS, FANTASTIC FOUR) takes the reins of the X-Men universe!
Since the release of UNCANNY X-MEN #1, there have been four seminal moments in the history of the X-Men. GIANT-SIZE X-MEN. X-MEN. AGE OF APOCALYPSE. NEW X-MEN. Four iconic series that introduced a new era for Marvel's mutants and revolutionized the X-Men. In HOUSE OF X, Charles Xavier reveals his master plan for mutantkind…one that will bring mutants out of the shadow of mankind and into the light once more.

HISTORY OF THE MARVEL UNIVERSE, written by Mark Waid with art by Javier Rodriguez and Alvaro Lopez and a cover by Steve McNiven.
A fresh look at the origins of your favorite Marvel stories. HISTORY OF THE MARVEL UNIVERSE will go all the way back to the Big Bang and the beginning of time and conclude with the twilight of existence.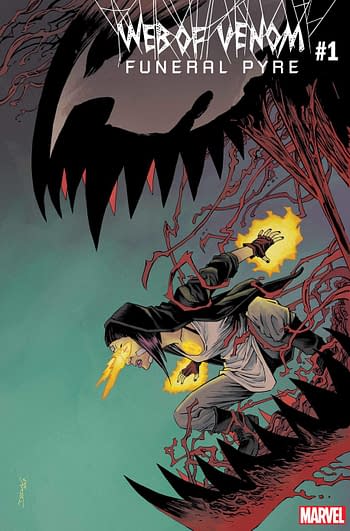 WEB OF VENOM: FUNERAL PYRE #1 by writer Cullen Bunn and artists Alberto Albuquerque and Josh Cassares, cover by Declan Shalvey.
ABSOLUTE CARNAGE is in our sights — but Cletus Kasady has some killing to do before the Marvel Comics event begins this August! As Carnage, Kasady has been targeting every person who has hosted a symbiote. This July, he's going after none other than Andi Benton, former host of Mania.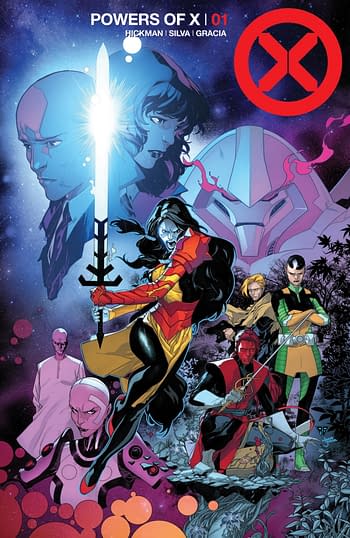 POWERS OF X #1
Written by Jonathan Hickman, art and cover by R.B. Silva
Hickman (INFINTY, NEW AVENGERS, FF) continues his revolutionary new direction for the X-Men. Intertwining with HOUSE OF X, POWERS OF X reveals the secret past, present, and future of mutantkind, changing the way you look at every X-Men story before and after.
You do not want to miss the next seminal moment in the history of the X-Men!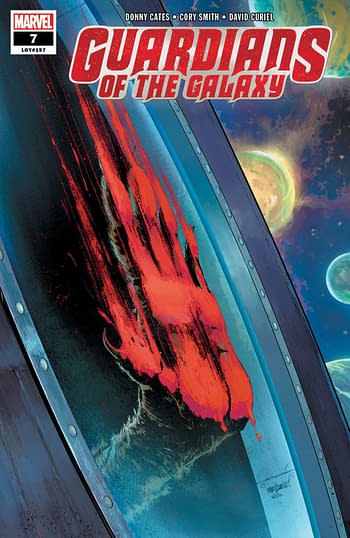 GUARDIANS OF THE GALAXY #7
Written by Donny Cates, art by Cory Smith, cover by David Marquez
The Death of Rocket begins here!
In the aftermath of the FINAL GAUNTLET, the Guardians of the Galaxy are taking some well deserved R&R. But their vacation is about to be cut short when a familiar, but radically powerful enemy returns. And what does all of this have to do with the whereabouts of a certain raccoon?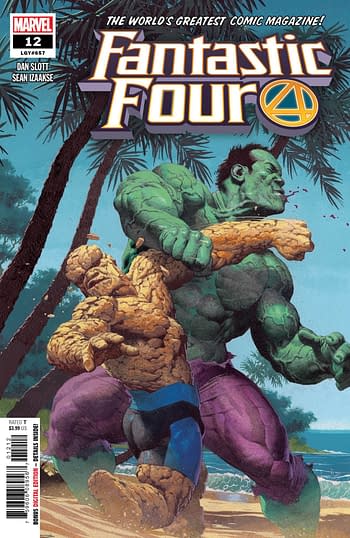 FANTASTIC FOUR #12
Written by Dan Slott, art by Sean Isaakse, cover by Esad Ribic
Ben and Alicia are off on their dream honeymoon in a remote tropical paradise…until someone decides to crash it. Or should we say SMASH IT?! Get ready for the biggest HULK VS. THING FIGHT OF THE CENTURY!
PLUS: The saga of the Future Foundation by Jeremy Whitley and Wil Robson!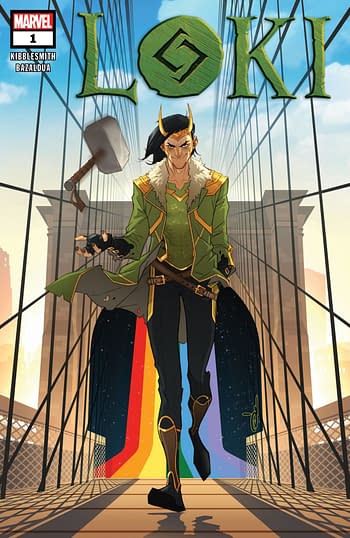 LOKI #1
Written by Daniel Kibblesmith, art by Oscar Bazaldua, Cover by Ozgur Yildirim
After dying a grisly death in WAR OF THE REALMS, Loki learned a valuable lesson in warmongering: Don't get caught. But now he has a whole new set of responsibilities—and his brother Thor is not about to let him walk away from them this time.
Late Show and BLACK PANTHER VS. DEADPOOL writer Daniel Kibblesmith takes the god of mischief in a thrilling new direction!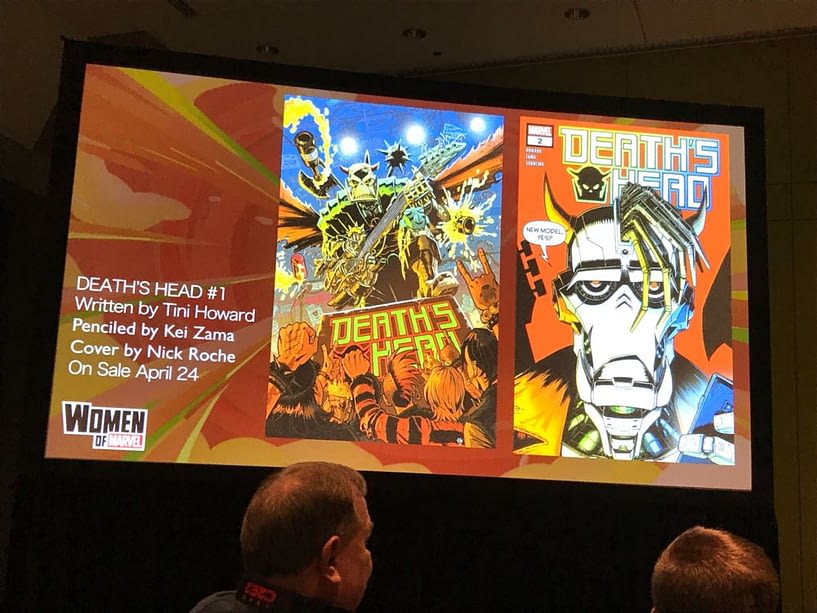 Death's Head #1 (of 4)
By Tini Howard and Kei Zama, cover by Nick Roche.
Rising stars Tini Howard and Kei Zama take on Marvel UK's hottest character, Death's Head, in a new miniseries! When intergalactic mech merc Death's Head botches a job and wakes up half assembled at a punk show, he goes on a rampage. He's not the only one feeling broken down and obsolete, as former Young Avengers Wiccan and Hulkling are on the scene with a plan of their own. There's no way the best robot bounty hunter – oops, we mean "freelance peacekeeping agent" – in this universe is getting taken down by a couple of C-list heroes still wearing their teenage tights. No, if anybody's gonna take out Death's Head, it's gonna be…Death's Head, yes? It's time for an upgrade – meet the adolescent new model who'll turn Death's Head's world upside down!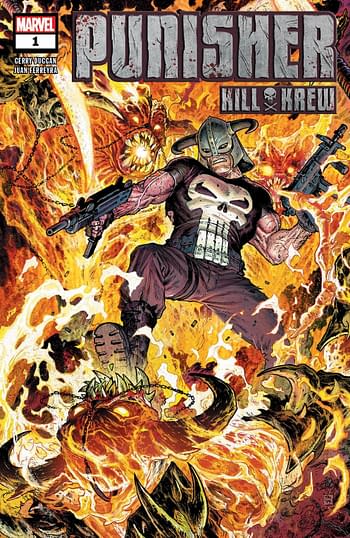 PUNISHER KILL KREW #1
Written by Gerry Duggan, art by Juan Ferreyra, Cover by Tony Moore
ONE MAN. TEN REALMS. TOTAL WAR.
During WAR OF THE REALMS, Frank Castle made a promise of vengeance, and Frank Castle keeps his promises. But a van full of orphans is about to make that promise a lot more complicated… How does a man kill gods and monsters?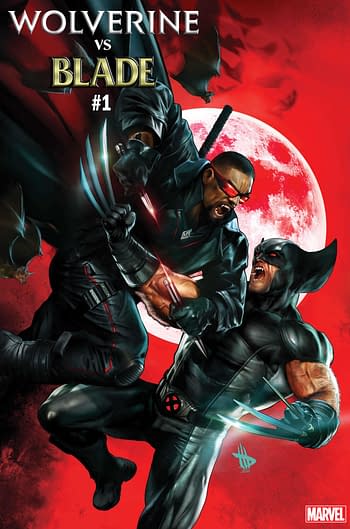 Wolverine vs. Blade #1
By Marc Guggenheim, Dave Wilkins, cover by Matteo Scalera is doing a variant cover.
Two of the deadliest hunters ever to have stalked the night face off! Wolverine vs. Blade — 'nuff said!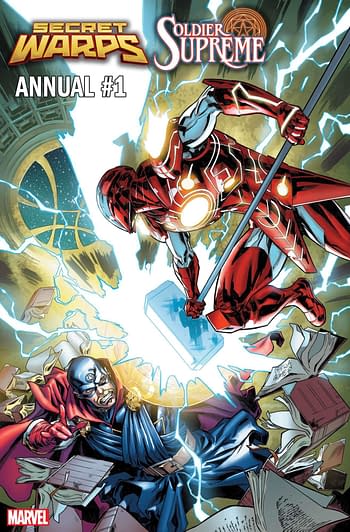 SECRET WARPS: SOLDIER SUPREME ANNUAL #1
by Al Ewing and Mark Waid, Carlos Gomez and Alex Lins, cover by Carlos Gomez
Part 1, "Acts of War". As the villains of Warp World trade foes, it begins a rift between Soldier Supreme and Iron Hammer that could tear the Super Hero community in half. But could this criminal conspiracy be the portent of a much bigger cosmic calamity? Plus: A bonus tale of Soldier Supreme versus Baroness Umar for the fate of our nation!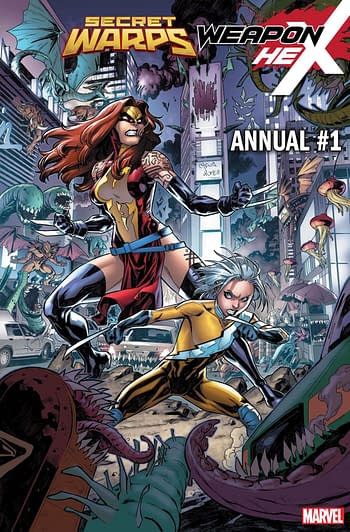 SECRET WARPS: WEAPON HEX ANNUAL #1
by Al Ewing and Tim Seeley, Carlos Villa and Bob Quinn, cover by Carlos Gomez
Part 2, "Inferno Attacks"! Weapon Hex and Speed Weasel join the fight for Warp World as the forces of Hell invade the streets of New York City! Then catch a bonus story of the spellbound sisters taking down a ferocious furry femme!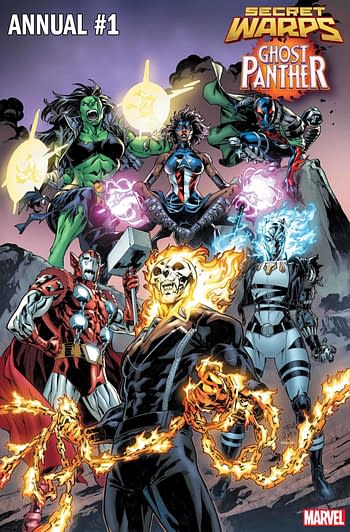 SECRET WARPS: GHOST PANTHER ANNUAL #1
By Al Ewing and Daniel Kibblesmith,  Carlos Gomez and Ig Guara,cover by Carlos Gomez
Part 3, "Days of Future Mars"! The stunt-riding cursed king of Wakanda, the Ghost Panther, heads to the far future…in the year 2099! But can he rally the inheritors of the legacy of his fellow heroes to defeat the Martian invaders? Then, read a bonus tale of T'Challa taking on creatures of the night alongside Knightblade!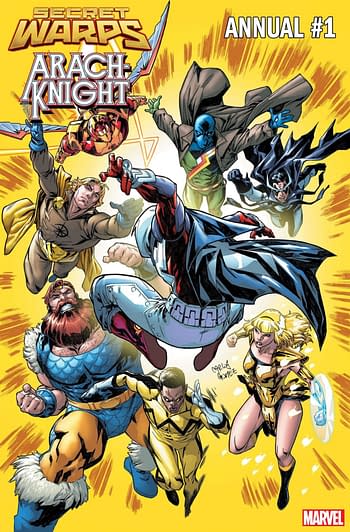 SECRET WARPS: ARACHKNIGHT ANNUAL #1
By AlEwing and Jim Zub, Carlos Villa and Carlo Barberi, cover by Carlos Gomez
Part 4 "Supremeuniversal"! The web-spinning Arachknight finds himself out of the depth of all four of his personas as his own warped universe begins colliding with another—the New Supreme Universe, homes of the Supreme Seven! Plus: A bonus tale of ol' AK trying to persuade the Terrific Two to become a Trio!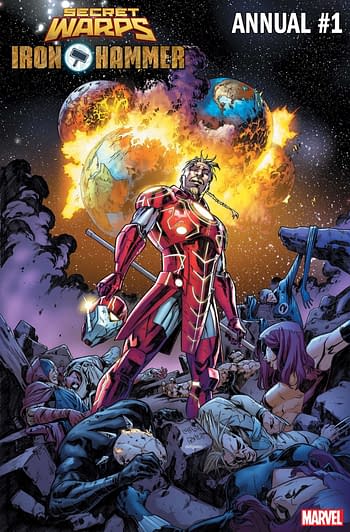 SECRET WARPS: IRON HAMMER ANNUAL #1
By Al Ewing and Tini Howard, Carlos Gomez and Ario Anandito, cover by Carlos Gomez
Part 5 "Secret Warps"! Whatever has been causing worlds to smash together is out of control…and starts smashing Warp Worlds heroes into one another! As the heroes begin turning into strange new amalgamations, can even Ghost Hammer turn things back to normal? Then, a bonus tale of Sigurd Stark battling the twin wolves of addiction and Fenris the god devourer!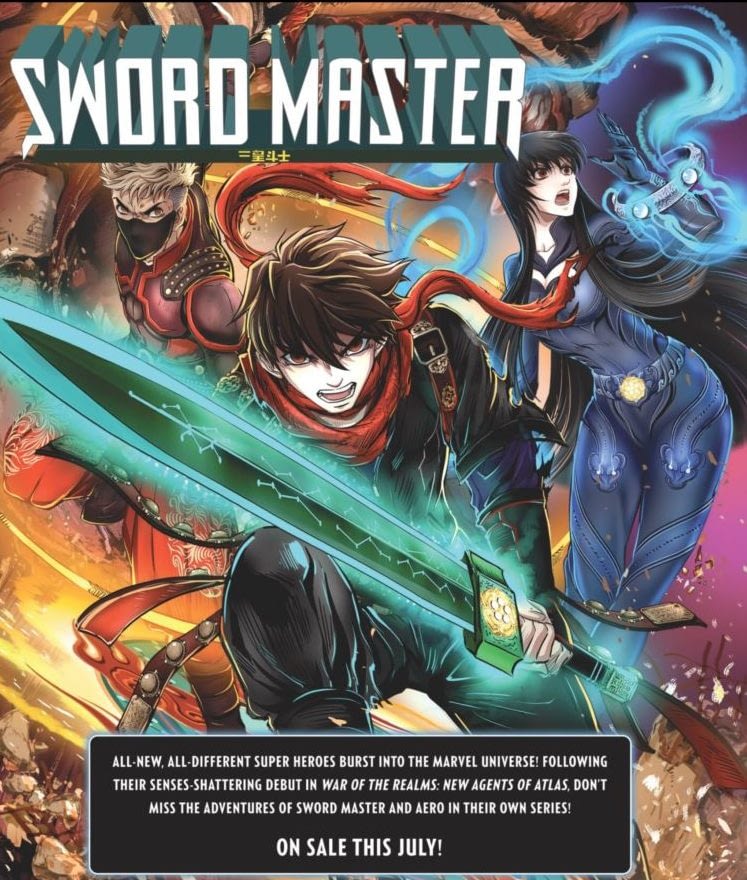 Sword Master #1
By Greg Pak, Xi Shanshan and Chen Xioyun,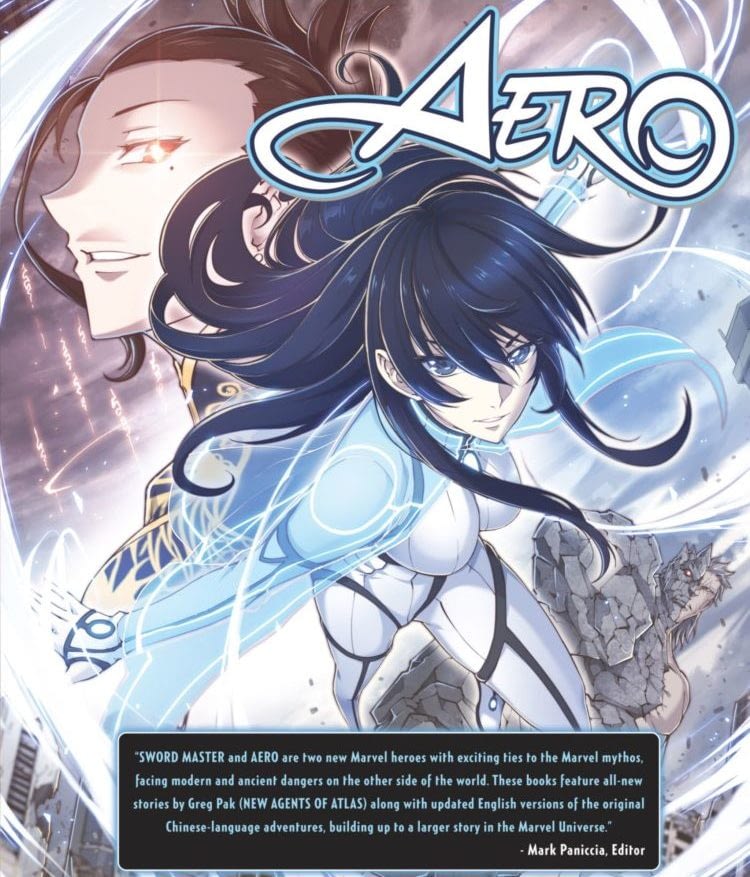 Aero #1
By Greg Pak,  Zhou Jiajun and Xu Ming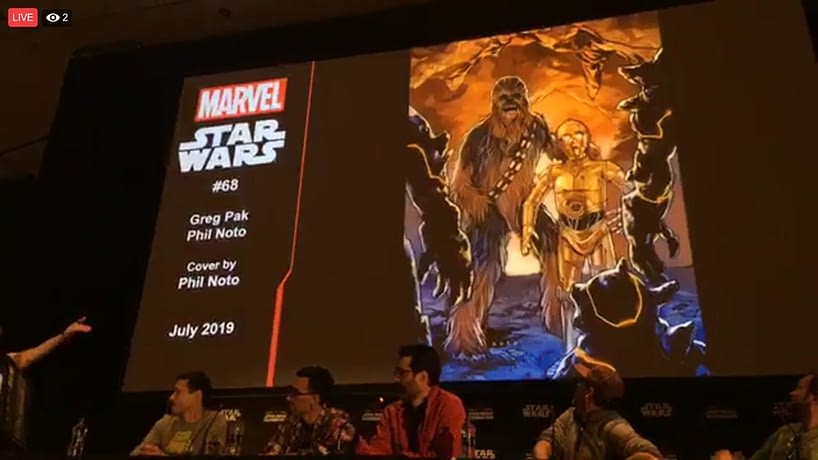 Star Wars #68
By Greg Pak and Phil Noto
Darth Vader is on the hunt for Luke Skywalker! Thousands of remote probes are sent into the far reaches of space looking for the Rebel Alliance. But the rebels send out desperate, heroic missions to lead them astray. Chewie and C-3PO lure a drone to a planet with an unstable core but learn of a secret droid civilization. With Star Destroyers and Darth Vader approaching, they must now protect these newfound droids. Luke Skywalker undertakes a mission to lead a drone away from a rebel refueling station but runs into theForce-sensitive human Bendoh. With Luke training to be a Jedi, will Bendoh be a valuable teacher or a simple grifter? Then, Han Solo and Princess Leia plan to use a drone to take down a local crime boss, but things get complicated when they run into Leia's ex! What could possibly go wrong?!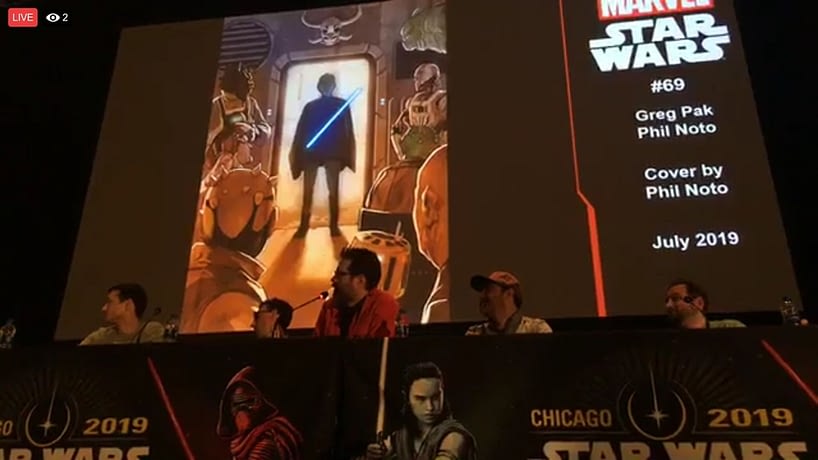 Star Wars #69
By Greg Pak and Phil Noto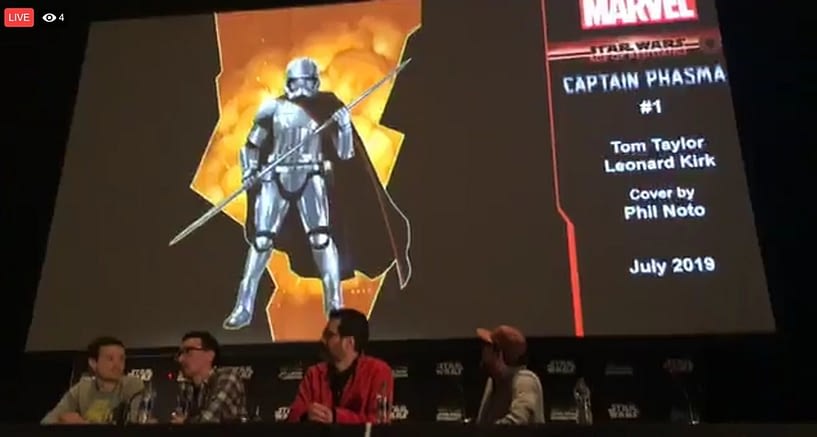 Age Of Resistance one-shot Captain Phasma #1 by Tom Taylor and Leonard Kirk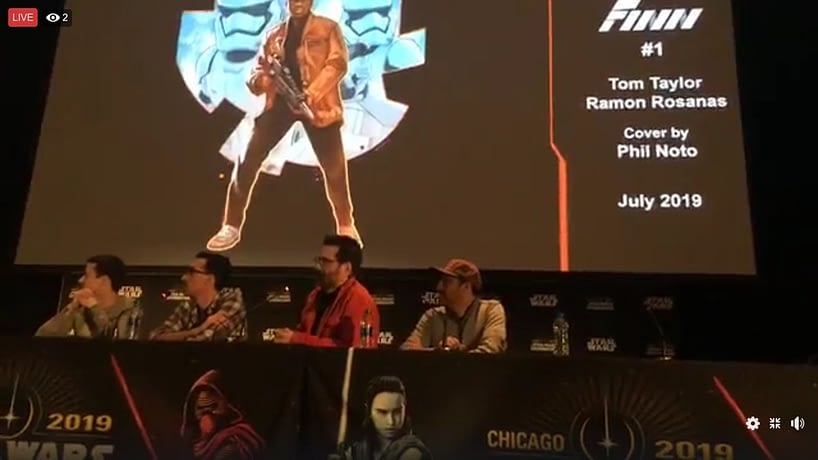 Age Of Resistance one-shot Finn #1 by Tom Taylor and Ramon Rosanas in July. Seeing Finn when he was a Stormtrooper showing some moral doubt – and also working as Janitor Finn.
Age Of Resistance Special by G Willow Wilson, Tom Taylor, Chris Eliopoulos and Elsa Charretier,
Target Vader #1 by Robbie Thompson and Marc Laming starting in July with bounty hunter Beilert Valance,  returning and coming for Lord Vader.
And potentially Al Ewing and Jason Aaron's Valkyrie…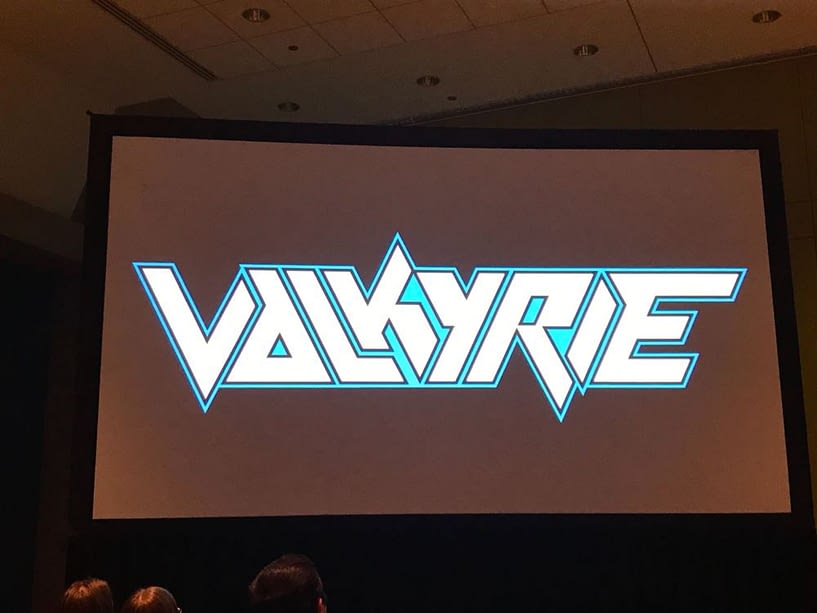 And we know these Carnage variants are coming for these comics in July…
1. AMAZING SPIDER-MAN #25 by TODD NAUCK
2. AVENGERS #22 by JUNGGEUN YOON
3. BLACK CAT #2 by MARK BROOKS
4. BLACK PANTHER #14 by RYAN BROWN
5. CAPTAIN AMERICA #13 by BUTCH GUICE
6. CAPTAIN MARVEL #8 by INHYUK LEE
7. DAREDEVIL #8 by LEE GARBETT
8. DEADPOOL #15 SKOTTIE YOUNG
9. DOCTOR STRANGE #17 by EMA LUPACCHINO
10. FANTASTIC FOUR #12 PATCH ZIRCHER
11. FRIENDLY NEIGHBORHOOD SPIDER-MAN #9 by WOO DAE SHIM
12. GUARDIANS OF THE GALAXY #7 by GUISEPPE CAMUNCOLI
13. IMMORTAL HULK #20 by NICK BRADSHAW
14. SAVAGE AVENGERS #3 by LEINIL YU
15. SPIDER-GWEN: GHOST-SPIDER #10 IBAN COELLO
16. THOR #15 by MIKE MCKONE
17. TONY STARK: IRON MAN #14 PASQUAL FERRY
18. UNCANNY X-MEN #21 by DECLAN SHALVEY
19. VENOM #16 by RON LIM
Enjoyed this article? Share it!