Freya Gives the Sex Talk to Thor and Balder in War of the Realms: Journey Into Mystery #1
Journey Into Mystery is a new mini-series spinning out of War of the Realms next week, part of an overall effort to bilk Marvel readers for as much money as possibility based on super-mega-crossover event FOMO provide additive content to the event comic experience with stories that can't be told within the confines of the regular book. The series centers around a group of heroes trying to protect Thor's baby sister as the War of the Realms engulfs the Marvel Universe.
What's that you say? You didn't know Thor had a sister? Well, Balder the Brave is equally confused. Thankfully, Freya is ready to explain it to him… by finally giving him that talk about the birds and the bees after thousands of years.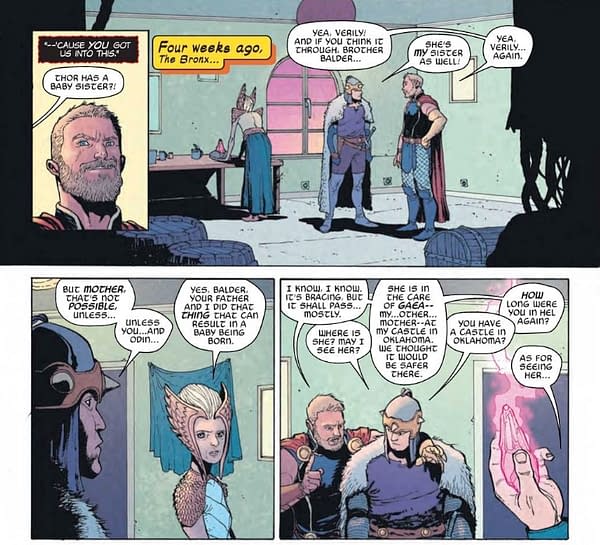 Balder quickly gets on board and vows to protect his sister.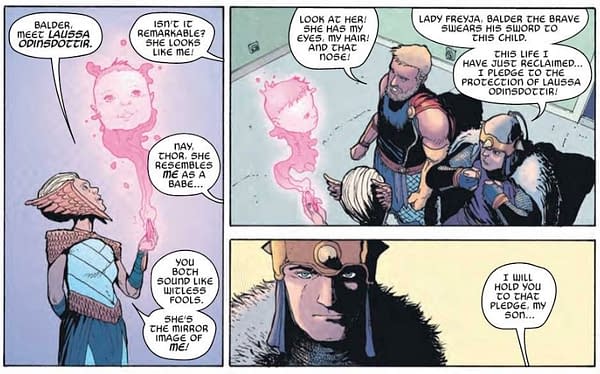 And it's a good thing, too, because it turns this baby is a hot commodity in the new War of the Realms economy…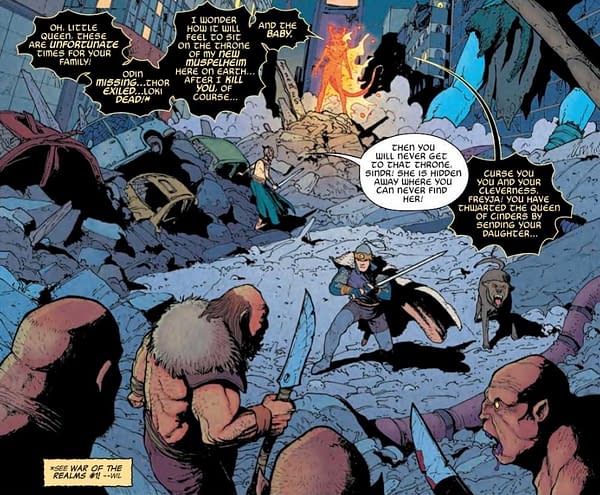 What other startling life lessons will Balder learn as this series progresses? Also: a Death Locket appearance can be seen in the preview below.
War of the Realms: Journey Into Mystery #1 hits stores next Wednesday.
War of the Realms: Journey Into Mystery #1
(W) Clint McElroy, Justin McElroy, More (A) Andre Araujo (CA) Giuseppe Camuncoli
The creators of the blockbuster podcast The Adventure Zone bring their talents to Marvel for a wild romp through THE WAR OF THE REALMS!
Earth is at war, besieged by an army of Frost Giants, Trolls and Fire Goblins – and the mighty Thor is nowhere to be found! But could it be that the key to turning the tide is…Thor's baby sister? Journey into Mystery with Spider-Man (Miles Morales), Hawkeye (Kate Bishop), Wonder Man, and Balder the Brave as they go on an epic quest to save Earth's only hope! (And, yes, deal with diaper duty.)
Rated T+
In Shops: Apr 10, 2019
SRP: $3.99