Over in the Reddit San Diego groups, down among the comments, the general manager of the Smoking Gun bar posted an apology. The bar's Facebook group is currently under assault from people incensed by the bar's promotion of a Geeks Be Gone party the Monday after San Diego Comic-Con, celebrating the departure of the show from the city — and all the people it brings with it.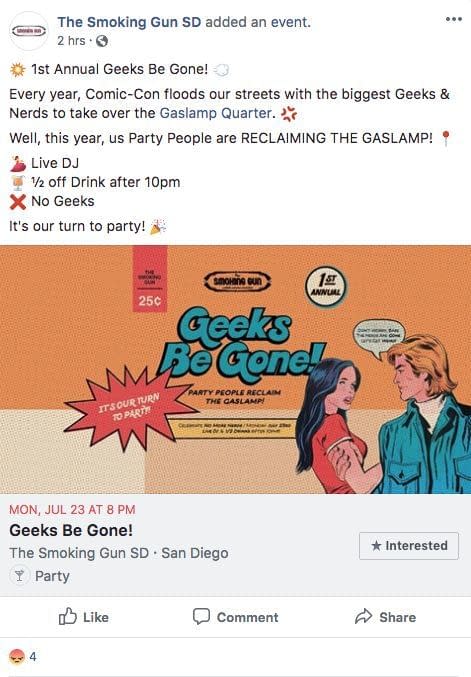 As was pointed out, plenty of people attending the show are locals — and the geeks bring in a lot of money. And, as can be seen, are happy to withdraw it. Their Facebook almost-five-star rating is now down to 2.8. San Diego attendees have watched Black Mirror's 'Nosedive'…
Under the name Juanpablo_the_cat, the poster writes:
"I'm the GM there. It was a huge verbiage mistake on our behalf. Being a San Diegian veteran, I love comic Con and all the attendees. We were simply throwing a post Comic-Con party for all those who work downtown tirelessly by offering a half off the bar night for them. I apologize to anyone who is offended, our whole bar concept is a nostalgic them with peechy folders even being used as our cocktail menu. Our apologies San Diego, we never meant to cause harm or offend anyone."
And as to the language of the promotion:
"It was over sight I missed that our PR did. It falls on me"
Enjoyed this article? Share it!