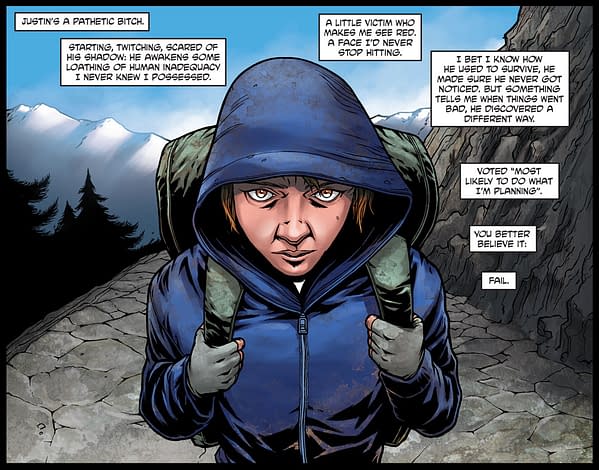 Another Thursday, another new chapter of the Garth Ennis webcomic Crossed: Dead On Arrival.
The crowdsource fundraiser has passed its important $10,000 mark which means that the first stages of production on the Garth Ennis written-and-directed Crossed webisodes on can begin.
But they are still after more. So what can you get for your money? Lets spell it out.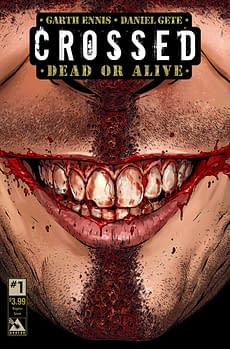 $5 gets you $8 worth of digital comics, issues 1 and 2 of Crossed: Dead On Arrival.
$8 gets you those digital comics and the print versions too with exclusive covers, limited to 3000.
$30 gets you digital copies of all the Garth Ennis Crossed comics,  #0,1-9, Badlands #1-3, 25-30, and 50-55 as well as the digital and print Dead On Arrival, worth $60 in total.
$50, on top of everything else above, gets you  Crossed: Dead or Alive #1 and 2 with the Regular, Horror and Art Deco covers of each issue, six limited edition comics in total, as well as a copy of Crossed Vol 1 collection, totalling $115 in value.
$80 gets you everything above, plus VIP Triple Signed editions of DOA #1 and 2 by  Garth Ennis, Jacen Burrows, and William Christensen, only 500 copies of each were created.  Also in this level are the Turbulence and Missing covers on DOA #1, also limited to 500 copies each. A $175 value. $150 gets you everything above, plus  Pure Art and Red Crossed covers of DOA, making a complete set. And a White Leather cover of Alan Moore's Crossed +100 #1, limited to 250 copies. And four 11 x 17 Art Prints, featuring DOA cover art, alsolimited to 250 copies each.
$250 gets you all that and a special black Crossed shot glass, a Crossed Sketch cover by Ken Meyer Jr,  one of 100 numbered sets of Crossed: DOA #1 and #2 VIP Signed Editions that are signed by Garth Ennis and  Remarqued with an original head sketch by Jacen Burrows. And in print Crossed Volumes 1,4,5, and 10, and Crossed: Wish You Were Here Volumes 1-4, with a total value of over $550.
So, you know, $5 to $250… how much do you love Garth Ennis>
Enjoyed this article? Share it!