Hachette has been publishing hardcover volumes collecting Marvel Comics titles for some time. The Ultimate Graphic Novel Collection took classic Marvel stories and published them in hardback format every two weeks, and sold in newsagents, supermarkets and through subscriptions. They had a sixty book plan, with a Gabriele Dell'Otto original piece of artwork created by the spines of each volume. In 2014, that jumped to 120 and Gabriele extended the image to match. It's now meant to go up to 200 volumes by August this year.
They also ran a separate collection called Marvel's Mightiest Heroes, each volume spotlighting a different Marvel character with a panoramic picture on the spine by Marko Djurdjević and then relaunched with an image by Adi Granov. The series ended last year with 130 volumes.
So what's next? Well, previously, as a Marvel licensor, Hachette was unable to promote the big franchise X-Men separately. Then things changed and now they can. They ran a forty volume Deadpool partwork and of 2019, are going full blast with X-Men: The Essential Collection.
And, because today is London Book Fair, this is where it all begins.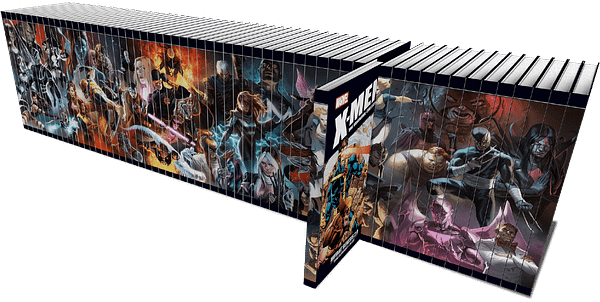 With, if you can believe the spine image, there will be sixty volumes… And here's how they begin…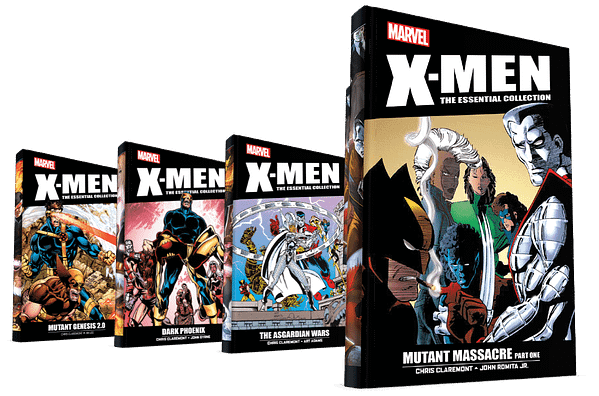 Issue 1 MUTANT GENESIS 2.0
The X-Men's mission begins anew! Their founder Professor Charles Xavier has returned – along with their arch-nemesis Magneto! Reigniting his war against humanity, the mutant Master of Magnetism and his Acolytes plunge the world into chaos by stealing a salvo of nuclear missiles and declaring his orbital base, Asteroid M, a haven for mutants. The X-Men prepare an assault, but with half their force brainwashed by Magneto, they face an almost impossible battle. Against the odds, the mutant heroes must fight on – ready to sacrifice all for a planet that continues to hate and fear them! Contains X-Men Vol. 2 #1-7.
Issue 2 DARK PHOENIX
The Phoenix Force, a primal power of life and rebirth that chose the dying Jean Grey as its new host. Wielding its incredible energies, she has become a being with abilities far beyond that of her mutant teammates. But when Mastermind and the Hellfire Club try to harness this power for their own ends, they unwittingly unleash a creature that could spell universal destruction. Behold, the X-Men's bleakest moment as the Dark Phoenix rises! Contains Uncanny X-Men #129-137.
Issue 3 THE ASGARDIAN WARS
Kidnapped by the Asgardian Trickster God, Loki, a powerless Storm finds herself a pawn in his latest duplicitous scheme to usurp his brother, Thor. As Ororo's pupils, the New Mutants, are scattered to every corner of the Nine Realms, the young heroes battle to free themselves and their mentor from a flurry of Asgardian adversaries. With dangerous foes and even more dangerous temptations in their path, this is one adventure that will most certainly leave its mark on the next generation of mutant heroes. Contains New Mutants Special Edition #1 and Uncanny X-Men Annual #9.
Issue 4 MUTANT MASSACRE PART ONE
The Morlocks – a group of mutant outcasts who live beneath the streets of Manhattan. Making their home in the abandoned subway and sewer tunnels, they hide from the human world above. But the time for hiding is over. A group of vicious assassins known as the Marauders have been employed to wipe them all out. Between this murderous cabal and their target stand the X-Men, X-Factor and the New Mutants. But will they be enough to stop the ensuing massacre – and what will it cost the mutant heroes? Contains Uncanny X-Men #210-211, X-Factor #9-10, New Mutants #46, Thor #373 & Power Pack #27.
And for those who sign up here are freebies too…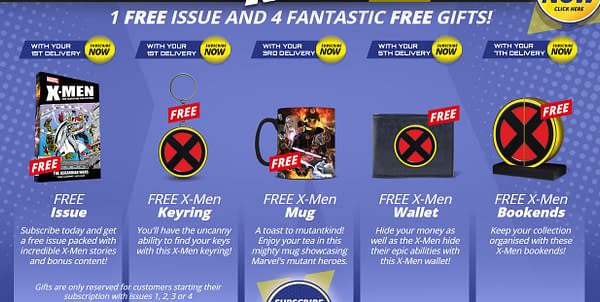 Okay, yes, because as awesome as the look of the full 60-set looks, kit will be even better with those bookends. Cn you resist? I mean, you have to like in the UK, but maybe it's worth moving here for?
Enjoyed this article? Share it!