Hardly Any Aquaman in Andromeda Book One – Just Like Dark Knight
The Dark Knight Returns by Frank Miller is considered a true classic Batman comic – or comic book full stop. But Bruce Wayne only turns up as Batman at the very end of Book One. While in Ultimate Spider-Man by Brian Bendis and Mark Bagley, Peter Parker is only in costume at the end of issue 6. Sometimes, when creating a classic using known IP, you want to hold off just a little while to build the tension.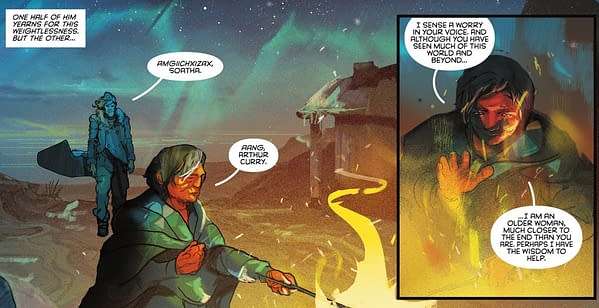 So when Aquaman is hardly in Aquaman Andromeda, this may be the reason. They'll be saving it all up for Book Two. Or Book Three.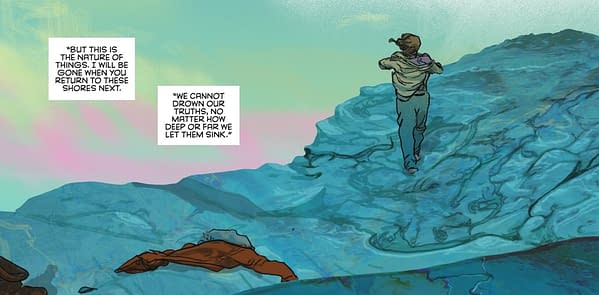 A very beautiful book, never has the ocean, above or below, been portrayed this way in an Aquaman comic book before. It is probably the lead character of this comic, the scientists, the natives, Aquaman, Black Manta, the Kraken, all bit players in the wider scope of things. Even if Aquaman gets to be on the cover.
At least we get to see him in his new duds, even if sometimes his appearances only come via sonar.
It's just another way of portraying the world around him in gorgeous detail.
One of unexpected colours, and spurts, of movement and light… and dark as well.
Aquaman Andromeda awakes. You know this is going to get nominated for an Eisner for 2023, right?
AQUAMAN ANDROMEDA #1 (OF 3) CVR A CHRISTIAN WARD (MR)
(W) Ram V. (A/CA) Christian Ward
Deep in the Pacific Ocean, at the farthest possible distance from any land, sits Point Nemo: the spaceship graveyard. Since the dawn of the space race, the nations of the world have sent their crafts there on splashdown, to sink beneath the silent seas. But there is something…else at Point Nemo. A structure never made by human hands. And that structure seems to be…waking up. The crew of the experimental submarine Andromeda, powered by a mysterious black-hole drive, have been chosen to investigate this mystery. But they aren't the only ones pursuing it. Anything of value beneath the ocean is of value to the master pirate Black Manta…and anything that attracts Black Manta attracts Arthur Curry, his lifelong foe, the Aquaman! But heaven help them all when the doors of the mystery at Point Nemo swing wide to admit them… Bringing a bracing cosmic-horror sensibility to the world of Aquaman, rising superstars Ram V (Venom, The Swamp Thing) and Christian Ward (Thor, Invisible Kingdom) team up to put Arthur Curry through an exercise in psychological terror that could break the will of even a king!
Retail: $6.99 In-Store Date: 06/07/2022