Oh boy. So, your tulip Batman #89, the first cameo appearance of the Joker's new girlfriend Punchline that came out on February 19th, have been selling for up to $50 on eBay. with her first full (if silent) appearance, Hell Arisen #3 published on February 26th, going for a similar amount. Brian Hibbs has written about the effect of this sort of nonsense.
Well, who fancies some more? Because Harley Quinn and the Birds Of Prey #1 by Jimmy Palmiotti and Amanda Conner one week before Batman #89, on February 12th. One full week before Batman #89. Which features, the Joker talking to… someone, when taking a call from Harley Quinn. And them talking back. Now there are no identifying features as to whether this is, or is not Punchline. But if not her… then who? And why would she be in silhouette?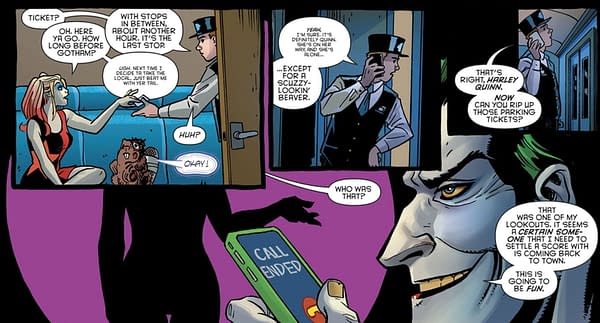 Harley Quinn and the Birds Of Prey #2 out on April 8th may provide further details… the issue is currently selling copies for cover price. Might that change?
HARLEY QUINN & BIRDS OF PREY #1 (OF 4) (MR)
(W) Amanda Conner, Jimmy Palmiotti (A/CA) Amanda Conner
DC Black Label Prestige Plus 8.5" x 10.875"
The creative team that transformed Harley Quinn forever returns to shake up her world once more-and this time, the gloves are off!  Harley Quinn has avoided Gotham City ever since she broke up with The Joker and found a home, and a kind of family, in Coney Island. But when she gets an offer she can't refuse, she has no choice but to slip back into the city as quietly as she can, hoping to be gone before anyone – especially her ex – learns she's been there. But for Harley, "as quietly as she can" is plenty loud… and before she can say "Holee bounty hunters, Batman," The Joker's sicced every super-villain in the city on her pretty ombré head-and the only team tough enough (or crazy enough) to come to her defense is the Birds of Prey! The foul-mouthed, no-holds-barred sequel to one of DC's raciest runs is here! Get on board early, before we come to our senses!In Shops: Feb 12, 2020 SRP: $5.99

HARLEY QUINN & THE BIRDS OF PREY #2 (OF 4) (MR)
(W) Jimmy Palmiotti, Amanda Conner (A/CA) Amanda Conner
DC BLACK LABEL AGES 17+
Over the course of her illustrious and very high-class career, Harley's met pretty much every super-villain who ever worked in Gotham City. Some hate her. Some love her. But none of that's gonna matter once they see how many zeroes there are on the bounty The Joker's offering for her head! Sorry, Harley-it's just business. Your next of kin will understand, right? Meanwhile, Cassandra Cain finds herself in the unenviable position of being Harley Quinn's bodyguard…but this could be her opportunity to learn a little about, y'know, loosening up? If she's currently wound too tight, then just sit next to Auntie Harley…she's got more than her share of loose screws! 8.5"x 10.875"In Shops: Apr 08, 2020 SRP: $5.99
Enjoyed this article? Share it!