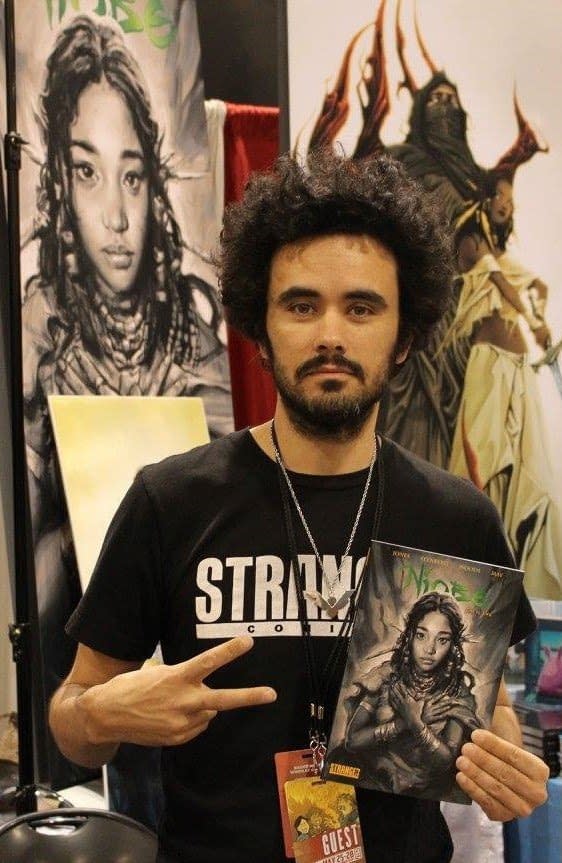 Donald Guillory writes for Bleeding Cool,
I first met Sebastian Jones (founder of Stranger Comics) at Phoenix Comicon of 2016 and was taken aback at the works his company was producing and how it was allowing diverse voices to be featured and available for audiences. After meeting him, I looked forward to what he would potentially have in the future. I was not disappointed.
When I met with him this year and Phoenix Comicon 2017, Sebastian was highly excited about the response to his current series, Niobe: She is Life, and the anticipation for the next part of the series, Niobe: She is Death, which has found much success in its Kickstarter campaign. The series allows for a diversion from the seeming "cookie-cutter" lead characters that we often find in our movies, books, comics, and graphic novels. The Niobe series and his other works feature diverse and inclusive characters that offer the opportunity for more members of the general readership to see themselves in the pages. Additionally, the Niobe series is the first nationally distributed comic book that features a woman of color as the main character, author, and artist, a feat that many would argue is well-overdue and demonstrates the changing atmosphere within the world of comics and responding to the needs of the readers of all genders, races, and backgrounds. It is not limited in its approach and does not offer diversity for the sake of claiming that aspect.
It is inclusive in talking about the issues that these characters face, although in a fantasy world, that reflects discrimination, bigotry, and hatred that readers may witness or experience in their own lives. The stories also offer reasonable and rational responses to the circumstances of their worlds. The stories make a connection to their readers and demonstrate that more voices need to be heard and more faces need to be seen for the comics to fully reflect their audiences, communities, and offer a different perspective on what it means to be a hero, as well as, what one looks like. Most importantly, the inclusion of the author, artist, and hero allow for their voices to be reflected in the work. Niobe allows for the perspective especially for women of color to be reflected and revealed on the pages. Readers get to see their identity and how they are not only shaped by the story, but how the story is shaped by their identity. The authenticity of experience is vital when capturing their stories in ink and on paper.
Sebastian Jones is excited to get these books into the hands of readers young and old, all races, and of varied backgrounds. He feels it is important for readers, especially younger readers to see heroes showcased that look like themselves so that they do not feel left out. Everyone wants to be able to relate to a character who is a badass warrior. Niobe delivers.
Enjoyed this article? Share it!