Alex Schomburg Covers the Black Terror #11, Up for Auction
The Black Terror stops a bank robbery with force, and you can own it by bidding at Heritage Auctions today.
---
Even if you're not already a Golden Age comic book fan, the Black Terror might still look familiar to you. He's been revived on a few occasions in more recent decades, and his costume seems to have inspired still more modern variations. Of course, readers of Alan Moore's Tom Strong series would recognize him as well. Debuting in Exciting Comics #9 in 1941, the character was a hit and carried that Standard/Better/Nedor title for years, in addition to spinning off his own series plus appearing in the title America's Best Comics. There's a great example of the character in his own title with a gorgeous cover by Alex Schomburg, Black Terror #11 (Nedor, 1945) Condition: VG up for auction in the 2023 February 23 The Thrillingly Exciting Heroes of Nedor Comics Showcase Auction #40219 at Heritage Auctions.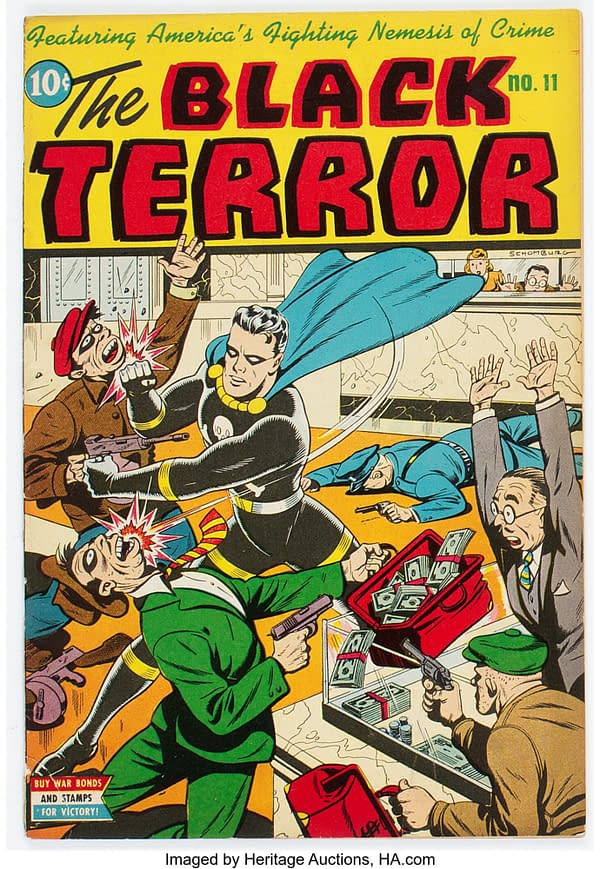 The Black Terror vs "The Voice"
"The Black Terror #11 (Nedor, 1945) Condition: VG. Alex Schomburg cover. There is a 1" spine split at the bottom, and the bottom left corner has a .5" tear at the spine. There is spine fray. Overstreet 2022 VG 4.0 value = $142. Edited by Ned L. Pines. Cover by Alex Schomburg. Stories by Ed Moritz, Charles S. Strong, Tex Mumford, Victor E. Pazmiño, William B. McClellan, and Jim Davis. Action-packed tales featuring such characters as Mortimer Magic and the Black Terror, a super strong super-hero. 36 pages, full color. $0.10. Cover price $0.10. Characters Featured: The Black Terror [Bob Benton]; Tim [Tim Roland]; Jean Starr; Fred Swanson (old school chum of Benton's, introduction); The Voice (villain, expert in gas, introduction); Mac (villain, introduction) Bob gets a letter from an old school chum in Nevada, who mentions two mysterious deaths of his neighbors in their shacks, as well as the appearance of a skull and crossed bones in the sky."
You know, I wish a company could crack the code to bring some of these classic heroes and villains back in a meaningful, long-lasting way. Until then, we will always have the past issues to collect. Go here to bid, and while you are there, go ahead and check out all of the other books taking bids today.

Affiliates of Bleeding Cool buy from and/or consign to Heritage Auctions.