By Olly MacNamee
It wasn't that long ago when there were concerns raised about the glut of comic conventions across Britain, but with news of Showmasters' London Film and Comic Con cancelling their Winter show, and several other regional cons postponing or cancelling this year too, is this still the case?
Even here in Birmingham, Britain's second largest city, this year has seen the comic-focussed International Comics Expo (ICE) postponed for a year and only the newer not Another Comic Con (held recently with guests such as John Higgins, John Wagner, Emma Vieceli and more) appearing as a new contender. But, what about a different kind of show? Maybe, just maybe that could work.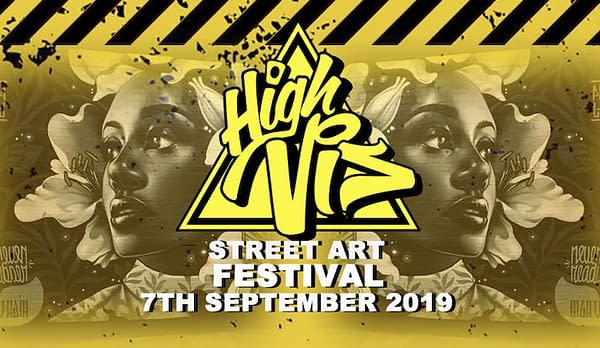 Last year I was invited into a collective of street artists to help in organising a one day free festival, called High Vis Fest, that featured not only over 60+ artists painting across the day at Birmingham's iconic Custard Factory, giving that part fo Birmingham a whole new look. With having been once been a Bleeding Cooler myself, I was asked to produce a moderate-sized comic creators zone, which included local publisher Steve Tanner (Time Bomb Comics), Lew Stringer (The Beano, Combat Colin) and Simon Myers (Titan Comics). Something fo a first for this kind of event and while there were lessons to learn (never, ever have a break dancing crew performing in the same space as mild-mannered comic folk) it saw over 2000 people throughout the day and evening. And, all for free.
And so, High Vis Fest returning again this year, bigger, bolder and still totally free, thanks to some funding from the Arts Council.
Still predominantly a graffiti, street art and street culture one day festival, happening on Saturday September 7th at the Custard Factory again, High Vis Fest have suddenly found our little comic creators zone (Comic Creators Corner, maybe?) to be the only comic book related show left on the calendar. And, no, I'm not including MCM Comics Con in this, as this show is a very different beats and while it does have its Comics Village, I don't think that's a big reason for many to attend. Although, I am more than aware that not all attendees of our festival will be there for the comics, but we're working on that too with some cross-over.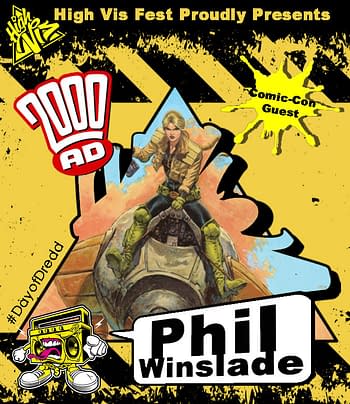 With special guest Phil Winslade (Lawless) and several key graffiti artists contacted ahead of 2000AD's Day of Dredd international celebrations on the same day, we're making connections between the two art forms with artists such as SP:Zero, Kid Crayon and more ready to take up the challenge and spray paint something Dredd inspired! I'm not too sure any other event on that day comes even close to this kind of spectacle. Seems there's a lot of 2000AD fans out there in the graffiti and street art community.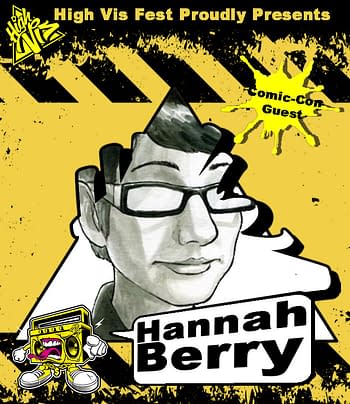 But, we have even more and definitely feel that we are going bigger and bolder than last year with Comic Laureate Hannah Berry, The Beano's Laura Howell (who will be running a free 'Making Comics' workshop; tickets available now) and John McCrea (Dead Eyes, Yondu) as well as the tag team from Black Crown's Punks Not Dead Martin Simmonds and David Barnett. With a far few more too. Somehow, someway, we've morphed into a genuine comic focussed event nestled in amongst all the other events on the day, including a Birmingham vs London dance battle, courtesy of Break Mission, live music, with a killer headliner in The Nextmen, and some guerrilla undercover art from media sensation and 'Birmingham's Banksy' Foka Wolf; something of a local legend thanks to his/her recent shenanigans done in London.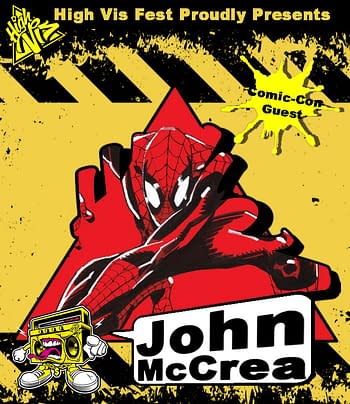 We're pretty pleased with what we've achieved and we hope that by crossing streams we are offering families and comic book fans a free event that's very different to your average comic con. Whatever an average comic con is these days, right?
High Vis Festival will be on Saturday September 7th across The Zellig Car Park, Zellig Building, Custard Factory and Floodgate Street from 11am until late. See you all there!
For more, check out our Facebook page here. Or follow us on Insta here and Twitter here.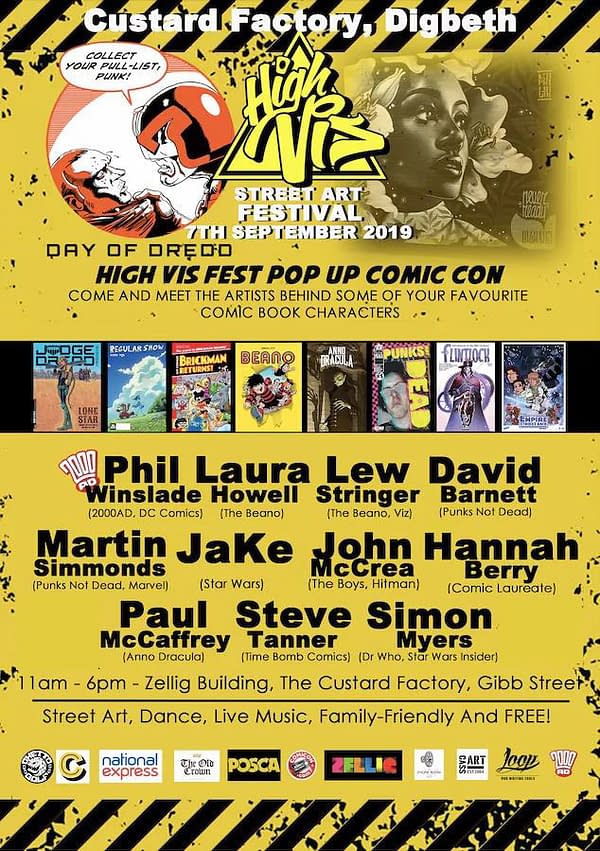 Enjoyed this article? Share it!