Frank Tieri did a r/comicbooks AMA Friday to talk about his current and upcoming projects and we've got some of the highlights for you. What's the best advice you can give for someone trying to break into the industry? It seems like endless hurdles, im trying to make my own comics and im always told its a marathon not a race but is it better to go for what the publishers might dig or what I just wanna see?
I always recommend to writers who want to break into the Big Two to not start off pitching the BIG Two. Start thinking smaller instead. Because guess what? They've never heard of you? Then they're not letting you write Batman or Spider-man. Aim for the smaller companies instead. Then, once you've established yourself a little bit more, THEN you can start thinking about pitching the Big Two, Dark Horse, Dynamite, etc
Your favorite comics (ongoing or all time). What are you reading these days? And what comics of yours would you recommend?
All time? Byrne's FF and ALPHA FLIGHT, Miller's DAREDEVIL, Claremont's X-MEN, Simonson's THOR
Also, liked MARVEL 2 in 1 because I loved the THING.
As far as reading these days, honestly with everything on my plate now, I mainly just have time to read the books I need for research (Like I just had to do for all the CONVERGENCE stuff I'm doing) or when friends of mine like Jimmy Palmiotti or Garth Ennis or whoever give me one of their books.
As for me recommending my comics– it's ALL good, my friend ;)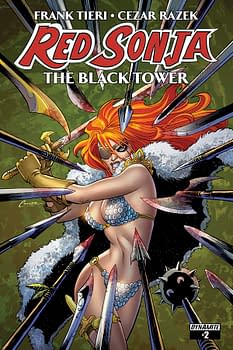 How did you first get into the comics industry?
I was an intern for MARVEL for Bob Harris, back when he was EIC. I later was an editor and head writer for Marvel.com– and all the while I was pitching stuff. Joe Q needed a co-writer on IRON MAN and asked me and soon after that Mark Powers offered me WOLVERINE. The rest, as they say, is history
Hey dude what's happening? Are you related to the Genovese family? Gotham Underground looks really good I'm gonna check it out. Upcoming Suicide Squad too.
I would tell you, John, but then I would have to kill you. ;) Gotham Underground came out a while back so yeah, by all means, pick up the trade. And not to toot my own horn– but Toot fucking Toot– the Suicide Squad Convergence series will be AWESOME.
How did you end up writing a book like Lord Havok and the Extremists? Were there originally plans to do something larger with the characters? Would you ever return to those characters?
It was either Dan Didio or Mike Marts who approached me about LORD HAVOK, I really don't remember which one it was.
I don't know if there was plans to do something larger– but I am holding out hope that someday they will. Which leads me to your next question… I would DEFINITELY return to those characters. Would love to. I didn't build that world up just for it to sit there. What I will say is I'm doing more stuff at DC these days so you never know. Believe me, if I can get another LORD HAVOK thing up and running, I absolutely will
What series would be your dream to write
Too many to answer. I'm lucky though, since I've been able to check off a lot of characters I've wanted to write over the years (mostly at Marvel) I'll say Superman, though. I actually have a real crazy idea for him that DC would NEVER let me do ;)
Tieri is currently working on Red Sonja: The Black Tower for Dynamite which is available on Dyamite's DRM-Free digital site.
Enjoyed this article? Share it!