How I Was Primed For A Properly Planned New Superhero Universe With Catalyst Prime's First Two Issues
Remember the nineties? When everyone and their dog was starting a new superhero universe? Milestone, Comics Greatest World, Valiant, Wildstorm, Top Cow, Extreme… say, remember Triumphant? With Doctor Chaos and Riot Gear? Yeah, don't expect that to be revived any time soon.
These days – few do that anymore. The market has contracted, it's more conservative, people have their superhero needs sated by films and TV shows more than comics, it would be an incredibly risky thing to do. We've had the Ultimate universe folded into Marvel Prime, Wildstorm revived, DC Reborn and Fantagraphics play with nostalgia. But is there room for something actually… new?
That's what Lion Forge are attempting, with ex-Milestone intern, DC editor and comic book pundit Joe Illidge. Catalyst Prime. They publisher had tried it before with the same name and some of the same characters a few years earlier, but it had been stillborn. It didn't catch. This time, they were going to get it right. Big names, clever creators, and a sense of cohesion, it has all been planned for.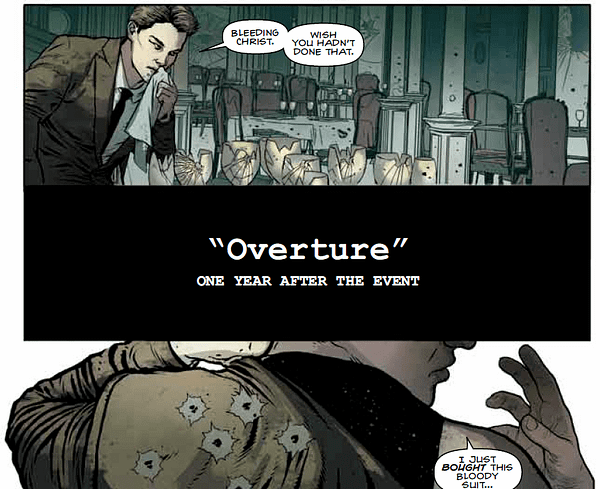 And in the Free Comic Book Day launch issue, written by Illidge with Christopher Priest, drawn by Marco Turini, Will Rosado and Jessica Kholinne, you get that. Using Priest's now-trademark white on black title panels to headline, to chapter, to comment, to break up the narrative, we get glimpses of things happening now and things happening then. Priests has used this with effect for individual characters such as Black Panther, Quantum & Woody and Deathstroke, but here he is using it to outline the whole universe.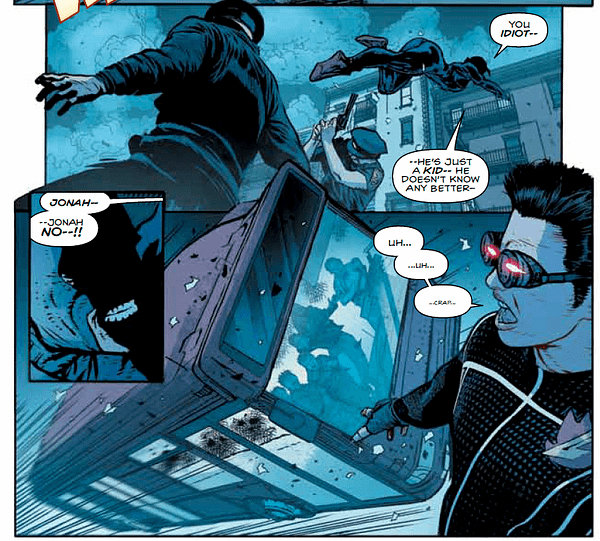 Jumping from one time to another, inviting you to piece a narrative flow together. To join the writer in the creative process, to flatter you when you get how it fits together and racing to see if you beat them to the big reveal.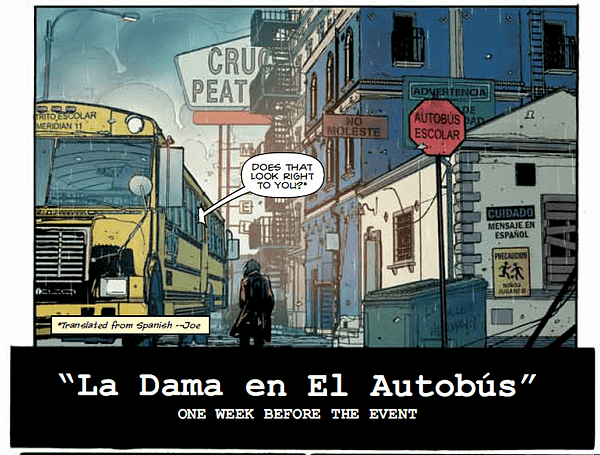 And all the conspiracy theories teased on their fake news websites, coming true and delivering a sense of manipulation, justification and, frankly, evil underlining the whole of the Catalyst Prime reality.
And, just as it was the urban demographic of Milestone's Big Bang origin that gave the line the justification for a far greater ethnic mix, here it's the world military, pooling resources to save the day. With an asteroid that is going to impact with Earth, destroyed by these astronauts who gave their lives…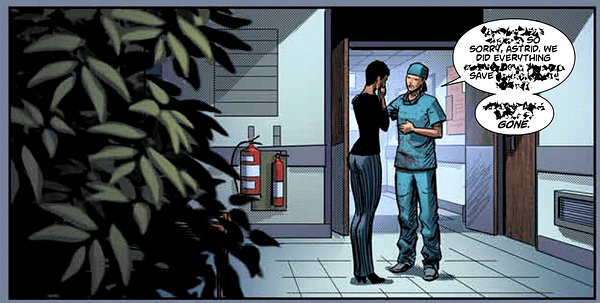 …until they suddenly start appearing later on Earth, alive. And that's
And that's Noble #1 by Brandon Thomas and Roger Robinson, set a year after the event of the Catalyst Prime – or rather The Event, echoing Jim Shooter's New Universe and the White Event, created at Marvel while Priest worked in editorial, but also the Big Bang at Milestone.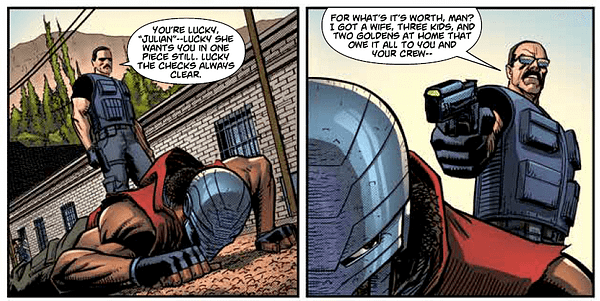 Both Catalyst Prime #1 and Noble #1 tap into the conspiracy theory that says that the 9/11 killers weren't actually on the plane, that it was a fake. And they live their lives out in the Middle East. In Noble, we meet one of them – and they are hiding in plain sight with their newly developed superhero powers, with a superhero identity.
So we get a real sense of structure and glimpses of people. There has been online criticism that the storyline isn't clear in the first issue, I'm struggling to see why this is a problem. It's more a series of flash cards to set up everything to come. So what we read in Noble, the pain, the desire, the separation and realisation that something must have seriously gone wrong here, contrasts with what was, in the FCBD title.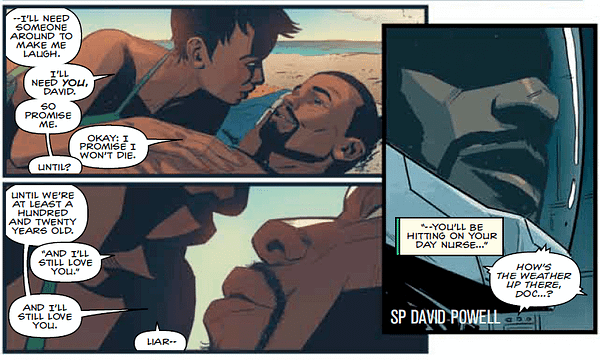 And while the panels of both I've shown here mostly involve men doing things, hitting things, shooting things (or getting shot), both titles have women as the actual people move the plot along. They are the ones pulling the big levers, the men scurry around in response. Whether the overarching conspiracy about where the powers came from and the true nature of the threat to the Earth, the deflection of which caused the big changes…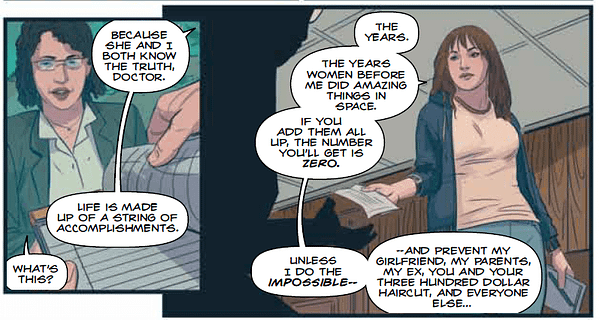 …but also Priest taking the opportunity of having Theresa May as the Prime Minister of the UK for a political scene, showing how political power reacted. You can be sure that this was originally a scene with Hillary Clinton. Well, who would have predicted otherwise.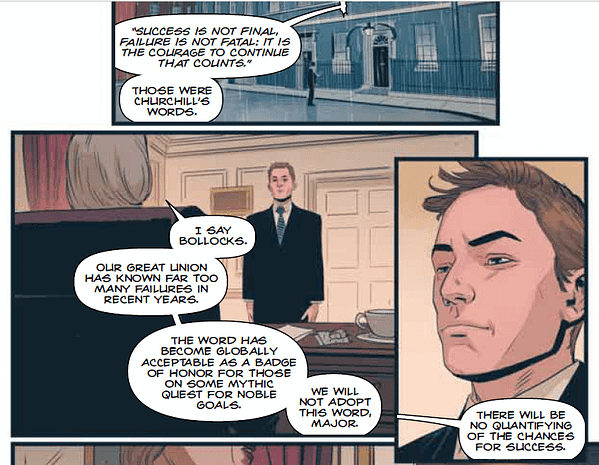 And it nicely shows that whoever is in power, behind closed doors, they always have a potty mouth, but cannot be questioned about it. That's another kind of power too.

Bleeding Cool intends to follow how this narrative emerges through the different titles, windows, exposures to the overall jigsaw puzzle. And how all these creators play together. Nicely I'm sure…
I still think Catalyst Prime is a terrible title. But I cannot argue, that with these first two books, I am primed for more. A new superhero universe, properly prepared for, and planned out, rather than an accidental fluke, or fixed on the fly – I think this might be all I've ever wanted.
Noble #2 is published tomorrow. Accell #1 is next week. I'm optimistic…