Posted in: Comics, Marvel Comics, Review | Tagged: butch guice, cam smith, daken, dan brown, horror, hunt for wolverine, hunt for wolverine: claws of a killer, lady deathstrike, logan, mach chater, Mariko Tamaki, marvel, Marvel Comics, sabretooth, sci-fi, superheroes, villains, weapon x, wolverine, x-men, zombies
---
Hunt for Wolverine: Claws of a Killer #3 Review – Not Enough Claws or Killer
Daken is pinned down by the undead horde, but he finds his way to the warehouse in which Sabretooth and Lady Deathstrike are hiding. The three know this may be their final stand, but Daken has a suspicion that a glowing green device he spotted is responsible for both he zombies and the mutants' waning healing abilities. Destroying it is their only way out, and time is short. The town is being firebombed in a matter of minutes. That means these three killers must carve their way through the zombies and to that mysterious device.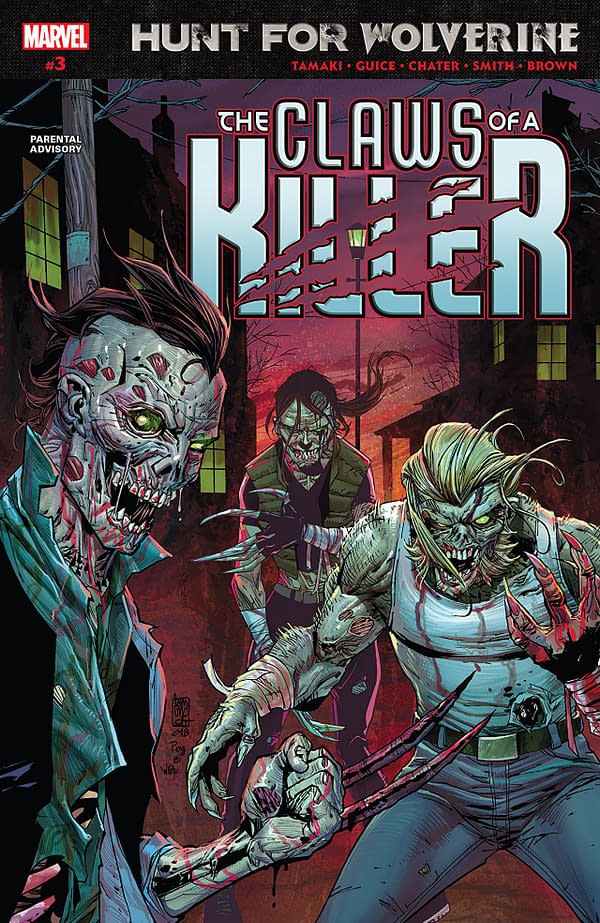 It goes without saying that this story is a bit dumb; I feel like that otherwise bold statement is sort of the point in this particular story.
I knew that going into Claws of a Killer #2 and #3. The point of the story is mostly guilt-free mayhem starring three damn good X-Men rogues.
Claws of a Killer still tries to be a little more than that, especially in the round-up to this issue. However, that guilt-free mayhem underdelivers.
It's hard to tell if it's a scripting issue or a problem with the choices of artists Mack Chater and Butch Guice, but the fight sequences aren't as visceral and satisfying as a book like this needs.
Without that, you still have some decent character moments between Deathstrike, Victor, and Daken, but that's about it. It's not like the story is all that interesting.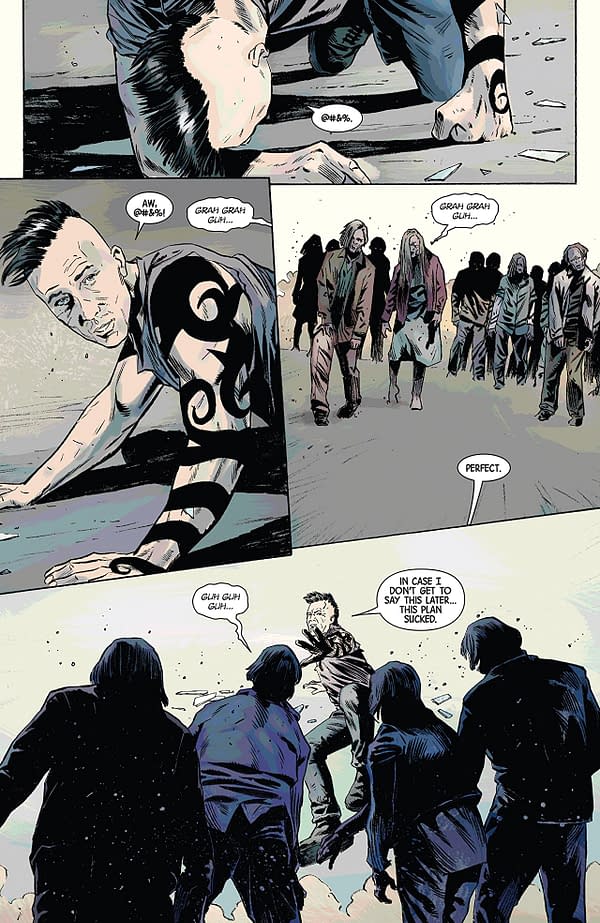 Chater and Guice still put in some good work on the visuals. It's a gorgeous book, and the detailing is emaculate while still delivering enough grit to it the characters and overall tone. Guice and Chater's artwork blends seamlessly, leaving me unable to pin where one ends and the other begins. Dan Brown's color art is pale and alienating, which fits the line work well.
Hunt for Wolverine: Claws of a Killer #3 is a disappointing read. The action isn't what it needed to be, the story doesn't deliver much, and the dialogue and art serve as the only positive points. That isn't enough to salvage the book, and I am unable to recommend this one.
---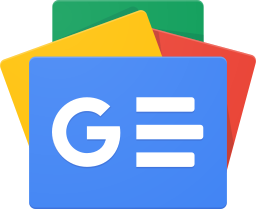 Stay up-to-date and support the site by following Bleeding Cool on Google News today!