IDW Brings Music to Life with Redbone: A Native American Rock Story
The 1960s Psychadelic Scene in California has strong creative parallels to the dawning comic book scene of the same era. On October 16, 1965, a collective of artists and bohemians called The Family Dog hosted what is considered the beginning of the Psychadelic Rock era with a concert featuring Jefferson Airplane, The Charlatans, and The Marbles called A Tribute to Dr. Strange. The character had first appeared in Marvel's Strange Tales #110 just two years prior. It is in this atmosphere that rock pioneers Pat and Lolly Vegas and their Native American rock band Redbone helped guide the future of American music. If you've heard Come and Get Your Love from the Guardians of the Galaxy soundtrack, you've heard their music. You've also heard many musicians they influenced, such as Jimi Hendrix and The Doors along the way.
IDW has announced Redbone: The True Story of a Native American Rock Band by Christian Staebler, Sonia Paoloni, and Thibault Balahy. The $19.99 Graphic Novel is available for preorder now for September 2020 release. The softcover book will be available in a Spanish language edition also, Redbone: la Verdadera Historia de una Banda de Rock Nativa Americana.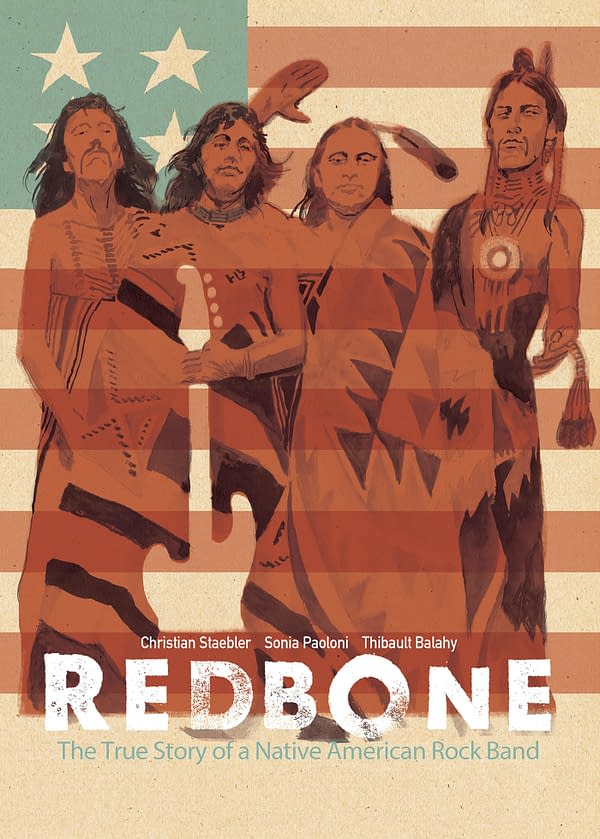 You've heard the hit song "Come and Get Your Love" in the movie Guardians of the Galaxy, but the story of the band behind it is one of cultural, political, and social importance. This September, IDW Publishing presents Redbone: The True Story of a Native American Rock Band — an intriguing, historically accurate telling of the high-flying career of rock 'n' roll pioneers and talented brothers Pat and Lolly Vegas, as they influenced The Doors, jammed with Jimmy Hendrix before he was "Jimi," and took the 1960s Sunset Strip by storm.

Written by Christian Staebler and Sonia Paoloni in cooperation of the Vegas family and illustrated by Thibault Balahy, Redbone uncovers key pieces of American history and the powerful story of the Native American civil rights movement, from the creation of the first rock 'n' roll band made up of all Native Americans, to the incorporation of tribal beats into chart-topping rock music and popular culture, to the members of the band taking a stand for their ancestry over continued commercial reward.

"I'd like to thank this book's creators for such a fantastic piece of work. It's an honor for me to be depicted in a comic and to have my story told," says writer, vocalist, bass guitarist, producer, and Redbone co-founder Pat Vegas.
Redbone: The True Story of a Native American Rock Band
by Christian Staebler, Sonia Paoloni, and Thibault Balahy
ISBN 978-1-68405-714-6
$19.99 US / $25.99 CAN
160-page, full-color softcover, 7" x 10″
September 2020