This was the panel that I was most looking forward to attending on first day at Wondercon 2019. Sadly, I didn't get the panel I was hoping for. This was described by the title as being for IDW Publishing's 20th Anniversary, so I had thoughts that we might hear some stories from the early days of IDW, however the panel was all about what's coming up for IDW Publishing in the next few months, at least as far as comic book releases go. Moderating, the panel was John Barber, IDW's Editor-in-Chief. Also on the panel was Shelly Bond, editor and the person in charge of the Black Crown imprint at IDW; B. Dave Walters, writer on Dungeons and Dragons: A Darkened Wish, along with the book's artist, Tess Fowler; Delilah S. Dawson, writer on IDW's book Marvel Action Spider-Man and the upcoming Star Pig, which you could read about on here Bleeding Cool; and lastly, David Booher, writer on Canto, a new all-ages comic book due in June.
First up was Sonic The Hedgehog, with the second season coming out, issue 16 has the metal virus is running wild, and Sonic is infected. Also coming soon is the Sonic The Hedgehog Annual, which will feature a series of short stories that all are part of canon. Most notable to me, is James Kochalka, who I know best for SuperF*ckers.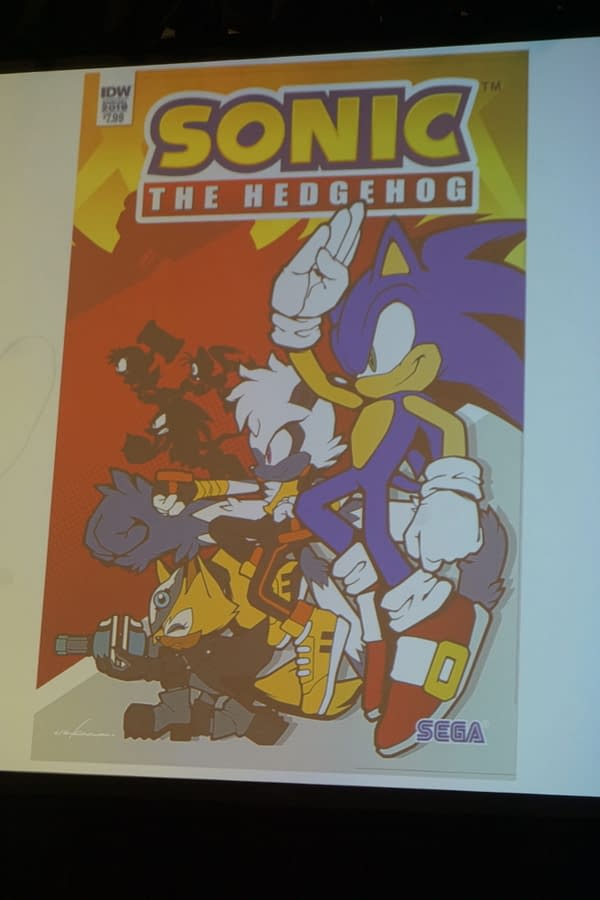 Next, Barber talked about the City At War story taking place in Teenage Mutant Ninja Turtles, all part of the countdown to issue 100, Tom Waltz and Kevin Eastman are writing and co-writing the these books dealing with the civil war within the Foot Clan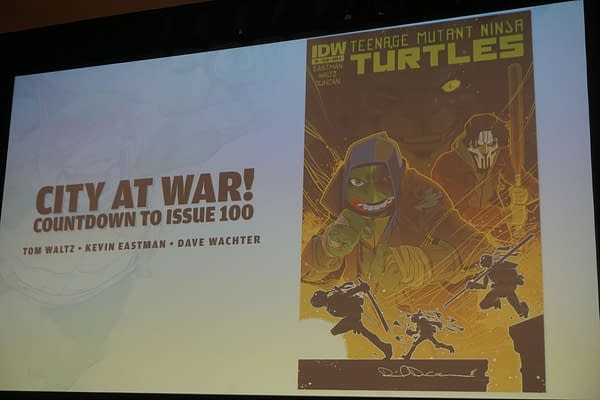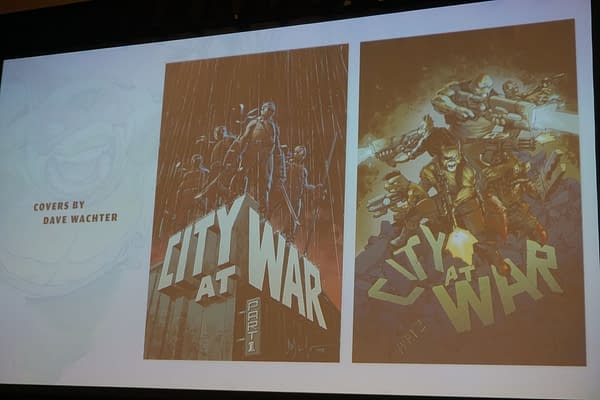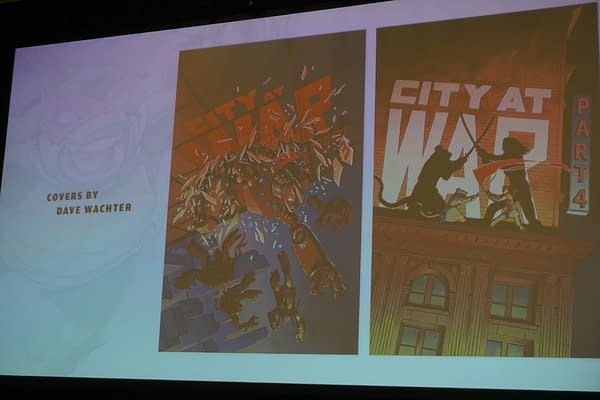 Next up was Canto. Booher said this all-ages book is a fable about a tin man searching for a heart for the tin girl he is in love with. Booher said his main inspiration for the story was The Wizard of Oz, and he had his middle school copy of the book with him, which he said was published in 1901. This elicited one audience member to yell out, "He's so old!"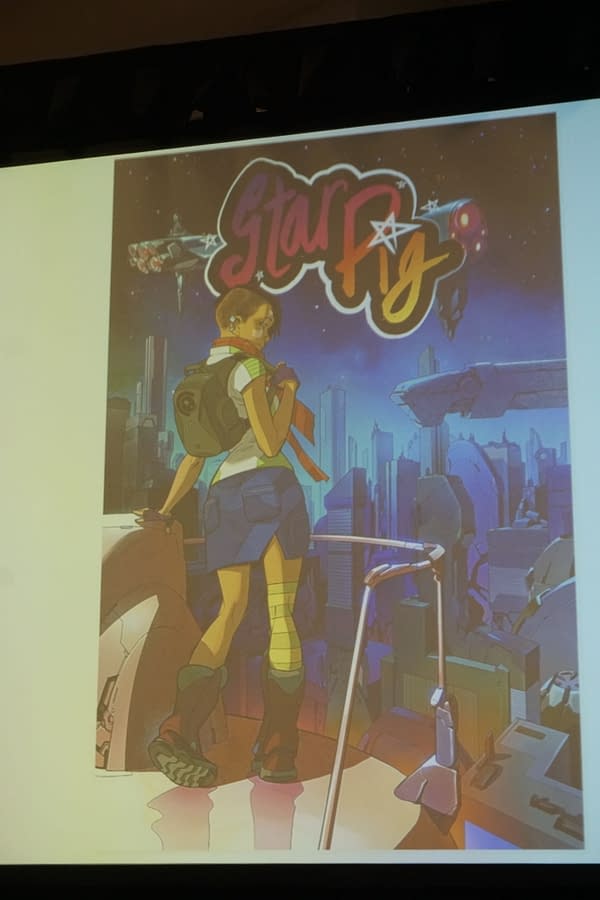 Next, Delilah Dawson talked about Star Pig, above is a variant cover for issue one, and was shown only at the panel. Then it was announced that IDW would be publishing a new version of H.G. Wells The Island of Doctor Moreau, to be written by Ted Adams, co-founder of IDW, and Locke and Key's artist Gabriel Rodriguez doing the work here. Bleeding Cool wrote in greater detail about this book here.
Shelly talked about Eve Stranger, by writer David Barnett and artist Philip Bond, husband to the aforementioned Shelly Bond. Tess Fowler said she has looked at some of the early work on this book, and she said that the art was so good that, "It hurt her heart."
Lastly B. David Walters, writer, and Tess Fowler, artist, talked about their new series, Dungeons and Dragons: A Darkened Wish. It involves 20th level heroes coming out of retirement to save the day. Intermingled with the heroes story while at level 20 are flashbacks to when the characters were only level characters. The story also ties into the old Dungeons and Dragons: Forgotten Realms books.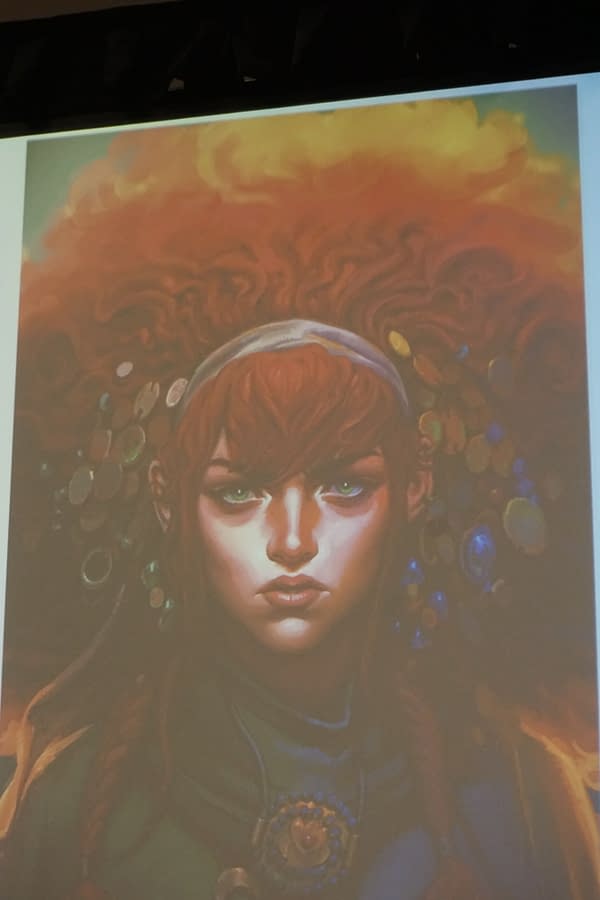 And that was it for the first 20 years of IDW, well at least this panel and even the panel was focused on pushing ahead for the next 20 years and seeing what the future brings.
For further musings from Joshua Stone you can follow him on the Twitter @1NerdyOne
Enjoyed this article? Share it!