Image Comics has made a land grab and is publishing the new Kingsman series, a sequel to the original Secret Service by Mark Millar and Dave Gibbonem with a new series by Rob Williams and Simon Fraser ahead of the movie sequel – and timed with with Millar's new Millarworld new talent anthology. And Millar doesn't need to write a thing! But we also have new books Gasolina by Sean Mackiewicz, Niko Walter and Mat Lopes, Angelic from Si Spurrier and Caspar Wijngaard, Realm bySeth Peck,  Jeremy Haun and Nick Filardi, Retcon by Matt Nixon and Toby Cypress, Scales & Scoundrels by Sebastian Girner and Galaad, Son Of Shaolin by Jay Longino and Canaan White and the return of Glitterbomb by Jim Zub, Djibril Morissette-Phan and K. Michael Russell and a new Rat Queens oneshot by Kurtis J. Wiebe, Max Dunbar and Tamra Bonvillain…
KINGSMAN RED DIAMOND #1 (OF 6)  (MR)
$3.99
(W) Rob Williams (A/CA) Simon Fraser
Kingsman: The Golden Circle (starring Channing Tatum and Colin Firth)is in cinemas in September, and we're launching the sequel to the hit comic book series by MARK MILLAR and DAVE GIBBONS with KINGSMAN: THE RED DIAMOND. Working-class super-spy Eggsy follows in his mentor's footsteps but is still rough around the edges for a Kingsman agent. Rejected by his high school crush and hot on the heels of a rescue mission to save Prince Phillip, he embarks on an international terror plot in a story that starts where James Bond draws the line. ROB WILLIAMS (Suicide Squad, Action Comics) and SIMON FRASER take the helm for this stunning six-issue miniseries.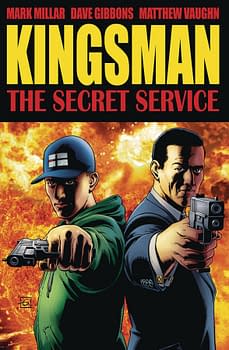 KINGSMAN SECRET SERVICE TP CVR A GIBBONS
$16.99
(W) Mark Millar (A/CA) Dave Gibbons
THE SECRET SERVICE: KINGSMAN is the critically acclaimed comic book series by Kick-Ass writer MARK MILLAR and Watchmen's DAVE GIBBONS. Now a Hollywood blockbuster starring Colin Firth and Taron Egerton, and directed by MATTHEW VAUGHN, KINGSMAN reinvents the spy genre for the 21st century. The story follows a British secret agent who takes his wayward nephew under his wing and trains him to become a gentleman spy. Together, they uncover a plot that links kidnapped celebrities with a plot to eradicate 90 percent of the human race! This 2017 edition comes with a limited edition FOX MOVIE COVER and a brand-new cover by DAVE GIBBONS, revealed in August.
Collects THE SECRET SERVICE #1-6
ANGELIC #1
$3.99
(W) Simon Spurrier (A/CA) Caspar Wijngaard
– WINGED MONKEYS! TECHNO-DOLPHINS! QUANTUM ALLEYCATS!
– Humanity's long gone. Its memory lingers only as misunderstood rituals among mankind's leftovers: the genetically modified animals they used and abused for eons.
– But for one young flying monkey, QORA, the routines are unbearable. All she wants is to explore. Instead she's expected to settle down, to become a mother… to lose her wings.
– Eisner nominee SIMON SPURRIER (The Spire, CRY HAVOC, X-Men Legacy) and rising-star CASPAR WIJNGAARD (LIMBO, Dark Souls, Assassin's Creed) present your new bittersweet adventure obsession: teenage rebellion and animal antics amidst the ruins of civilization!
– Think WALL-E by way of Watership Down. Fly, my pretties!
GASOLINA #1 (MR)
$3.99
(W) Sean Mackiewicz (A/CA) Niko Walter, Mat Lopes
NEW SERIES! Fugitives. Rebels. Newlyweds. In their journey south from El Norte, Amalia and Randy have played many roles in order to survive. Now, they must become unlikely leaders in the fight against a new cartel who uses inhuman tactics to ignite the most monstrous war Mexico – and the world – has ever seen. Everything burns in this new series from SEAN MACKIEWICZ and NIKO WALTER, where love and devotion can only be measured in fire and blood.
GLITTERBOMB FAME GAME #1
$3.99
(W) Jim Zub (A) Djibril Morissette-Phan, K. Michael Russell (CA) Djibril Morissette-Phan
Kaydon Klay wants to be famous. She wants it more than anything else she's ever known. The dream is hers for the taking, and all she has to do is embrace the national tragedy that's put her in the spotlight… Fan-favorite writer JIM ZUB (WAYWARD, Uncanny Avengers) and artist DJIBRIL MORISSETTE-PHAN (All-New Wolverine, Ultimates) continue their twisted exploration of fame and failure. The entertainment industry feeds on our insecurities, desires, and fears. You can't toy with those kinds of primal emotions without them biting back.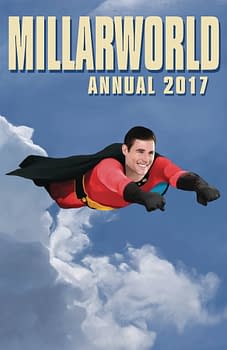 MILLARWORLD ANNUAL 2017 (MR)
$2.99
(W) William Mclaren & Various (A) Robert Carey & Various (CA) Rob Doyle
The MILLARWORLD ANNUAL is back! After an international hunt for the world's best new comic book talent, a fresh crop of creators are taking on MARK MILLAR'S hit characters. With stories from HUCK to SUPERIOR, EMPRESS to NEMESIS, the second ANNUAL is an instant collector's item.
RAT QUEENS SPECIAL ORC DAVE #1 (ONE-SHOT) (MR)
$3.99
(W) Kurtis J. Wiebe (A) Max Dunbar, Tamra Bonvillain (CA) Fiona Staples
"Orc Dave and the Ballad of Birds": Long before Palisade and the Four Daves, Orc Dave enjoyed a secluded life with his father in the mystical Green Wilds. There are vile, evil monsters that stalk their land, but something worse has just arrived: the Rat Queens.
REALM #1 (MR)
$3.99
(W) Seth Peck (A/CA) Jeremy Haun, Nick Filardi
NEW SERIES! Fifteen years ago, our world was overrun by creatures of myth; orcs, dragons, and other nameless horrors threw the entire planet into total chaos. Today, the shattered remnants of civilization must fight just to survive in a deadly new era of violence and mayhem. While a powerful sorcerer marshals his forces, a group of warriors embark on a journey to reclaim our world from the growing darkness. An all new post-apocalyptic high-fantasy adventure series from co-creators SETH M. PECK (X-Men) and JEREMY HAUN (THE BEAUTY) featuring colors by NICK FILARDI and letters by THOMAS MAUER.
RETCON #1 (MR)
$3.99
(W) Matt Nixon (A/CA) Toby Cypress
NEW ONGOING SERIES! "TPTB," Part One-The reboot of a comic book miniseries that has never existed begins with an all-new, all-different issue #1! Time to travel back and jump in on this comic while it was new!
SCALES & SCOUNDRELS #1
$3.99
(W) Sebastian Girner (A/CA) Galaad
NEW SERIES! It's hard to make an honest living in a land brimming with magic and mystery, and treasure hunter Luvander is tired of being a penniless adventurer. Ever in search of gold and glory, she sets off for a fabled dungeon, "the Dragon's Maw," an ancient labyrinth, at the bottom of which slumbers endless wealth… or certain doom! But what starts out as a road to riches becomes the first step on an epic journey to destiny, for Luvander holds a secret in her heart that will shatter the chains of fate and bring light to a world encroached upon by an ancient darkness. Writer SEBASTIAN GIRNER (SHIRTLESS BEAR-FIGHTER!) and artist GALAAD are proud to present SCALES & SCOUNDRELS, a colorful and exciting new monthly fantasy adventure from Image Comics, for scoundrels of all ages!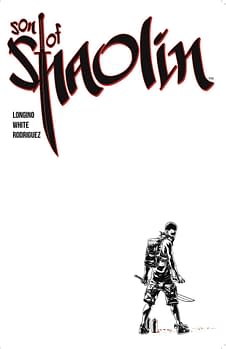 SON OF SHAOLIN OGN
$16.99
(W) Jay Longino (A/CA) Canaan White
A kung-fu epic set in the back alleys and subway tunnels of Harlem, New York. Kyrie, an aspiring street artist who is struggling to make ends meet, learns that he is the last living descendant of a secret sect of ancient Shaolin elders. Confused and unsure of where to turn, he finds a father figure in the mysterious Master Fong. Fong trains Kyrie in martial arts in anticipation of an attack from Red Fist, a relentless killer who has already murdered the rest of Kyrie's bloodline. Introduction by AISHA TYLER. Film rights recently sold to Sony / Columbia Pictures with DWAYNE "THE ROCK" JOHNSON attached to produce.
BIRTHRIGHT #26 (MR)
$3.99
(W) Joshua Williamson (A/CA) Andrei Bressan, Adriano Lucas
NEW STORY ARC! Mikey Rhodes battled his way back to Earth, only to lose his family because of his service to the God King Lore. Now, the exorcism of Mikey Rhodes begins!
BITCH PLANET TRIPLE FEATURE #4 (MR)
$3.99
(W) Marc Deschamps & Various (A) Mindy Lee & Various (CA) Valentine De Landro
DeCONNICK & DE LANDRO PRESENT: THE TRIPLE FEATURE! A badass bevy of killer creatives storm the stage…! This month's issue takes on sports culture, cosmetic surgery, and censorship…plus your regularly scheduled backmatter. 100% Grade-A satire. Ground to the bone.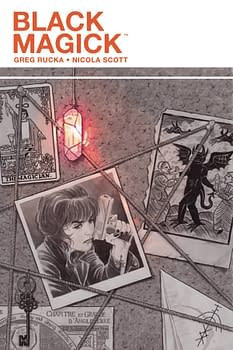 BLACK MAGICK #8  (MR)
$3.99
(W) Greg Rucka (A/CA) Nicola Scott
"AWAKENINGS II," Part Two-Samhain approaches. Rowan and Morgan get a break on their case, while Alex pursues an investigation all her own. The Hammer identifies Rowan and considers how to deal with the threat she poses.
BLACK SCIENCE #31 CVR A SCALERA & DINISIO (MR)
$3.99
(W) Rick Remender (A/CA) Matteo Scalera, Moreno DiNisio
NEW STORY ARC! "EXTINCTION IS THE RULE," Part One (of Four)-Reunited in the face of incalculable chaos, our Dimensionauts dive back into a one-way mission to the center of all existence. It's time for scientific anarchy to save the day, or spell doom for all creation. One of those.
CROSSWIND #4  (MR)
$3.99
(W) Gail Simone (A/CA) Cat Staggs
"FIRST THERE IS A MOUNTAIN"-Hitman Cason Bennett and housewife Juniper Blue have somehow switched souls, and now those closest to them are beginning to smell a rat. Friends, family, and lovers are closing in, to say nothing of the vicious psychopath who may have deduced their secret and is howling for their blood!
CURSE WORDS #8  (MR)
$3.99
(W) Charles Soule (A/CA) Ryan Browne
"EXPLOSIONTOWN," Part Three-Wizord continues his clever plot to destroy the evil demon Sizzajee, which Sizzajee doesn't even realize because he's working on his clever plot to destroy Wizord. Meanwhile, Ruby Stitch and Margaret visit possibly the most magical place on earth. It's a tour de force of wizardly wit and wisdom!
DESCENDER #24
$3.99
(W) Jeff Lemire (A/CA) Dustin Nguyen
"RISE OF THE ROBOTS," Part Three-The fall's big DESCENDER event continues in the strangest and most shocking issue of DESCENDER yet, as the fate of the fan-favorite robot, DRILLER is finally revealed! Stranded on the planet Woch, Driller meets an old nomad called Mizerd. But he soon realizes that Driller may be a real killer and Mizerd is a real wizard! Magic comes to DESCENDER, and the universe will never be the same!
DIVIDED STATES OF HYSTERIA #4 (MR)
$3.99
(W/A/CA) Howard Chaykin
Frank Villa, the most hated man in America, takes his first baby steps toward a kind of redemption, leading his quartet of killers, leaving a trail of bloody murder in their wake-mayhem barely noticed and nearly lost in the escalating violence that is their America.
DYING AND THE DEAD #8
$3.99
(W) Jonathan Hickman (A/CA) Ryan Bodenheim
"THE LOST MOUNTAIN"-One last mountain to climb for the Colonel and his men.
EAST OF WEST #35
$3.99
(W) Jonathan Hickman (A/CA) Nick Dragotta
"THINGS FATHERS DO WITH THEIR SONS"-We catch up with Death and Babylon.
ELSEWHERE #2
$3.99
(W) Jay Faerber (A/CA) Sumeyye Kesgin, Ron Riley
Amelia Earhart's adventures in a strange realm continue! All she wants to do is return home – but first she must escape from a warlord's impenetrable fortress and find her missing navigator.
ETERNAL EMPIRE #5
$3.99
(W) Jonathan Luna, Sarah Vaughn (A/CA) Jonathan Luna
END OF STORY ARC! Rion and Tair risk their lives to save a group of workers in Imperial-occupied land.
GENERATION GONE #3 (MR)
$3.99
(W) Ales Kot, Andre Araujo (A/CA) Andre Araujo, Chris O'Halloran
Breaking point.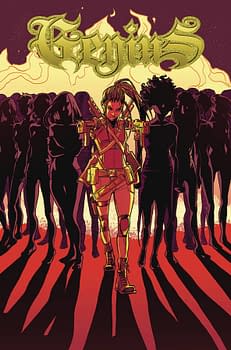 GENIUS CARTEL #2 (OF 5) (MR)
$3.99
(W) Marc Bernardin, Adam Freeman (A/CA) Rosi Kampe
After chafing at the rigid rules of the Madrasa Institute, a government school for wayward prodigies, and losing her only friend, Destiny agrees to spearhead a mission south of the border. Her target: the Mexican drug cartels. But, given that the greatest military mind of her generation is no one's pawn, what is she REALLY after? And who'll risk death by getting in her way? From writers MARC BERNARDIN and ADAM FREEMAN (Castle Rock, Alphas, X-Men Origins: Nightcrawler, The Authority, The Highwaymen) and rising-star artist ROSI KAMPE comes a sequel that promises to set Destiny's world-and ours-ablaze.
GHOST STATION ZERO #2 (OF 4)
$3.99
(W) Antony Johnston (A/CA) Shari Chankhamma
On the trail of the Ghost Stations high in the Swiss Alps, Baboushka has found a lead…but will it be the death of her? What betrayal lies in wait deep inside the mountains? And can a snowmobile really outrun an avalanche?!
GRRL SCOUTS MAGIC SOCKS #5 (OF 6)  (MR)
$3.99
(W/A/CA) Jim Mahfood
Gwen and Rita wage total war against Josie and her obnoxious gang. Daphne sells her soul for one last shot at redemption. This ish is stuffed to the gills with an action-packed story, bonus art, soundtrack, and sketchbook. Plus, a variant cover by Pixar superstar artist ELIZA IVANOVA!
HARD PLACE #2 (OF 5)  (MR)
$3.99
(W) Doug Wagner (A) Nic Rummel (CA) Brian Stelfreeze
Zebra and Monkey, the psychopathic idiot bank robbers, have attracted both the cops and the media to the scene of their poorly planned heist. As the local news stations broadcast their getaway, Maksim Sidorov, the most ruthless crime boss in all of Detroit, sees that his daughter is apparently being held hostage by his former wheelman, AJ Gurney. With a foot on the accelerator, the noose around AJ's neck is only getting tighter…
HEAD LOPPER #7
$5.99
(W/A/CA) Andrew MacLean
"DEEPER INTO THE STRANGE"-The fellowship splits once more. Two parallel adventures emerge holding but one theme in common: keen wits prevail where keen blades will not. Nothing could have prepared our heroes for what they face next. Will they keep their heads and hearts? Or will they fall DEEPER INTO THE STRANGE?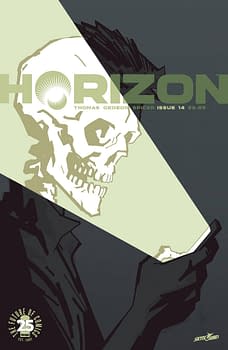 HORIZON #14 (MR)
$3.99
(W) Brandon Thomas (A) Juan Gedeon, Mike Spicer (CA) Jason Howard
The great Valian train robbery commences! But like all of Commander Zhia Malen's plans, there is more than meets the eye.
IMAGE PLUS #1 (WYTCHES THE BAD EGG PT 1) (Net)
$3.99
Volume two of the Diamond Gem Award-winning comics magazine IMAGE+ begins now! Fans have been eagerly awaiting the return of SCOTT SNYDER & JOCK's smash-hit horror series WYTCHES ever since the first season ended on a brutal cliffhanger. Now, they're back with a taste for the upcoming second season of the series by serializing what happens next in IMAGE+! How did Sailor make it to safety? What has she been doing since? The answers can be found exclusively in IMAGE+ with an extra-sized first chapter this issue.
In addition to the return of WYTCHES, IMAGE+ is now a hefty 80 PAGES at no additional cost, meaning more room for longer, more fascinating interviews, exciting previews, and in-depth features on comics, creators, cosplay, conventions, and comics culture. IMAGE+ remains your number one source for news and information about Image Comics, and now's the perfect time to get in on the ground floor. Even better yet, beginning with this issue, IMAGE+ will once again be available for the low, low price of FREE for anyone already purchasing a copy of Diamond's Previews
INVINCIBLE #140 (MR)
$2.99
(W) Robert Kirkman (A/CA) Ryan Ottley, Nathan Fairbairn
"THE END OF ALL THINGS," Part 8 (of 12)-Thragg has done the unthinkable, again, and pushed Mark to his breaking point. Wait…there are FOUR more issues after this one? How?!
INVINCIBLE TP VOL 24 END OF ALL THINGS PART 1 (MR)
$3.99
(W) Robert Kirkman (A/CA) Ryan Ottley, Nathan Fairbairn
"THE END OF ALL THINGS" mega-story begins, and it will touch every corner of the INVINCIBLE Universe, and when it's over…IT'S OVER. Invincible must accept that Thragg can't be defeated without him, and for the good of the universe, he's going to have to risk his life to stop him! Every single story for the past 13 years has been leading up to this! Collects INVINCIBLE #133-138.
KILL OR BE KILLED #12 (MR)
$3.99
(W) Ed Brubaker (A) Sean Phillips, Elizabeth Breitweiser (CA) Sean Phillips
It's Dylan vs. the Russians, with the whole city caught in between! Things continue to heat up in BRUBAKER and PHILLIPS' multiple Eisner-nominated hit!
KILL THE MINOTAUR #4 (MR)
$3.99
(W) Chris Pasetto, Christian Cantamessa (A/CA) Lukas Ketner, Jean-Francois Beaulieu
The origin of the minotaur is revealed, but what other secrets does Princess Ariadne possess? Each issue contains 30 pages of story!
LAZARUS X PLUS 66 #3 (OF 6) (MR)
$3.99
(W) Greg Rucka, Aaron Duran (A) Justin Greenwood (CA) Michael Lark
San Francisco is the jewel in the Carlyle crown, a city of Serfs, comfort, and privilege. It's where Joe and Bobbie Barrett now make their home. But a gilded cage is a cage all the same, and now Joe and Bobbie must decide what they will do to be Free. Drawn by JUSTIN GREENWOOD (THE FUSE, Stumptown).
MAGE HERO DENIED #2 (OF 15)
$3.99
(W/A/CA) Matt Wagner
Legendary creator MATT WAGNER continues the hotly anticipated third and final volume of his epic fantasy trilogy with MAGE: THE HERO DENIED. Years after readers last saw him, everyman hero Kevin Matchstick has all but abandoned his role as the reincarnated Pendragon, wielder of the mystical weapon Excalibur. But when dark forces reunite to threaten those he loves, he finds he must once again unleash the ancient power that he alone can command. Yet drawing Excalibur brings additional risks by further exposing him to his gathering enemies. Can Kevin stave off the supernatural dangers that pursue him…or will it cost him everything he holds dear?
MAGE: THE HERO DENIED is a 15-issue limited series climaxing in a double-sized finale. The new series skips a scheduled release next month in order to make way for the second of two volumes that newly repackage the classic first book of the MAGE trilogy, THE HERO DISCOVERED. THE HERO DENIED will continue with issue three in November.
Considered by many to be creator MATT WAGNER's masterpiece, MAGE has been a perennial favorite with old and new readers alike for nearly three decades.
MANIFEST DESTINY #31 (MR)
$3.99
(W) Chris Dingess (A/CA) Matthew Roberts & Various
NEW STORY ARC! Meriwether Lewis has slayed monsters in the pursuit of taming the wilds of America. Now, if he ever hopes to reach the Pacific coast, he must learn an important lesson: Don't listen to the voices in your head.
MOONSTRUCK #3
$3.99
(W) Grace Ellis (A/CA) Shae Beagle, Kate Leth
Poor Chet. Their centaur butt is missing, and on the day of the homecoming parade, no less! But don't worry: Julie and Selena are on the case (as long as Mark and Lindi don't ruin everything [again]).
MOTOR CRUSH #6
$3.99
(W) Brenden Fletcher & Various (A) Cameron Stewart (CA) Babs Tarr
NEW STORY ARC! The critically acclaimed series returns with a new 6-issue arc, kicking off with a special story guest-illustrated by co-creator CAMERON STEWART, and featuring four breathtaking covers by fan-favorites BABS TARR, KRIS ANKA, JAKE WYATT, and KEVIN WADA! While Domino Swift struggles to comprehend her jump forward in time, we cycle backwards to learn more about her father's former racing career, the story of his missing leg, and his secret connection to the machine narcotic Crush.
PAKLIS #5 (MR)
$5.99
(W/A/CA) Dustin Weaver
Detective Blank is on the trail of a killer. Do her futuristic dreams hold the key to the case? A new story begins in part one of the noir thriller, "1949." In chapter five of "AMNIA CYCLE," things quickly turn dangerous for Tara when she finally catches up to the mysterious Shana Tyson. And it is all-out war in "SAGITTARIUS A*," as robots the size of cities wipe out fleets of ships with a wave of their hand. All that and more in the PAKLIS phase one climax.
PLANETOID PRAXIS #6 (OF 6) (MR)
$3.99
(W/A/CA) Ken Garing
Detective Blank is on the trail of a killer. Do her futuristic dreams hold the key to the case? A new story begins in part one of the noir thriller, "1949." In chapter five of "AMNIA CYCLE," things quickly turn dangerous for Tara when she finally catches up to the mysterious Shana Tyson. And it is all-out war in "SAGITTARIUS A*," as robots the size of cities wipe out fleets of ships with a wave of their hand. All that and more in the PAKLIS phase one climax.
POSTAL #23 (MR)
$3.99
(W) Bryan Hill (A) Isaac Goodhart (CA) Linda Sejic
Mark and Maggie's happy ending is threatened by the FBI and their march on Eden. Mark wanted to escape the violence of Eden, but first he must survive a war. The fall of Eden begins now.
REDLANDS #2 (MR)
$3.99
(W/A) Jordie Bellaire, Vanesa Del Rey (CA) Vanesa Del Rey
A mysterious and bloodthirsty matriarchal force runs the town of Redlands, Florida, and in order to stay on top, sacrifices must be made. But someone is intent on removing these powerful women from the top of the food chain. And he's ready to unleash their darkest secret…
REDNECK #6 (MR)
$3.99
(W) Donny Cates (A) Lisandro Estherren, Dee Cunniffe (CA) Dee Cunniffe, Lisandro Estherren
END OF STORY ARC! "DEEP IN THE HEART" reaches its blood-drenched finale! All the death and destruction the Bowmans have caused finally leads the authorities to their little farm. Surrounded by cops with no way out, is this the end for the Bowman clan? Surely, Granpa will have something to say on the matter…
RENATO JONES SEASON TWO #5 (OF 5) (MR)
$3.99
(W/A/CA) Kaare Andrews
"THE FREELANCER" FINALE! THE FINAL ISSUE OF SEASON TWO. This is it. The end of it all. It was a nice experiment but the Freelancer is about to run into the one deadline he can't miss – his own. KAARE KYLE ANDREWS proudly presents the SEASON FINALE of the most dangerous comic on the planet!
RINGSIDE #12 (MR)
$3.99
(W) Joe Keatinge (A) Nick Barber, Simon Gough (CA) Ibrahim Moustafa
"SHOOT," Part Two-The Minotaur has risen again. Daniel Knossos is torn between saving the love he once lost and the future he's long desired.
ROCKET GIRL #9
$3.99
(W) Brandon Montclare (A/CA) Amy Reeder
Even more all-out action. See why Mark Millar says: "I bloody love this book!"
ROCKSTARS #7 (MR)
$3.99
(W) Joe Harris (A/CA) Megan Hutchison
"CHILDREN OF THE BEAST," Part Two-Metal mistress Dani Dangerous is out to show Jackie the time of his life, but is this love at first sight or the mischievous meddling of demons at work? While Dorothy investigates connections between Gamesmen new and old…and uncovers a Mayer family secret she dare not share.
ROSE #6
$3.99
(W) Meredith Finch (A/CA) Ig Guara
The stakes don't get any higher for Rose and her companions as they face a life-and-death struggle with the future of the rebellion on the line. Amidst the chaos, one of Rose's companions will make the ultimate sacrifice to save the future of Ttereve!
SACRED CREATURES #3  (MR)
$3.99
(W) Pablo Raimondi, Klaus Janson (A/CA) Pablo Raimondi
Josh and Julia reunite. Adrian and Lucius have a talk.
SAGA #47 (MR)
$2.99
(W) Brian K. Vaughan (A/CA) Fiona Staples
Meet Ianthe, who has very big plans for The Will.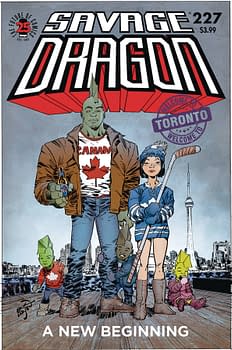 SAVAGE DRAGON #227 (MR)
$3.99
(W/A/CA) Erik Larsen
NEW STORY ARC! "OH! CANADA!" Part One-With America's hostile anti-alien fervor, Malcolm Dragon is forced to relocate his family to the Great White North. Toronto welcomes a new champion, and Malcolm Dragon settles in at his new home.
SHIRTLESS BEAR-FIGHTER #4 (OF 5) CVR A ROBINSON (MR)
$3.99
(W) Jody LeHeup, Sebastian Girner (A) Nil Vendrell, Mike Spicer (CA) Andrew Robinson
With his home destroyed and his spirit broken, Shirtless must join forces with a hated enemy if he hopes to rise against Logger and his loyal army of chainsaw-wielding Lumber Louts! Don't miss the pulse-pounding penultimate issue of SHIRTLESS BEAR-FIGHTER!
SNOTGIRL #7
$2.99
(W) Bryan Lee O'Malley, Leslie Hung (A) Leslie Hung, Rachael Cohen (CA) Leslie Hung, Jason Fischer
From bestselling writer BRYAN LEE O'MALLEY (Scott Pilgrim) and superstar LESLIE HUNG, it's Image's new hit SNOTGIRL! Lottie Person is a beloved blogger who's living life while secretly suffering from alarming allergies. This month: Fashion your seatbelts, because the girls are planning a road trip to San Diego!
SOUTHERN CROSS #15 (MR)
$3.99
(W) Becky Cloonan (A) Andy Belanger, Lee Loughridge (CA) Becky Cloonan
"THE CRYPT DIMENSION," Part Three-As the Southern Cross comes horrifyingly to life, Kyril confronts his past, killing demons and a few other people along the way.
SPAWN #278 CVR
$2.99
(W) Darragh Savage, Jason Shawn Alexander (A/CA) Jason Shawn Alexander
"DARK HORRORPart Three
The Beginning of a New Super Hero? As Spawn forges ahead in his battle with the darker side of Tokyo's underworld his powers continue to morph and he becomes a danger to himself and his enemies
SPY SEAL #2
$3.99
(W/A/CA) Rich Tommaso
"THE CORTEN-STEEL PHOENIX," Part Two-Malcolm Warner, aka SPY SEAL, takes off to the beautiful French Riviera on his first assignment for THE NEST. There, he meets his contact, KES – a seasoned agent who is sent in to guide him through this very tricky covert mission.
STRAY BULLETS SUNSHINE & ROSES #28 (MR)
$3.99
(W/A/CA) David Lapham
The Derek cannot be stopped… at least until he gets everybody killed but good.
SUN BAKERY #7 (MR)
$4.99
(W/A/CA) Corey Lewis
"SOUL OF SHARKNIFE," Part Three-He's different! He's Deadly! He's PIERCE GASHER! His assignment: Kill Sharknife! Our titular hero finds himself stranded in the city of Coastalvania, facing off against the sniping mummified harpoonist, PIERCE GASHER! It's a battle of wits and pointy things in "SOUL OF SHARKNIFE," Part Three. Also featuring "FREEZE," a breakdancing story, and "DEAD NAKED," a western story.
VIOLENT LOVE #8 (MR)
$3.99
(W) Frank J. Barbiere (A/CA) Victor Santos
CHAPTER 8: "HEARTS ON FIRE"!
WALKING DEAD #171 (MR)
$2.99
(W) Robert Kirkman (A) Charlie Adlard & Various (CA) Charlie Adlard, Dave Stewart
FEAR THE PRINCESS: Who is she, and what does she want?
WAYWARD #23 CVR (MR)
$3.99
(W) Jim Zub (A/CA) Steven Cummings
Ohara's power reflects the manmade world around her… and it's out of control! WAYWARD has been optioned for television development in Japan by Manga Entertainment. Get on board now and see what all the excitement is about!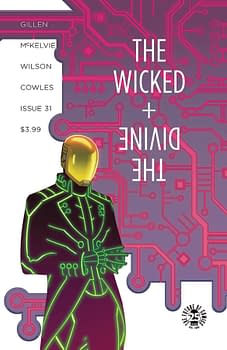 WICKED & DIVINE #31 (MR)
$3.99
(W) Kieron Gillen (A/CA) Jamie McKelvie, Matt Wilson
"IMPERIAL PHASE (II)," Part Three-A nice lie-in. An awesome gig three friends have worked really hard on. A day trip to a museum enlivened when some old chums turn up. Everything continues to be lovely for the gods in "IMPERIAL PHASE."
WINNEBAGO GRAVEYARD #4 (OF 4)
$3.99
(W) Steve Niles (A/CA) Alison Sampson & Various
MINI SERIES FINALE! The end is near. Christine fights to keep her family alive as Satanists attack.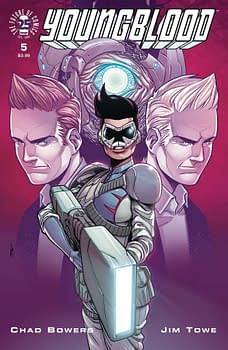 YOUNGBLOOD #5
$3.99
(W) Chad Bowers (A/CA) Jim Towe
"REBORN," Part Five (of Six)-It's the beginning of the end for the all-new Youngblood, as Vogue and Dolante face off against the masterminds responsible for Help! And when Badrock's machinations finally catch up to him in the form of a pissed off President Diehard, Shaft steps in to save his former teammate – but which one?
WALKING DEAD  FACTION KEYCHAIN & PATCHES
$10
Represent your favorite faction daily with these double-sided THE WALKING DEAD keychains and single-sided patches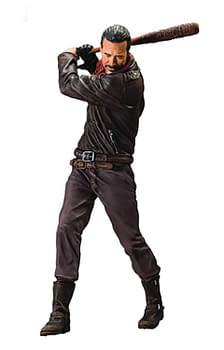 WALKING DEAD TV NEGAN 10IN DLX AF CS
TMP TOYS / MCFARLANE'S TOYS
From McFarlane's Toys. Leader of the group known as The Saviors, Negan is one of the most merciless enemies to ever wield a bat on The Walking Dead. This deluxue action figure features a spectacular likeness of actor Jeffery Dean Morgan, taken from full image scans of the actor himself and comes with scaled "Lucille" barbed-wire baseball bat! Sculpted in his iconic outfit from season 7 of AMC's The Walking Dead, Neagan stands about 10" tall and comes with a black circular base for dynamic posing.
WALKING DEAD TP VOL 28 (MR)
$16.99
(W) Robert Kirkman (A) Charlie Adlard & Various (CA) Charlie Adlard, Dave Stewart
In the aftermath of The Whisperer War – ALL IS LOST. Collects THE WALKING DEAD #163-168.
EDENS FALL #1-3 SIGNED SET ED (MR)
$19.99
(W) Matt Hawkins, Bryan Hill (A) Atilio Rojo
Top Cow combines three of its most provocative titles (THINK TANK, THE TITHE, POSTAL) in an unflinching fable of revenge and consequence. Collecting the three issues for this arc into a signed set edition, all signed by writers MATT HAWKINS & BRYAN HILL.
TITHE TP VOL 03 SAMARITAN
$19.99
(W) Matt Hawkins (A/CA) Atilio Rojo
Samaritan goes into hiding after the events of Eden's Fall. A year later, with a new president in the White House, she resurfaces, determined to take him down via his relationship with the largest military contractor in the world. Take down the company, the dominos will fall! And she has the means and a plan that just might work. How do you bankrupt one of the richest, most technologically advanced and successful companies in the world? You steal all their research and give it away to everyone. Can she survive long enough to pull it off with the entire US government trying to kill her? COLLECTS SAMARITAN #1-3 & EDEN'S FALL #1-3.
THROWAWAYS TP VOL 02 (MR)
$16.99
(W) Caitlin Kittredge (A/CA) Steven Sanders
Fugitives Abby Palmer and Dean Logan know now what the ULTRA program is and why it wants them back-but that's the least of their problems as enemies emerge, allies betray them, and Dean slowly but surely begins to lose his sanity to his psychic abilities. When Abby uncovers a plan by the program's sinister leader, Dr. Ostrander, to manipulate elections and direct the fate of the country, she thinks they finally have a way to expose and stop Ostrander once and for all…but even Ostrander doesn't realize what she's unleashed with her latest Alpha subject, and now Abby, Dean, and Kimiko are in his crosshairs, too. The latest chapter in the thrilling sci-fi spy saga from CAITLIN KITTREDGE and STEVEN SANDERS. Collects THROWAWAYS #5-9.
SPAWN HELL ON EARTH TP
$17.99
(W/A) Todd McFarlane & Various (CA) Ramon Nunez
Even though the doors to Heaven and Hell are locked there's enough evil on Earth to keep Spawn busyBut without his full powersSpawn will have to find a way to fight his enemies without getting himself killed…againWith art by fellow Image founder ERIK LARSEN #263-266) and veteran SPAWN artist SZYMON KUDRANSKI (#267-275), this 12-issue trade paperback ushers SPAWN into a bold new era.
SONS OF THE DEVIL TP VOL 03 (MR)
$16.99
(W) Brian Buccellato (A/CA) Toni Infante
This series by New York Times bestselling writer BRIAN BUCCELLATO and artist TONI INFANTE can be described as True Detective and Orphan Black gone completely HELTER SKELTER. SONS OF THE DEVIL is a psychological horror story about Travis, an average guy trying to get by, who discovers that he has familial ties to a deadly cult. Told across three decades, SONS OF THE DEVIL is an exploration of cults, family, and the dark side of human nature.
In this third, final installment, Travis tries to make sense of the last six months as he mourns the loss of his sister. Also, we take a look into David Daly's past as we learn about his upbringing while racing towards a final conflict between David and Travis, with the lives of everyone Travis loves hanging in the balance! Collects SONS OF THE DEVIL #11-14.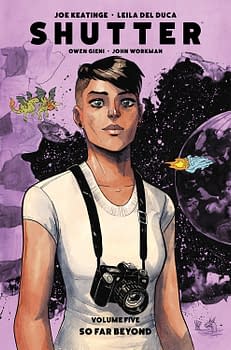 SHUTTER TP VOL 05 SO FAR BEYOND (MR)
$19.99
(W) Joe Keatinge (A/CA) Leila Del Duca, Owen Gieni
The final chapter of the SHUTTER series begins with explorer Kate Kristopher facing a greater loss than any she's experienced before, leaving her more determined than ever to end Prospero's grip on the world. JOE KEATINGE and LEILA DEL DUCA's surrealistic odyssey through time and space comes to its epic end. Collects SHUTTER #23-30.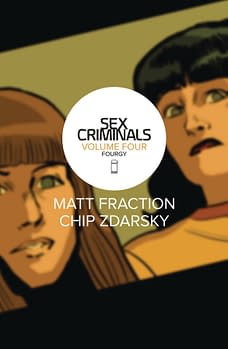 d
SEX CRIMINALS TP VOL 04 FOURGY (MR)
$16.99
(W) Matt Fraction (A/CA) Chip Zdarsky
Everybody's favorite sex-having, time-freezing, bank-robbing crew of lovable lovemisfits come together and ask themselves the big question: are we still into this? THE ANSWER MIGHT SURPRISE YOU (if you think the answer is no).
"Part romance, part sex comedy, and part heist drama, [SEX CRIMINALS] manages to turn a story about two lovers who rob banks with orgasms into the most emotionally realistic and relatable sex comic ever made."-Wired Magazine
Collects SEX CRIMINALS #16-20
OUTCAST BY KIRKMAN & AZACETA TP VOL 05 (MR)
$3.99
(W) Robert Kirkman (A/CA) Paul Azaceta, Elizabeth Breitweiser
A major turning point in the series! New characters are introduced! Big things are in store for Kyle Barnes as he's faced with something he never could have prepared for-hope!
LAST DAYS OF AMERICAN CRIME TP (MR)
$17.99
(W) Rick Remender (A/CA) Greg Tocchini
The critically acclaimed collaboration between RICK REMENDER (SEVEN TO ETERNITY, LOW) and GREG TOCCHINI (LOW, Uncanny X-Force) is back in print. In the not-too-distant future, as a final response to terrorism and crime, the US government plans in secret to broadcast a signal making it impossible for anyone to knowingly commit unlawful acts. But the media has leaked news of the anti-crime signal one week before it was to go live, and now Graham Brick, who was planning a huge heist, has just a few days to turn the crime of the century into the last crime in American history. Collects LAST DAYS OF AMERICAN CRIME #1-3.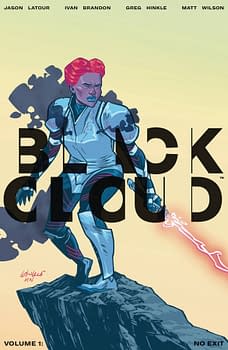 BLACK CLOUD TP VOL 01 NO EXIT (MR)
$9.99
(W) Jason Latour, Ivan Brandon (A/CA) Greg Hinkle, Matt Wilson
Zelda's about to start a war of dreams. In the days when story and reality were one, the old blood – people with the power to shape stories – built a new world to escape the future we all came to live in. Generations later, Zelda rejects the old blood's dreams and escapes into our world to run from destiny. But destiny has a nasty way of catching up to you. From the creators of Spider-Gwen, SOUTHERN BASTARDS, DRIFTER, and AIRBOY, comes a new fantasy where heroes are hard to find. Collects BLACK CLOUD #1-5.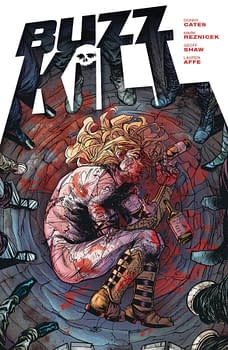 BUZZKILL TP (MR)
$12.99
(W) Donny Cates, Mark Reznicek (A/CA) Geoff Shaw, Lauren Affe
Ruben is an unconventional superhero who gets his powers through the consumption of alcohol and illicit drugs. On one fateful day, facing a world-ending threat, Reuben drank so much that he blacked out. He saved the world…but he has no idea how or why. Now, he's in recovery, trying to get sober and piece together not only the events of the night in question, but the broken parts of his life as an alcoholic and an addict. Now back in print from Image Comics, BUZZKILL is a critically acclaimed miniseries from the creative team that brought you GOD COUNTRY and The Paybacks, and the writer of REDNECK, Babyteeth, Ghost Fleet, and more. Collects BUZZKILL #1-4.
FIVE FISTS OF SCIENCE TP (NEW EDITION)
$16.99
(W) Matt Fraction (A/CA) Steven Sanders
True story: in 1899, Mark Twain and Nikola Tesla decided to end war forever. With Twain's connections and Tesla's inventions, they went into business selling world peace. So, what happened? Only now can the tale be told-in which Twain and Tesla collided with Edison and Morgan, an evil science cabal merging the Black Arts and the Industrial Age. Turn-of-the-century New York City sets the stage for a titanic battle over the very fate of mankind. Now back in print, this new edition of the steampunk classic features new cover art by artist STEVEN SANDERS.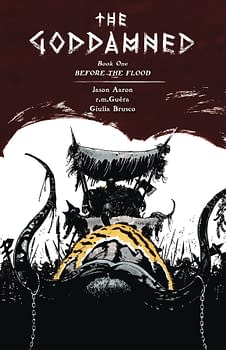 GODDAMNED OVERSIZED HC (MR)
$19.99
(W) Jason Aaron (A) R. M. Guera, Giulia Brusco (CA) R. M. Guera
"And the earth was filled with violence," (Genesis 6:11). It's 1,655 years after Eden, and life on earth has already gone to hell. The world of man is a place of wanton cruelty and wickedness. Prehistoric monsters and stone-age marauders roam the land. Murder and destruction are the rule of the day. This is life before the Flood-the story of man on the verge of his first apocalypse. Presenting the first arc of JASON AARON and R.M. GUÉRA's brutal biblical epic in one oversized hardcover.
LUTHER STRODE COMP SERIES HC (MR)
$49.99
(W) Justin Jordan, Tradd Moore (A/CA) Tradd Moore, Felipe Sobreiro
Luther Strode is an average teenage nerd until he sends away for The Hercules Method, a bodybuilding course that promises to give him the body of his dreams. But the powers he unleashes make him a target for a murder cult as old as mankind, cost him almost everything, and take him across the world in the fight to take back his life. The complete series collected for the first time in one edition. Collects THE STRANGE TALENT OF LUTHER STRODE #1-6, THE LEGEND OF LUTHER STRODE #1-6, and THE LEGACY OF LUTHER STRODE #1-6.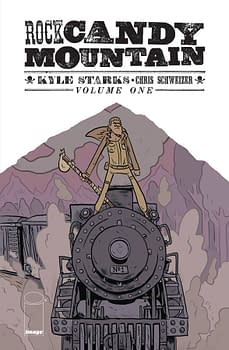 ROCK CANDY MOUNTAIN TP VOL 01 (MR)
$9.99
(W/A/CA) Kyle Starks
It's the first collection of the manic hobo-fighting epic that is ROCK CANDY MOUNTAIN. Come inside and meet the mysterious, unbeatable hobo Jackson on his quest to find the mythical hobo heaven. Meet his sidekick Pomona Slim. But watch out for the Devil! And the FBI! And the Hobo Mafia too! It's a fantastical fisticuff frolic through post-World War II America via the rails and backroads, through underground fight clubs, prison, and the hobo jungles wrought with dangers, hobo fights, jokes, and locomotive excitement. Collects ROCK CANDY MOUNTAIN #1-4.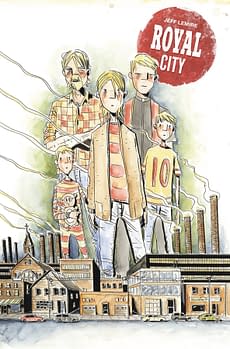 ROYAL CITY TP VOL 01 NEXT OF KIN
$9.99
(W/A/CA) Jeff Lemire
In his most ambitious and most personal project to date, JEFF LEMIRE spins the captivating and engaging story of a family from the small factory town of Royal City and the ghosts that haunt them.
In a return to the literary and thematic territory of LEMIRE's breakthrough graphic novel Essex County, ROYAL CITY follows Patrick Pike, a fading literary star who reluctantly returns to the once-thriving factory town where he grew up. Patrick is quickly drawn back into the dramas of his two adult siblings, his overbearing mother, and his browbeaten father, all of whom are still haunted by different versions of his youngest brother, Tommy, who drowned decades ago.
As each member of the family struggles to keep themselves above water, it quickly becomes clear that Tommy's death isn't the only dark secret tearing the town, and this family, apart at the seams. Can each member of the Pike family come to terms with their own guilt over Tommy's death, and make peace with the many versions of Tommy that still haunt them, or will they all be dragged down below the river along with his lingering ghost? ROYAL CITY promises to be a sprawling serialized graphic novel that will chart the lives, loves, and losses of a troubled family and a vanishing town, across three decades. JEFF LEMIRE is the creator of DESCENDER (with DUSTIN NGUYEN), A.D.: AFTER DEATH (with SCOTT SNYDER), Roughneck, Secret Path (with GORD DOWNIE), PLUTONA (with EMI LENNOX), Essex County, Sweet Tooth, Trillium, and The Underwater Welder. He had also written celebrated stories featuring Green Arrow, Animal Man, Bloodshot, Wolverine, Hawkeye, Teen Titans, the Valiant, the X-Men, and Inhumans for the major comic book publishers.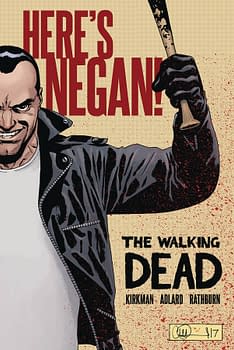 WALKING DEAD HERES NEGAN HC (MR)
$19.99
(W) Robert Kirkman (A) Charlie Adlard, Cliff Rathburn (CA) Charlie Adlard, Dave Stewart
Who is Negan? Since his debut in THE WALKING DEAD #100, the charismatic psychopath has antagonized Rick Grimes, murdered his friend with a baseball bat wrapped in barb wire (which he calls "Lucille"), and led the Saviors into war against Alexandria and the neighboring communities.  But who was he before society broke down? That question will be answered here, collecting the "HERE'S NEGAN!" story originally serialized in IMAGE+ magazine.
Enjoyed this article? Share it!