Is Tempus Fuginaut DC's Answer to Marvel's Watcher?
Tempus Fuginaut was a character created by DC Comics publisher Dan DiDio in his comic book Sideways with Kenneth Rocafor. The Fuginauts, a race of cosmic beings tasked with preventing intrusions from other Universes, and especially from the Dark Multiverse into the normal one. Tempus was tasked with the protection of the Prime Earth's universal boundaries, fighting off creatures from the Dark called the Inverses. After the invasion of the main Earth by Barbatos and his Knights he decided to kill the would-be dimension-hopping hero Sideways.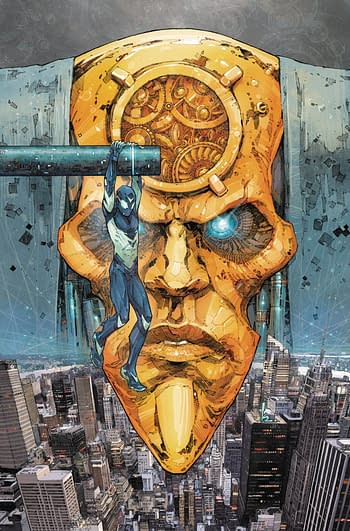 However, Tempus decided to enlist and train Derek in the use of his new powers, and spared residents from the Dark Multiverse when they crossed into Prime Earth when they revealed that they were friends of Sideways.
He also turned up in the first issue of Flash Foward, to take Wally West from his imprisonment, into a new destiny dealing with reality itself.
Now Bleeding Cool gets the tip that he will be narrating DC's upcoming Tales Of The DC Universe series, looking at how storied played out differently in a much darker dimensions and parallel universes, beginning with Blackest Night, before moving on to The Death of Superman, Knightfall, Judas Contract and The Killing Joke.
And fulfilling the same role that Marvel Comics' The Watcher did in the What If? comic books, telling the reader what happened, and also what could have happened, watching all realities, recording them and telling their stories. The What If series dropped The Watcher in more recent iterations. But DC Comics' Elseworlds line never had such an omnipotent narrator.
Well, with Tempus Fuginaut, it looks like DC Comics is going to change that. Watch him pop up in the preview below…
First appearance, Sideways #1, speculator fans…
TALES FROM THE DARK MULTIVERSE BLACKEST NIGHT #1
(W) Tim Seeley (A) Kyle Hotz, Dexter Vines (CA) Lee Weeks
What could be blacker than the Blackest Night? From the pages of Dark Nights: Metal comes a Dark Multiverse retelling of the Green Lantern event that changed the DC Universe forever…only this time, the Black Lanterns win! Now, 23 days after the apocalypse, witness the rise of Sinestro as the Limbo Lantern! Trapped between life and death as a White and Black Lantern, Sinestro seeks to save the universe-or end his miserable life-once and for all! Joined by Dove, Lobo, and Mister Miracle, the last living beings in the universe will put everything on the line to give their world one final chance.In Shops: Nov 13, 2019
Final Orders Due: Oct 14, 2019
SRP: $5.99