J. Scott Campbell Debuts at Boom, with Grim, on Alice Ever After #1
Last week, Boom Studios revealed a surprise FOC cover to their latest dark original Alice Ever After #1. The series by Marvel-artist-turned writer Dan Panosian, who's also Scott Snyder's creative partner on Canary, and artist Giorgio Spalleta of Red Sonja: Black, White, Red is Boom's first new creator-owned launch of 2022 and buzz is building for the April release.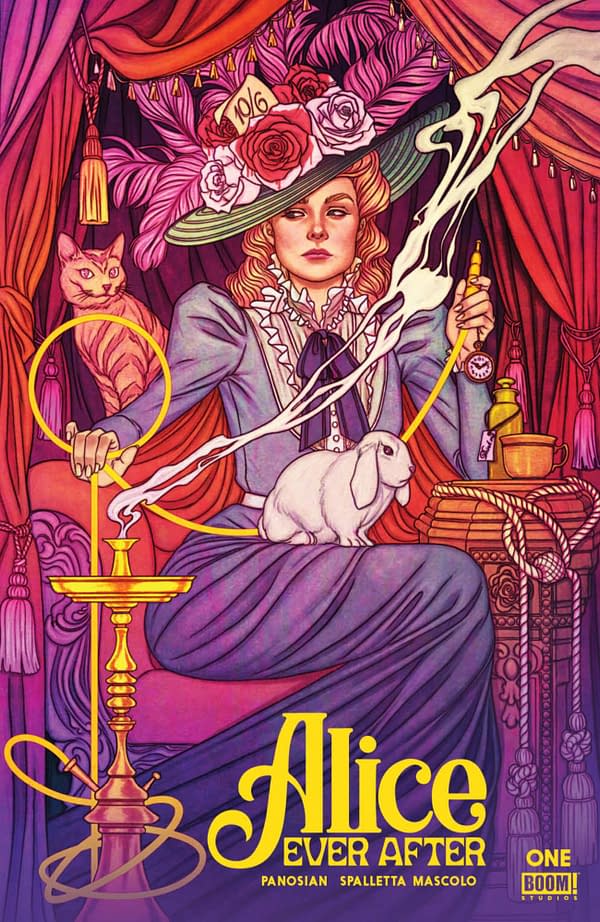 Back in 2019, Something Is Killing The Children #1 was originally solicited with covers by co-creator Werther Dell'Edera and Jae Lee, but then Boom released a variant by Jenny Frison which helped spur a 170% increase in orders at FOC. Last week, Boom did it again by revealing not just one but two new ones for Alice Ever After #1, including an open-to-order and 1-in-25 Nouveau-inspired pinup by Frison.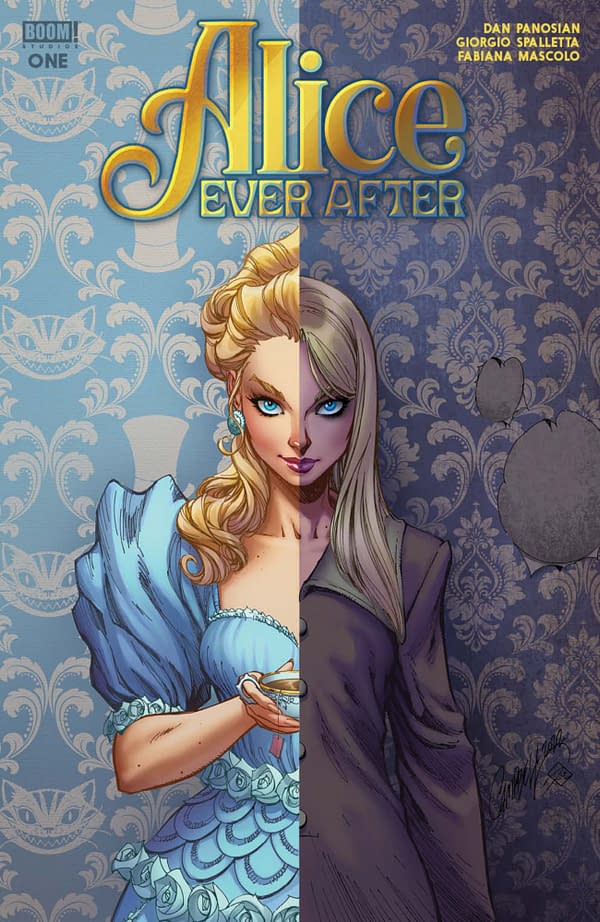 The big reveal, though, was their first-ever cover by one of the top artists in the industry – J. Scott Campbell. Campbell, best known for co-creating Gen 13 and whose most contributions to recent sales chart toppers include Spawn Universe and Black Cat, just made his Boom debut with the Alice Ever After variant… which means it's time to start your Boom Campbell collection from the ground up. Longtime fans of the Wildstorm artist will be able to get the Campbell variant at any local comic shop worth their salt but good luck tracking down the rarer 1-in-50 lineart variant.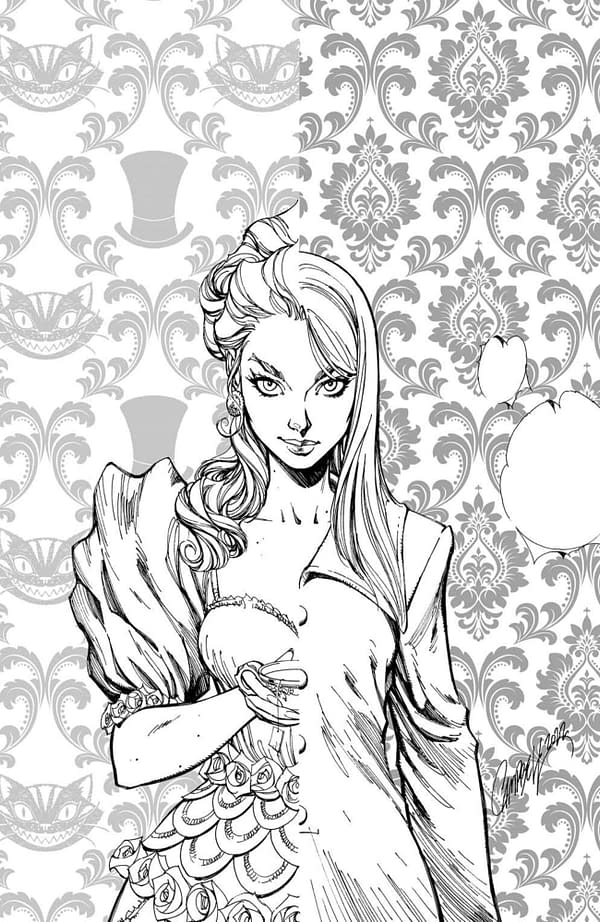 The combination of Campbell (and Frison) with Panosian and Spalleta's dark take on Lewis Carroll's Alice In Wonderland could prove to be quite potent. Alice Ever After finds a grownup Alice struggling to deal with the cold, harsh world and longing to escape back to the Wonderland of her childhood… and apparently using substances stronger than mushrooms to do so, which may lead her to a Victorian asylum. Is this Alice in Wonderland by way of Harley Quinn?
Initial orders for Alice Ever After #1 at 21,800 are already higher than the 21,500 final orders for An Unkindness Of Ravens, Panosian's previous series with Boom which Bleeding Cool declared "One of 2020's Best Debuts", Now with the addition of J. Scott Campbell, how high will those orders go? Is it possible orders will double by the end of the day? And if not, will retailers find themselves scrambling to reorder enough copies to meet Campbell fan demand for his first-ever Boom cover?
Something Is Killing The Children #1 orders after FOC came in at over 33,800 copies. Alice Ever After #1 looks like it will end up well over that number, with similar 170%+ jump from initial orders to final orders…
We've also heard that Alice Ever After #1 will contain a first look at Boom's other hotly anticipated heir to Something Is Killing The Children, Grim by Harley Quinn writer Stephanie Phillips and Flaviano, making it the technical first appearance of Jessica Harrow in addition to the first appearance of Panosian and Spalleta's dark version of Alice. And while first appearances always drive interest on release day, two first appearances in one issue is twice as appealing. Erica Slaughter's first appearance is still one of the hottest items on the market… just saying.
Alice Ever After #1 FOCs today Monday, March 14th so we'll know soon enough if Boom's streak of originals featuring badass ladies taking on dark, supernatural forces will expand its domination of comics in 2022.
ALICE EVER AFTER #1 (OF 5) CVR A PANOSIAN
BOOM! STUDIOS
FEB220692
(W) Dan Panosian (A) Giorgio Spalletta (CA) Dan Panosian
Return to Wonderland in this twisted sequel by superstar artist and writer Dan Panosian (An Unkindness of Ravens, Canary) perfect for fans of Mirka Andolfo's Mercy and Luna. Alice first visited Wonderland as a child. Now an adult, it's her only escape from a cold, strange reality she finds herself living in. But in order to return to her fantasy world, she'll need something stronger than mushrooms that change her size, and is forced to resort to crime to feed her growing addiction. Will Alice choose to escape from her uncaring family and childhood trauma in Wonderland, or find the courage to face her demons in the real world?In Shops: Apr 06, 2022 SRP: $3.99