James Hudnall, Creator of ESPers, Has Died Aged 61
James Hudnall, profilic hard boiled comic book writer has died aged 61. Tomorrow would have been his 62nd birthday.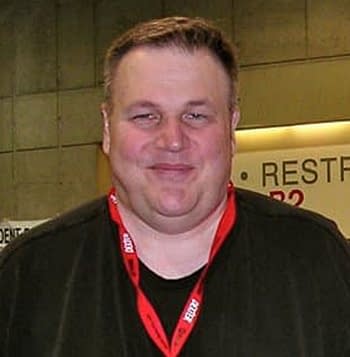 Working as a marketing director at Eclipse Comics, he created the comic series ESPers there in 1986 with V For Vendetta's David Lloyd, which would be revived for Marvel and Image Comics years later, along with his sequel, Interface. He would also work on Marvel and DC titles such as Alpha Flight, Strikeforce: Morituri and write the Trump-based graphic novel, Lex Luthor: The Unauthorized Biography.
His comic book series Harsh Realm was also adapted to television by X-Files producer Chris Carter in 1998, though Hudnall and co-creator Andrew Paquette would sue both Chris Carter and Fox Television when the comic creators reveived no credit on the show. In subseqent episodes, their name would appear.
Hudnall was also patt of the Malibu Untraverse line, writing and co-creating the comic books Hardcase and The Solution.
In recent years, Hudnall expressed his right wing libertarian thoughts through a series of comic book strips and blog entries, working with the late Batton Lash on the Breitbart-owned site Big Hollywood.
He also returned to work with David Lloyd, for the weekly digital comic anthology, Aces Weekly. He also wrote the novel line The Age of Heroes and in 2017, received the Inkpot Award at San Diego Comic Con International.
His death will come as a shock to many. Hudnall had lost a leg and wore a prosthetic device but was still very active in the comics scene, and recently appeared at the San Diego Comic Fest.
Former Bleeding Cool writer, Dan Wickline, told us,
I am devastated…

James was one of the first professionals I ever met. It was at a bad convention at the L.A. Fairgrounds in 1994. We talked about writing and he gave me some amazing advice. My mother saw me talking to him and was stunned, I'm 6' 6" and James was taller, something my mother wasn't use to seeing.

Besides the advice, he gave me his contact information and we kept in touch. When I put out my first comics, he critiqued it and gave me tips on lettering including the font he was using. My comics improve immediately because of James.

I looked at him as a bit of a mentor / inspiration. We both came from a computer programming background and then jumping into comic writing. We remain friends over the last two decades. Catching up when we could. He was always on my list of people to find at shows.

I really don't think I have the words for this right now… maybe I never will. I am gutted. Rest in Peace James…