This is Jenny Frison's FOC cover to James Tynon IV and Werther Dell'Edera's Something Is Killing The Children, hitting Final Order Cut-Off this weekend.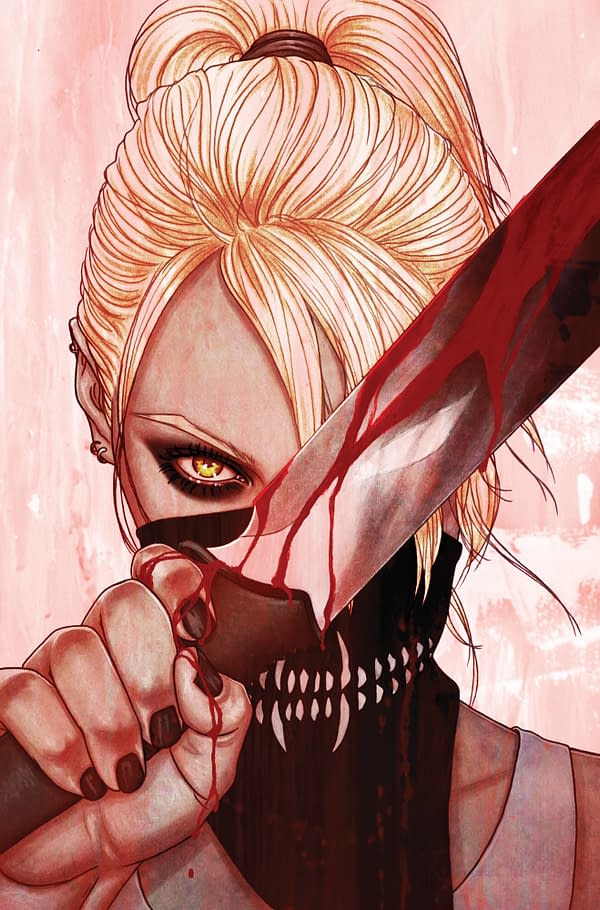 Now Boom Studios is having a fairly decent year for new work, from the success of Brian Azzarello & Maria Lllovet's Faithless and Kieron Gillen & Dan Mora Once & Future both of which are doing their best to pretend they are top Image Comics releases.
But their upcoming series Something is Killing The Children is generating a different kind of buzz for what Tynion has said is a deeply personal series about a badass monster hunter named Erica Slaughter.
* GLAAD Award-winning writer James Tynion IV (Memetic, Batman: Detective Comics) teams with artist Werther Dell'Edera (Briggs Land) for an all-new limited series about staring into the abyss to find your worst fears staring back.
* When the children of Archer's Peak begin to go missing, everything seems hopeless. Most children never return, but the ones that do have terrible stories-impossible stories of terrifying creatures that live in the shadows.
* Their only hope of finding and eliminating the threat is the arrival of a mysterious stranger, one who believes the children and claims to see what they can see.
* Her name is Erica Slaughter. She kills monsters. That is all she does, and she bears the cost because it MUST be doneIn Shops: Sep 04, 2019 Final Orders Due: Aug 12, 2019 SRP: $3.99
And in a comics market clamouring for the next big horror launch with the conclusion to The Walking Dead, Boom might want to step in. Early word on the series is it's generating quite a buzz within the professional community, something a bit closer to the likes of Gideon Falls. That was a breakout book for Jeff Lemire who, like Tynion has a reputation for terrifying, insightful and popular original creations – let's not forget that Tynion's Boom Studios series The Woods is in development at Syfy as we speak.
Artist Werther Dell'Edera's visuals also draw comparison to Gideon Falls virtuoso Andrea Sorrentino, who's made a name for himself with his moody and gripping art. But let's check in with social… from Hack/Slash creator Tim Seeley:
I like when my buddy @JamesTheFourth does superheroes enough, but I like when he does scary personal stuff even more. Such as SOMETHING IS KILLING THE CHILDREN from Boom! Great art by Werther Dell'edera too. pic.twitter.com/WugCgrKBUz

— Tim Seeley (@HackinTimSeeley) August 2, 2019
From Infidel creator Pornsak Pichetshote:
I just read @boomstudios SOMETHING IS KILLING THE CHILDREN # 1 but still can't wait to hold it in my hands. @JamesTheFourth's perfect atmosphere & execution makes me want to break my hands in jealous frustration. Plus the art of @wertherscut's already-amazing career

— Pornsak Pichetshote (@real_pornsak) August 5, 2019
From Reavers creator Justin Jordan:
Something Is Killing The Children, the new Boom horror comic by James Tynion @JamesTheFourth Werther Dell'Edera @wertherscut Miquel Muerto @pollomuerto and
@andworlddesign is rad as all get out.

FOC is Aug 12, so tell yer comic shop.

— Justin_Jordan (@Justin_Jordan) August 2, 2019
From Animosity creator Marguerite Bennett:
I been hearing the story of SOMETHING IS KILLING THE CHILDREN for years of friendship with @JamesTheFourth, and I am DELIGHTED that y'all finally get to be traumatized by it, too. So powerful, so personal, and so DEEPLY fucked up — August 12 FOC, for all your summer chills. >;D pic.twitter.com/U4GUUNf2px

— Marguerite Bennett (@EvilMarguerite) August 1, 2019
And even editors at other companies seem to really love this book. DC's Batman Editor Chris Conroy is effusive:
Look, having worked with the guy for like six years now, I am obviously SLIGHTLY partial to @JamesTheFourth, but he impressed me with this one by finding a new and much more minimalist voice for his writing. And holy cow, visually, it's like almost nothing else, slam dunk https://t.co/sObmgx5M71

— Chris Conroy (@ConroyForReal) August 1, 2019
As is Archie bigwig Alex Segura:
https://twitter.com/alex_segura/status/1156732799648522240
Every Boom Studios original series launch in 2019 has sold out the week of on-sale (or earlier) and resulted in more printings. But none of them have had this kind of critical buzz – and given that Boom Studios is selling out of new launches like Once & Future not just once but twice before they even hit stores, Something is Killing the Children #1 may well be headed for a similar sell out before it hits stores on September 4th.
Enjoyed this article? Share it!