 I really like Jamie Delano's writing. From Captain Britain to John Constantne: Hellblazer to Animal Man to Outlaw Nation to 2020 Visions to Crossed Badlands to Necropolis to Rawbone, he's a comic book writer whose work I have been very happy to follow.
It's just, he's not writing comics at the moment. He's a novelist and a publisher of other people's novels as well.
I saw Jamie yesterday at the Banbury Geek Con, where he was selling and signing Hellblazer collection comp copies – of which he had received a few more of late – as well as his first two novels published in this fashion.
The first, Book Thirteen, was written under the pseudonym, A William James, something he did to test the waters it seems. His second, Leepus: Dizzy, is under Jamie Delano. Which is also a pseudonym, but one we are more familiar with. A second volume of which, Leepus: River, expected to follow soon.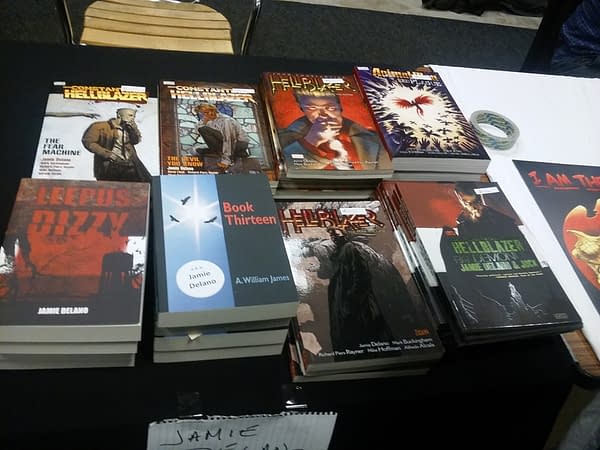 I'll start reading later this week. I was just thinking that his status as a novelist information may not be as widely known. And, as he told me, marketing is not his forte. So I thought I'd try and share the word a little… a preview of Book Thirteen can be read here.
The Old Writer is losing the plot. Struggling to complete the long-overdue thirteenth and final volume of his cult 'Leepus' series of bizarre detective novels, he is exhaustingly distracted by the anarchic reality of his family life.

Rude Jude, Jilted John, Vile Viola, ASBO Angie, Cracked Jack and Obscene Irene are the characters of his life story—relatives and children whose dysfunctional lives conspire to undermine his efforts to find them resolution and redemption. He's written their lives so far, he claims, without invoking disaster; but now he's worried he's crossed the line between reality and imagination, sucking them all into the fragile and perilous territory of his subconscious.

The only questioning remaining is: can get his derailed opus back on track before he reaches The End?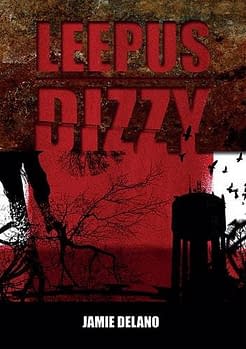 And Leepus can be found here with the first five chapters available as a free PDF here.
In the dystopian near-future alternate reality of Inglund, the novel's eponymous lead character – gambler and 'detective', Leepus – guides the reader on an erratic exploration of his strange interior and exterior worlds.

The novel is populated by a cast of outlandish and mysterious characters who both aid and distract Leepus in his pursuit of truth and often rough justice on a path of full-tilt adventure and intrigue.

An energetic tale embracing mystery, black humour and occasional raw violence.
Maybe we could have them as Bleeding Cool book club choices for February? Just a thought…