Check Out Jason Fabok's $100 3D Superman Coin for the Royal Canadian Mint
Everyone knows how the old saying about comic book collectors goes: there's one born every minute! So there should be no shortage of fans intrigued by the latest offering from the Royal Canadian Mint. If you thought those 3D lenticular comic book covers were something, wait until you get a load of the new Superman: The Last Son of Krypton coin designed by superstar artist Jason Fabok.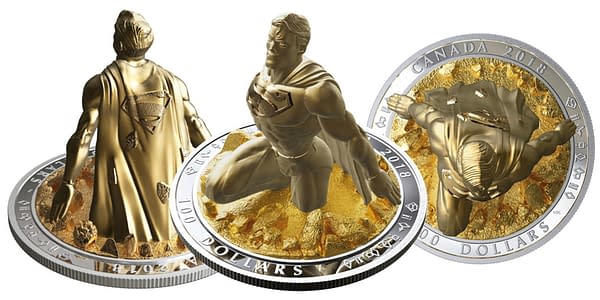 The coin is the latest in technological advances from the Royal Canadian Mint, whose product manager, Jamie Desrochers, is a big comic book fan. As soon as Desrochers saw the Mint's new 3D coin technology in action on the Mint's Majestic Canadian Animals series, he knew it had to be used for something comic book-y.
"A lot of Canadians are involved in the world's biggest comic books today," said Desrochers in a press release. "For us at the Mint, that's something we really want people to know about and take pride in. It's an incredible legacy."
And being a comic book fan, he knew that you can't just pull old Jim Lee art off a 1990s trading card and reuse it on something new. At least, not unless you're Marvel comics. "You often find the same image of Superman across countless t-shirts and mugs. But what really resonates with people is original art, something they can't find anywhere else. You have to respect the fans. Having original art is the best way to do that."
So Desrochers enlisted fellow Canadian Fabok for the job.
"I had never seen anything like it," said Fabok of the 3D coins. "But once Jamie showed me the elk statuette, my jaw hit the floor. I was so impressed by the creativity. It was the kind of thing where you say, 'Yeah, I need that in my collection.' And to do one with Superman? That's even better."
And so he did. Check out the process from concept sketch to finished product in the pictures below, and head over to the Royal Canadian Mint's website if you want to plunk down a hundred bucks for one of these. It doesn't have a listing yet, but the coin will be available this month for $100.