Jeff Parker's Writer's Commentary on the Finale of James Bond: Origin #12, on sale now from Dynamite.
Here we go, agents, the last issue of Bond's first year in the war, he's already a very different young man than when he entered – or is he? Certainly more seasoned and now very familiar with the unique pressures and dangers of wartime. When we met James he was teaching bullies a lesson and helping people escape the Clydebank Blitz. In just a year, he's served on a submarine, a destroyer and flown a German bomber.  What more perfect proving ground for his life to come than World War 2?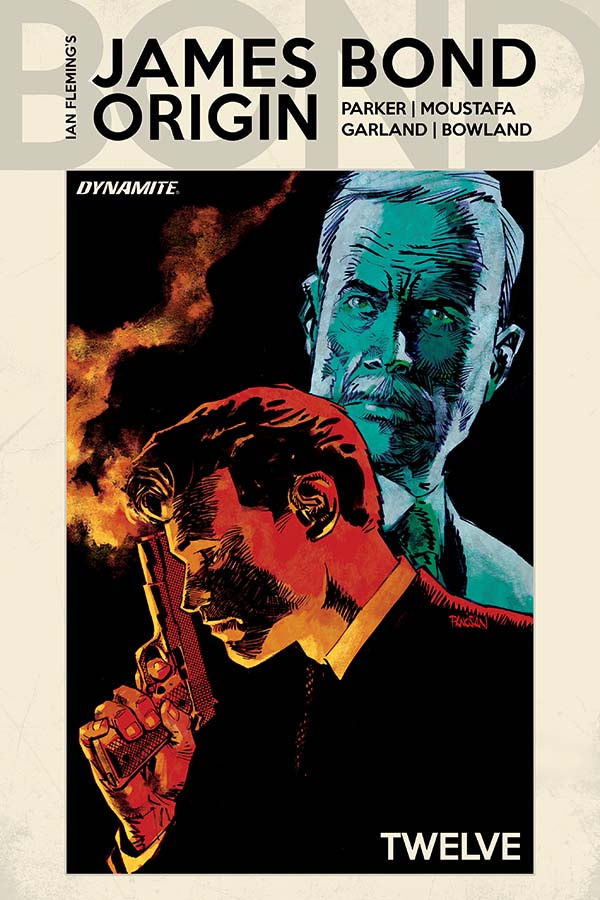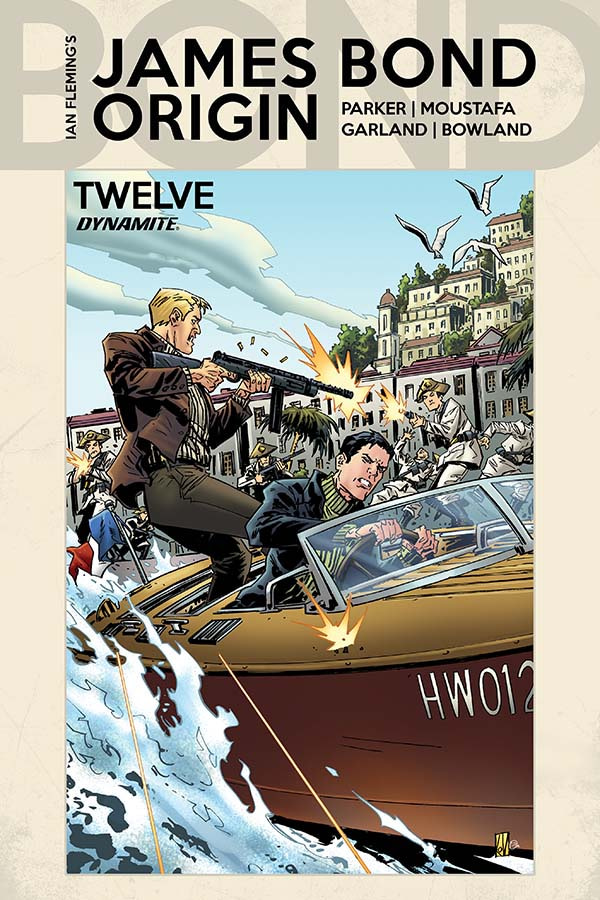 First, check out that cover – James ready to go into danger for the memory of his mentor Ronald Weldon. These main covers in the second half of the year have been by Dan Panosian, a true illustration force. He has a license to crush.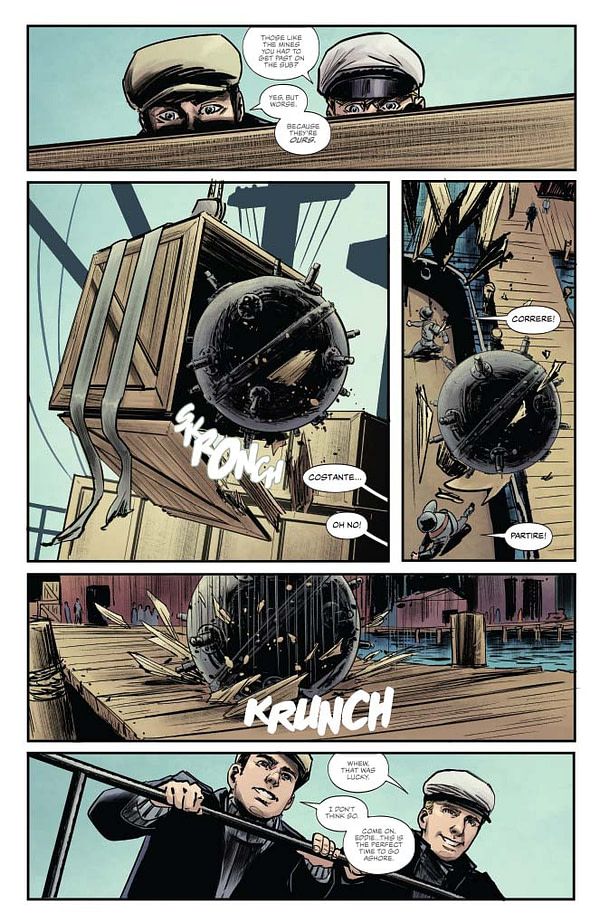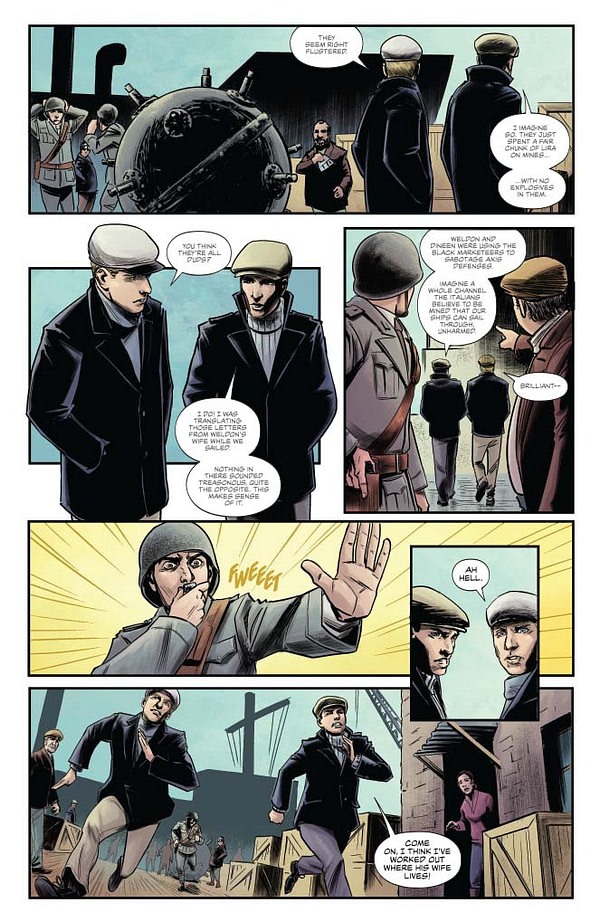 Pg 3-4
We rejoin James and his frenemy Eddie on the privateer ship that has traveled down to Genoa, Italy. Eddie was the one back during James' training who washed out of the secret operative program because he tried to shoot James during a tense argument where he suspected young Bond to be an Axis spy. It's very telling of James that even after such an enormous falling out he went back to Eddie for help because he knew he's particularly suited to the kinds of information needed. The mission is always more important than any grudge.
As we join the guys on the ship where they've been hiding, the crew has had near heart attacks over a mine that fell out of a crate onto the deck. Thankfully, it didn't explode, but now James knows that the entire cargo of explosives are likely duds, set up by his friend Weldon to sabotage Italian naval efforts. To find out more the two head inland to find Weldon's wife who was a secret to most back in England.
Pg 5-6
They have to hurry as one of the local Carbinieri heard the two speaking English and are on their tail. James, alway a whiz at finding his way around, quickly locates the home of Letizia. When we first saw her in issue 10, she was also hanging laundry, and you may remember Weldon sneaking in to see her much like James is now – she then hung up a red towel, which was a signal for him to not stop in because someone was observing. That led to a gunfight and Weldon's death. She's not expecting any visitors, certainly not young Englishmen, and isn't willing to talk until James mentions her husband's name.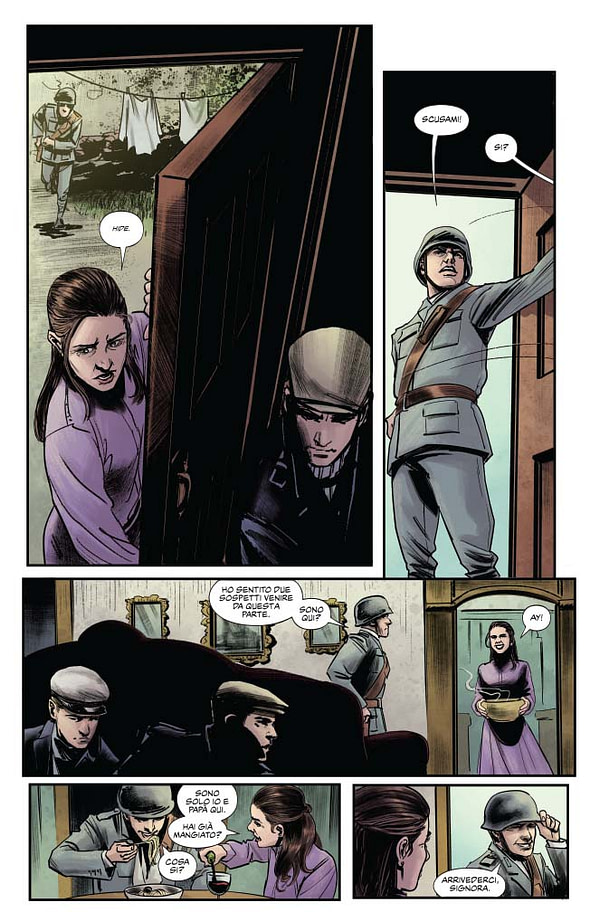 Pg 7
The officer checks out the house and Letizia quickly distracts him in the classic way: food. Once he's full, he pisses off to do whatever. It's important to remember that the Italians were largely forced into this position by Mussolini rather than fervent believers in fascism. Not that there weren't any.
Pg 8
Just realized Letizia actually states what I just said, oh well. She is a great host because she fires up that little coffee pot immediately.
Pg 9-10
James finally gets the other side of the story about his friend. He was always loyal to England in these covert operations, but he did hide the knowledge of an Italian wife still back in the country from all but his closest friends, and used his black market sabotage as a way to visit her, which would never have been approved by his superiors. Hence the reason F didn't know more details about this very secret Naval program (he's really in a different department).
Pg 11
Cheers to James' mentor, and Letizia gives him cards (card games have the method of communicating secret info in this story thanks to gamblin' co-writer and artist Ibrahim Moustafa) that will let the men have formal passage on the ship instead of having to hide in a dinghy for weeks. Grazie!
Pg 12
Aw hell, that guard is back. Here's where Eddie thinks fast, and "takes Letizia hostage." A perfect distraction for James to offer the man an espresso.
Pg 13
They bolt! Eddie gets in one more lick. This isn't just to slow down pursuit but to make it look like Letizia didn't help them hide so she won't be investigated later. James was right to pair up with Eddie, his superiors may have little faith in him now but he's a very quick thinker.
Pg 14
Huge bummer, the ship has already started leaving port. And more Carbinieri are on the way!
Pg 15-16
Ibrahim does a nice job with this chase. He's good with the action, that Moustafa.
Pg 17
Another important thing about James, if there is a working speedboat available, he WILL find it. Bonus: a machine gun.
Pg 18-19
The lads are really catching some damage to the boat as James tries to maneuver in and around the harbor to reach their ship.
Pg 20
Glory moment for Eddie, he deserves it.  We're very big in this book to not set things up so that James is always winning the war single-handedly. I mean one day he'll do such things, but for now he's a true team player often. Staying alive in battle is no small victory.
Pg 21-22
James is ecstatic at the way things are turning out, they're out of danger and back on the way home. But as we just discussed, this is war. And it wasn't just the boat catching all that gunfire. In the end, James is a better judge of character than his superiors, Eddie did have what it takes and incredible loyalty. And boy, can Ibrahim draw a powerful moment.
So here we are, James Bond Origin, concluded. OR IS IT? If I had clearance at this point to talk about anything, there might have been a coda with JAMES BOND WILL RETURN … but, really, I shouldn't even be talking about this. Watch this spot for news!