Jimmy Leszczynski went to SAM at San Diego last weekend. He also attended the Spotlight on Jim Lee panel. Where Jim Lee was demonstrating mad drawing skills.
Insert Jim lee pic
San Diego temperatures were just creeping above 81` this past Saturday as I strolled through Historic Balboa Park en route to the Storytelling Across Media (SAM) convention, held at the future home of the San Diego Comic Con Museum. This event is presented by the fine folks at Comic Con: International who state:
"SAM is not your traditional comics convention. There is no Exhibit Hall. SAM is all about storytelling, through a series of talks about how to tell a story in various media, including comics, gaming, animation, movies, and more. It explores the similarities and differences in telling stories through different media and focuses on the craft of telling a story through creator lectures."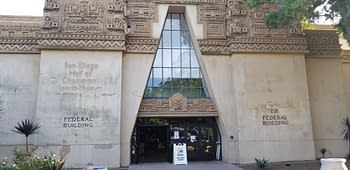 The building, former home of the San Diego Hall of Champions (sports museum), is not large but provides an intimate and "up close" experience you will not get at larger conventions. The approximately 150 seat theater is already packed with fans as I sit down for the first event of the day, The Spotlight on Jim Lee panel.
DC Entertainment's Chief Creative Officer, and comic book legend, is known for his laid back and informative panels that offer a first hand look into the creative process as he sketches on the big screen and discusses his over 30 year career in the industry, and today was to be no exception.
Mr. Lee welcomes all the fans to the first ever SAM in San Diego with a smile and wave as he sits down and unpacks his pencils, markers and ink. In an effort to tailor his comments to this particular group Jim takes an informal poll (show of hands) to try and gauge the interest of the crowd – how many people are looking to break into the business versus people that want to see live drawing and hear stories about the craft of storytelling?
Jim starts to sketch as he begins his "Quick 5 minute tutorial on storytelling for those of you who are aspiring artists.
JL: Usually there are 3 kinds of shots. There is the wide Establishing Shot, which is good for establishing location, and relationships between objects. Then there is a Medium Shot, which is good for conversations and interpersonal dialogue between characters or objects, and then 3rd there is a Close Up, and a Close Up is used mostly to convey emotion.
Often these are used like, so if you think about it A, B, C. A is the establishing shot. B is the medium, and C is close up. It is like music right? A,B,C- B,C- C, C,A- and so every artist will create a different series of shots, A, B, C- whatever, and that actually is part of the style that you don't see.
A fan asks what a sample script for the page he is currently drawing for might read like, and Jim responds with a slight chuckle, "Panel one, establishing shot- Gotham city. That's Brian Azzarello. Alan Moore would be 'It's April 13th, 1993. If you look in the Almanac, it was a hazy day, full of humidity- 87%.'" The crowd chuckles as he continues. " 'Please note this with a dial in the foreground. Please use the Helvetica font on that device to indicate.' I mean, there were scripts that were 3 pages of single spaced information about one page."
Jim asks for questions as he begins to sketch .
Q: In your artistic career, what is your greatest triumph?
Lee laughingly replies "It was when I vanquished Frank Miller." The fan follows up by asking what is his greatest regret?
''When Frank Miller paid me back." Lee continues over the chuckling, " I Do not know if I'd look at it that way. There are honestly periods where things that we did really, things I did that I was involved in did really well, like the start of Image Comics. I do not know if that's a triumph, but that was something that we wanted to do and that succeeded and was successful. But there were a lot of regrets, also, in that success. As, you know, you're closing the door on other opportunities as you move forward." JIm pauses briefly as he switches pens, "I don't really have regrets in general, in life. I feel like I'm not done yet. If there is anything that I really, truly regret I can always go back and address them. Unless you are talking about New 52 costumes or something like that. ( crowd laughs) I mean, that was a triumph. Come on. We can clearly put that in the triumph column, please. Allright?" Over the crowds laughter Lee finishes, " "You haters. There should be a reward that mixes regret with triumph. You know, Triumph-gret."
Q: any writers that you wish you could have worked with?
Lee: I think there was a project, I was talking about Alan Moore, I was specifically referring to a project that he and I were going to do together called Comet Rangers. He did write like 3 pages, I have 15 pages of stuff he wrote. 15 pages of comic book, which was 45 pages of script. I love getting detail and direction. and that's not what lead to that not happening. (It was) my own inability to get projects done during that era, but that would have been great to have done that.
Q: As you are drawing do you ever create dialogue in your head?
Lee: all the time. And it's really bad.It is good to know what you are good at and bad at in life, and I'm bad at writing. So, you can thank me all now.
Q: When did you start drawing?
Lee: I started drawing when I was 4 years old. I had an art teacher, when I was 4. This was in Seoul, and this was like Twitch except she was in my living room with me talking directly. We used to work in oil pastels so that's the earliest remembrance , but kids draw at 2 and 3 right? making scribbles and stuff? I think it's just a biological hardwire to illustrate or draw things around you.
The staff informs us that time has run out and the panel is ends with a round of applause as raffle tickets are drawn for 2 lucky fans to take home the sketches.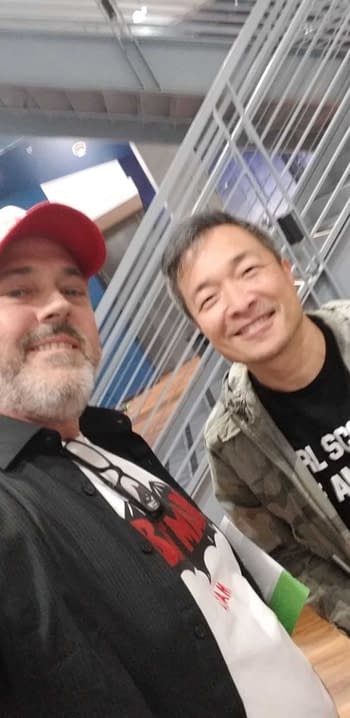 Afterwards,outside the theater, Jim is greeting fans and signing so I had the chance to ask him my signature question. "Does Batman kill Joker at the end of The Killing Joke? "
Without hesitation Lee responds,
"I think so. That's how I interpret that. That's how I read it. I could be wrong. I think Alan has said that he doesn't, but I don't really understand the story otherwise. The lights turn off, the laughing, all that. I think that's the logical conclusion to that story based on what the Joker has done. In the story, the scorpion (and the Frog, fable), all that thing, Batman realizes he'll never change. That's how I read it."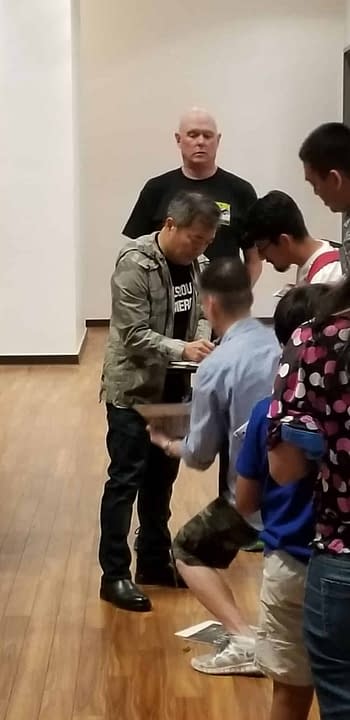 Follow Jim Lee on Twitter (here) and Instagram (here).
You should really check out his Twitch channel (here), great stuff happening almost every Sunday.
Enjoyed this article? Share it!