Jody to Announce Doctor Who Year Two Details of Familiar Faces at NYCC
At the Diamond Retailer Breakfast at New York Comic Con this morning, Titan Comics took the podium to talk about – well – many things, but to also tease what's coming from their Doctor Who Comics line.
And that the writer of Doctor Who: The Thirteenth Doctor, Jody Houser, would be spilling secrets about the show in Titan's Doctor Who comics panel on the Saturday.
'A familiar foe… and a familiar face'?
Place your bets now. The Master/Missy? Rose Tyler? Captain Jack? River Song? The TV series starring Jodie Whittaker has stayed away from crossing over with previous versions of itself for its first year and the comic book did similar – save for meeting The Corsair for the first time. Does a change in that for year two of the comic book suggest a similar change for the new season of the TV show as well?
Either way we now have Doctor Who: The Thirteenth Doctor: Year Two #1 launching in January by regular comics writer Jody Houser and Witchblade artist Robert Ingrenata.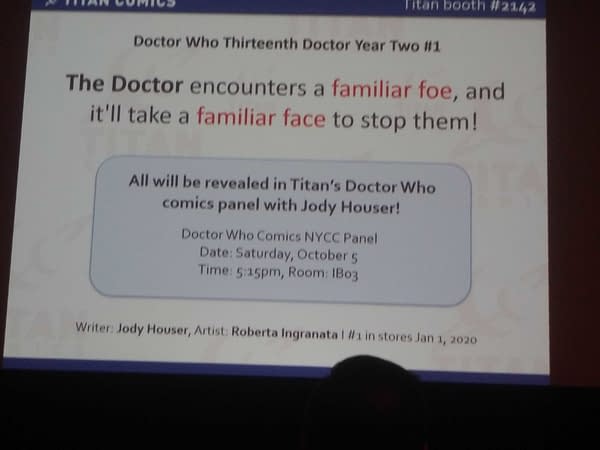 We also got a look at the Local Comic Shop Day 2019 covers for the Doctor Who Christmas Special double parter for November, also from Jody and Roberta.
Non LCSD-participant stores will only get part one then… and will have to wait till December for the rest.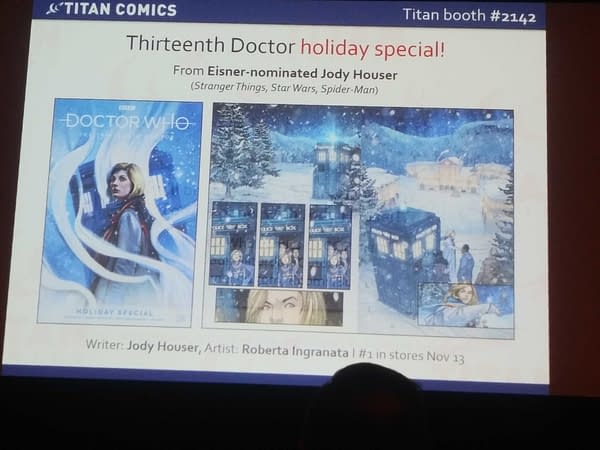 Catch up with more of our Retailer Breakfast coverage today with this handy-dandy tag.