Joyride – 24 Trades Of Christmas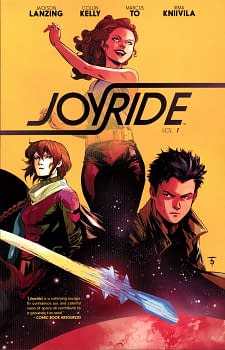 So far on our journey of 24 Trades of Christmas, we have yet to make a visit to BOOM! Studios, but I'm going to remedy that today with a little Joyride Vol 1. Sometimes you want something completely new. Something un-tethered by connected universes or overly high expectations. A book that seems to come out of nowhere and lets you have fun. That's exactly what writers Jackson Lanzing and Colling Kelly with artist Marcus To have come up with.
Joyride takes place on an Earth of the future where the stars no long shine in the night sky and humanity has just about forgotten about them. An Earth ruled by the World Government Alliance watching their every move. But don't worry, we're leaving the Earth behind as Uma Akkolyte steals an alien spaceship and tears through stratosphere heading off with her novice and unlike crew for adventures beyond their imagination.
Yes… it's Teens in Space!
Joyride is a fun, emotional and heartfelt story which feels a bit like Guardians of the Galaxy meets Runaways. The story has a good plot, strong characters and really good art that fits the subject very well. The world building being shown to us through the eyes of the young crew gives us a very fresh take on science fiction.
I could go into describing the series more… but BOOM! did a nice job putting a trailer together for it.
Joyride would be a good gift for anyone looking for a new adventure. Teens looking for science fiction that might speak to them or anyone that is a fan of YA stories like the Maze Runner, the Hunger Games, Etc. This is the type of story I would've eaten up when I was a teen… and I still like it now.